These Coconut Curry Pork Burgers are irresistibly juicy on the inside, crispy on the outside and our new favorite way to eat a burger. They're also FULL of flavor, with garlic, ginger, red chile paste and loads of coconut – delish!
I have been blessed with a child that loves to eat, and not only that, but he loves to eat virtually everything, and, the more flavor, the better. I keep hearing and reading his palate is going to change, and eventually going to succumb to typical toddler behavior and become the pickiest eater on the planet with a flip of a switch, but I'm still waiting for it to happen.
Since he first started eating solids that didn't just consist of steamed veggies and soft fruits, around 9(ish) months, he's pretty much eaten what we eat, which means he's been familiarized with a whole slew of flavors and spices. One of his favorite flavors, curry, I'm particularly proud of, because well, what 15-month-old baby likes curry?? I'm willing to bet not many. Although, I should note, I typically use red chile paste, which isn't intensely spicy, instead, it just has a slight heat to it, but it's packed full of flavor, which I think is what he loves about it.
Admittedly, he's a little weary of meats in general, especially if they aren't covered in sauce or seasoning of some sort, so I was unsure if he would take to these Coconut Curry Pork Burgers. To stay on the safe side, I made an adaptation of this How Sweet It Is peanut sauce we're all in love with, cut the burger into finger food-sized pieces, and lo and behold, he inhaled it faster than he inhales his milk on an empty stomach – which is basically at lightening speed.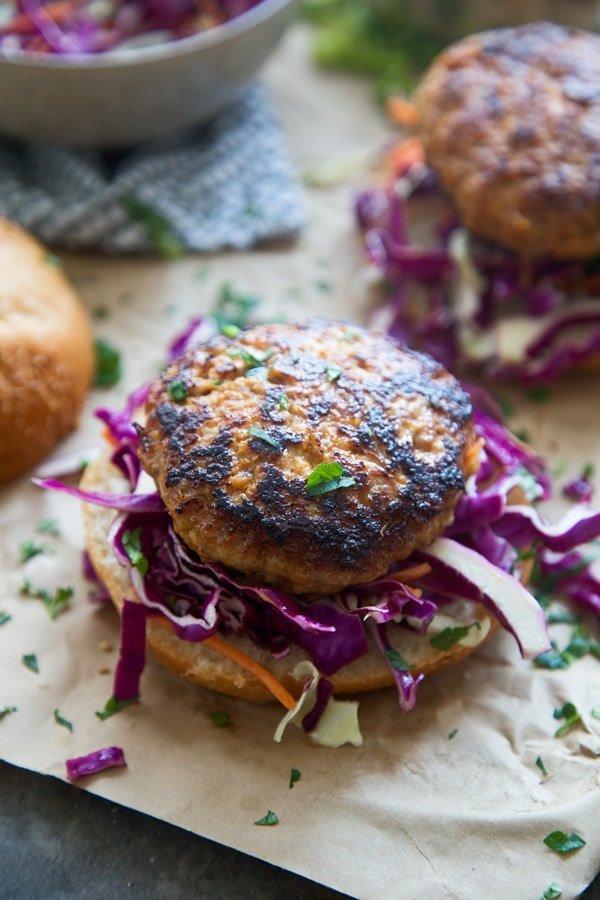 I feel like pork burgers sort of get left in the dust, because if you're indulging, you go with a beef burger, obviously, but if you're trying to make a "healthy" burger, the go-to is always chicken or turkey, it's a vicious cycle we need to break! Because while I love a juicy beef burger and typically can't get enough of chicken burgers (I don't love or really even like turkey burgers), pork burgers are my new obsession. They stay irresistibly juicy and moist just like a beef burger, but when you cook them up in a skillet (or even in the oven), the exterior gets this super crispy crust that I'm in love with.
I really wanted the burgers themselves to exude that coconut curry flavor so the pork is chocked full of red curry paste, the cream from the top of the coconut milk can I find that the most coconut flavor is there), unsweetened coconut, freshly grated ginger, garlic and onion. Once the mixture comes together, they're formed in to patties, and then I like to chill them in the fridge for a few minutes to help them keep their shape, but if you're ready to get dinner on the table, this step isn't necessary.
While the burgers chill in the fridge, a quick pickled slaw is thrown together with some red cabbage, shredded carrots, rice vinegar and just a touch of sugar. From there, the sauce is simmered, and then the burgers are pulled out, and cooked in just a touch of coconut oil.
To serve, I pile a toasted bun (any kind will do), with the slaw, a burger patty and then cover it in sauce, some chopped cilantro and green onion.
Coconut curry, in burger form.

Coconut Curry Pork Burgers
Author:
Nicole ~ Cooking for Keeps
Ingredients
1 lb. ground pork
½ medium onion, grated
3 garlic cloves, grated and divided
½ tsp. ginger, grated and divided
2 Tbsp. red curry paste, divided
¾ tsp. salt
2 tbsp. of the coconut cream from the top of a 14 oz. can of coconut cream
½ cup coconut cream
3 Tbsp. unsweetened flaked coconut
3 tsp. brown sugar, divided
1½ cups red cabbage, shredded carrot mix (I got mine from Trader Joe's)
¼ cup rice vinegar
1 Tbsp. + 1 tsp. coconut oil
2 tsp. peanut butter
4 buns, toasted
¼ cup chopped cilantro.
2 green onion, chopped
Instructions
Add pork, onion, 2 garlic cloves, ¼ tsp grated ginger, 1½ tablespoons curry, salt, 2 Tbsp. coconut cream and coconut to a medium bowl. Use your hands to mix until completely combined. Form into four patties. Chill in the fridge for 10 minutes. (Optional)
While the patties chill, toss red cabbage mixture, vinegar and 2 teaspoons of brown sugar together in a bowl. Let sit at room temperature to quickly pickle the mixture.
Add 1 teaspoon of coconut oil to a small saucepan. Turn the heat on medium and once hot, add remaining garlic and ginger. Saute 1 minute until fragrant. Add remaining 2 teaspoons of curry paste, saute for 30 seconds. Add ½ cup coconut cream, remaining brown sugar, and peanut butter. Whisk to combine. Bring to a boil and reduce to a simmer until thickened, about 5 minutes.
When ready to cook burgers, add remaining coconut oil to a large non-stick skillet. Turn the heat on medium-high and once the oil is glistening, add the burgers. Cook until golden brown on both sides and cooked through, about 4-5 minutes per side.
To serve: Place slaw on bottom of bun, top with patty and cover in sauce. Sprinkle with chopped cilantro and green onion.
(Visited 9,118 times, 1 visits today)