These Coconut Red Curry Burgers are irresistibly juicy on the inside, crispy on the outside and our new favorite way to eat a burger. The patties are also FULL of flavor, with hints of garlic, ginger, red chile paste and loads of coconut. Each crispy patty is topped with an super simple coconut curry sauce, lots of zippy slaw and nestled into a soft bun.
Red Curry Burgers
I have been blessed with a child that loves to eat, and not only that, but he loves to eat virtually everything, and, the more flavor, the better.
One of his favorite flavors – curry – I'm particularly proud of, because well, what 15-month-old baby likes curry?? I'm willing to bet not many. Although, I should note, I typically use red chile paste, which isn't intensely spicy, instead, it just has a slight heat to it, but it's packed full of flavor, which I think is what he loves about it.
Admittedly, he's a little weary of meats in general, especially if they aren't covered in sauce or seasoning of some sort, so I was unsure if he would take to these Red Curry Burgers. To stay on the safe side, I made an adaptation of this How Sweet It Is peanut sauce we're all in love with, cut the burger into finger food-sized pieces, and lo and behold, he inhaled it faster than he inhales his milk on an empty stomach – which is basically at lightening speed.
Although I can't blame him, because these Red Curry Burgers are seriously out of this world delicious. The burger patties themselves are packed with red curry paste, grated onion (to keep them moist and add flavor), garlic, ginger, and a hint of unsweetened coconut. The patties are seared in a hot cast-iron skillet until irresistibly crispy on the outside and juicy on the inside.
They're topped with a quick red curry sauce, lots of quick-pickled cabbage, and then nestled into toasted buns.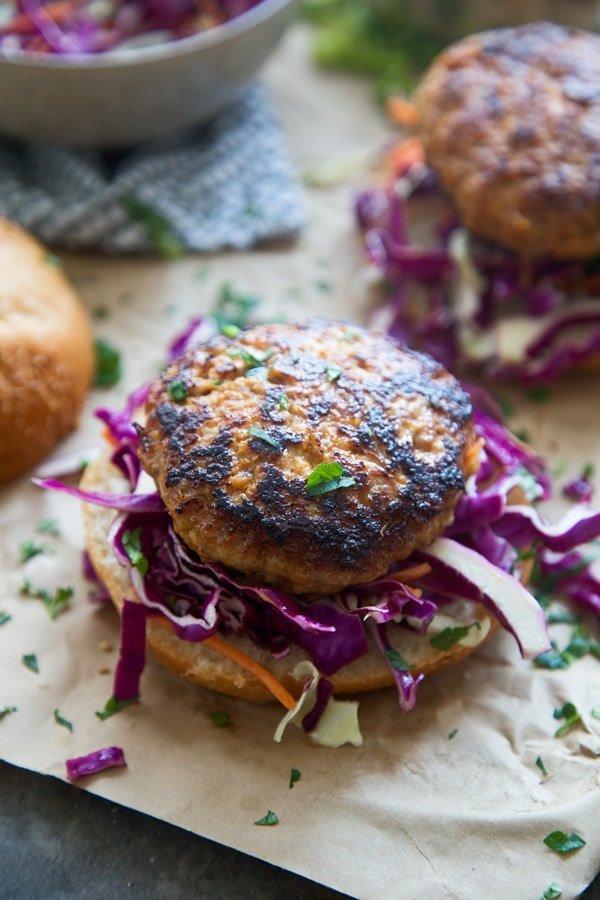 Why pork burgers?
I feel like pork burgers sort of get left in the dust, because typically, if we indulge, we lean towards an all-beef burger, but let's not forget about pork!
Because while I love a juicy beef burger and typically can't get enough of chicken burgers (these spicy chicken burgers are a favorite!), pork burgers are my new obsession. They stay irresistibly juicy and moist just like a beef burger, but when you cook them up in a skillet (or even in the oven), the exterior gets this super crispy crust that I'm in love with.
Ingredients in Red Curry Burgers
The patties
I really wanted the burgers themselves to exude that coconut curry flavor so the pork is chocked full of red curry paste, the cream from the top of the coconut milk can I find that the most coconut flavor is there), unsweetened coconut, freshly grated ginger, garlic and onion. Once the mixture comes together, they're formed in to patties, and then I like to chill them in the fridge for a few minutes to help them keep their shape, but if you're ready to get dinner on the table, this step isn't necessary.
The slaw
This is the easiest slaw on the planet, here's what you'll need:
Shredded cabbage. I like to use a mix of red cabbage and carrots, but any shredded cabbage you find will work great.
Rice vinegar. This gives the slaw it's tanginess and helps to break down the tough cabbage. If you don't have rice vinegar, you can use white wine vinegar, or apple cider vinegar.
Brown sugar. For just a hint of sweetness!
Salt. That's it!
The sauce
Coconut oil. To mimic the flavors of the coconut milk and the coconut in the burgers, I like to use coconut oil. But canola oil or olive oil will also work great.
Onion and garlic. Can't have a coconut curry sauce with a little bit of onion and garlic.
Red curry paste. The idea is to repeat the same flavors throughout different layers for maximum flavor.
Peanut butter. Creamy peanut is what I use, but anything you've got – even almond butter – will work.
Brown sugar. For a hint of sweetness!
Coconut cream. You can use coconut cream or coconut milk, both will work. Just make sure to whisk whichever you choose until smooth.
Substitutions and Tips and Tricks for Recipe Success
Because pork burgers don't hold together as well as beef burgers, I like to pop them in the fridge to set up for about 10-15 minutes.
If you like a little bit of extra heat in the burgers or in the sauce, think about adding in a little bit of chopped jalapeño.
You could absolutely make these Red Curry Burgers with ground chicken or turkey instead of pork. I'd avoid using ground beef as it might overpower the curry taste .
My favorite bun to use for these curry burgers is a brioche bun.
If you can, use a cast-iron skillet to cook the curry burgers, it heats evenly and will give you a perfect crispy crust on the outside of each burger patty.
What to serve with Red Curry Burgers
Our easy Peanut Noodles would be a nice side to our burgers.
If you're looking for a healthier side, try out our Broccoli Fried Rice. It's packed with veggies and super easy to make.
Another healthy side that's a crowd favorite is our Quinoa Fried Rice. So yummy!
Red Curry Burgers
These Coconut Red Curry Burgers are irresistibly juicy on the inside, crispy on the outside and our new favorite way to eat a burger. The patties are also FULL of flavor, with hints of garlic, ginger, red chile paste and loads of coconut. Each crispy patty is topped with an super simple coconut curry sauce, lots of zippy slaw and nestled into a soft bun. 
Ingredients
1

lb

ground pork

1/2

medium

onion, grated

3

large

garlic cloves, grated and divided

1/2

tsp

fresh ginger, grated and divided

2

tbsp + 1 tsp

red curry paste, divided

3/4

tsp

kosher salt

1/2

cup + 2 tbsp

coconut cream

3

tbsp

unsweetened coconut, plus more for garnish

1

tbsp

brown sugar, divided

1 1/2

cups

shredded red cabbage and carrot mix (or any variety of a cabbage mix)

1/4

cup

rice vinegar

1 1/2

tbsp

coconut oil

2

tsp

creamy peanut butter

4

buns, toasted

1/4

cup

chopped cilantro

2

large

green onions, chopped
Instructions
Add ground pork, onion, 2 garlic cloves, ¼ tsp grated ginger, 1 ½ tablespoons curry, salt, 2 Tbsp. coconut cream and coconut to a medium bowl. Use your hands to mix until completely combined. Form into four patties. Chill in the fridge for 10 minutes.

While the patties chill, toss red cabbage mixture, vinegar and 2 teaspoons of brown sugar together in a bowl. Let sit at room temperature to quickly pickle the mixture.

Add 1 teaspoon of coconut oil to a small saucepan. Turn the heat on medium and once hot, add remaining garlic and ginger. Saute 1 minute until fragrant. Add remaining curry paste, saute for 30 seconds. Add ½ cup coconut cream, remaining brown sugar, and peanut butter. Whisk to combine. Bring to a boil and reduce to a simmer until thickened, about 5 minutes.

When ready to cook burgers, add remaining coconut oil to a large cast-iron or non-stick skillet. Turn the heat on medium-high and once the oil is glistening, add the burgers. Cook until golden brown on both sides and cooked through, about 4-5 minutes per side.

To serve: Place slaw on bottom of toasted bun, top with patty and cover in sauce. Sprinkle with chopped cilantro and green onion.
Nutrition Facts
Red Curry Burgers
Amount Per Serving (1 burger)
Calories 671
Calories from Fat 441
% Daily Value*
Fat 49g75%
Cholesterol 82mg27%
Sodium 747mg32%
Potassium 648mg19%
Carbohydrates 33g11%
Protein 27g54%
Vitamin A 1536IU31%
Vitamin C 23mg28%
Calcium 123mg12%
Iron 4mg22%
* Percent Daily Values are based on a 2000 calorie diet.
(Visited 10,063 times, 1 visits today)