Move over hummus there's a new healthy dip in town, and it's this Creamy Baba Ganoush.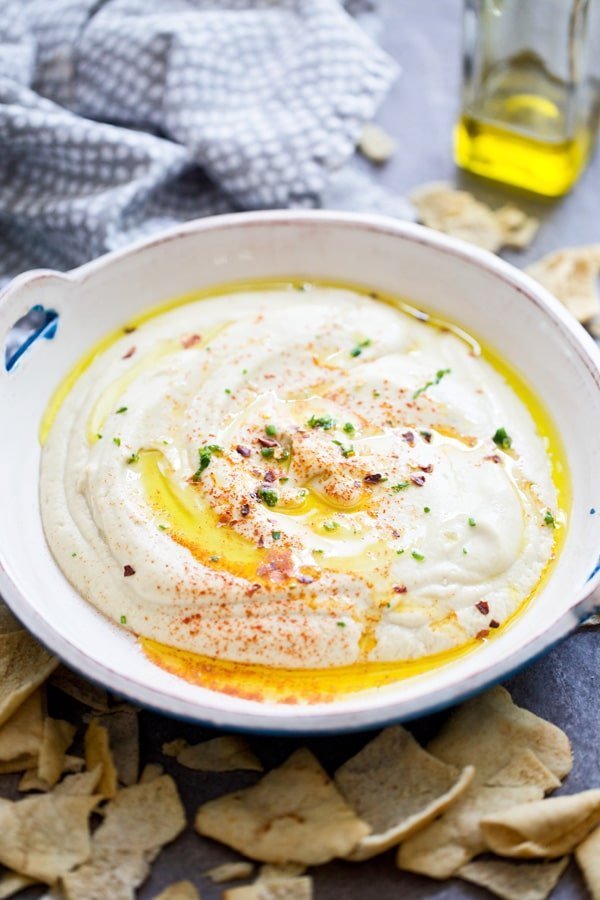 What is Baba Ganoush??
Before we even get any further, if you're unfamiliar, Baba Ganoush is another Mediterranean dip that doubles up on a lot of the same ingredients as hummus, but instead of chickpeas, the bulk of the dip is made up of roasted eggplant, thus making it taste entirely different. Better, in my opinion.
I've really never understood why hummus gets all the love when it comes to healthy Mediterranean dips. For me, it's a little too bland in flavor to eat on a regular basis, unless of course, it's gussied up with a punch of flavor like this Wasabi Edamame Hummus or this Roasted Red Pepper & Feta Hummus.
Admittedly, pulverized eggplant doesn't exactly elicit a watering mouth or grumbling stomach at first glance, so you may still be inclined to go with good old friend hummus, but trust me, after said eggplant gets roasted with olive oil and pureed with a bevy of flavorful ingredients, you'll become a convert as well.
 To salt or not to salt.
There's this thought out there, that in order for eggplant to taste good, you have to sprinkle with salt and let it sit for at least a half hour to remove all the bitterness it contains. I find this to be a completely unnecessary step, so I skip it every time, and you should too. Instead, I cut the eggplant in half, brush it with olive oil, generously season it with salt and just pop it into the oven as is.
What results is sweet, caramelized eggplant every time, without even a hint of bitterness.
To add even more flavor to the baba ganoush, alongside the eggplant, I also threw in a whole head of garlic to roast as well. Much like the eggplant turns into a sweet, caramelized oblivion after roasting, so does the garlic, making the two ingredients a match made in heaven.
Once the eggplant and the garlic are soft and sweet, the flesh is scooped out of the skin of the eggplant and garlic head, and transferred to a high-power blender along with a hint of honey, lemon juice, salt, plain Greek yogurt and tahini.
Most recipes call for a generous amount of olive oil, but I really wanted to keep the dip low in fat (even healthy fat), so for me, the olive oil used to roast the eggplant was enough. Instead, I swapped out the oil for a little bit of plain Greek yogurt, which added a silky-smooth texture and tang that you don't find in every Baba Ganoush recipe.
After a spin in the blender and a quick seasoning check, this creamy, sweet and salty dip is ready to be served.
This Creamy Baba Ganoush is a classic mediterranean dip! Roasted eggplant, garlic, tahini, and olive oil are all pureed in a blender, then topped with sea salt and a little bit of spice.
Ingredients
1.5

lbs

eggplant

1

tbsp

olive oil

3/4

tsp + 1/8 tsp

salt

1

head

roasted garlic

2

tsp

tahini

2

tsp

honey

2

tsp

lemon juice

1/4

cup

plain Greek yogurt
Instructions
Preheat oven to 375 degrees. Split eggplant in half and brush with 3 teaspoons olive oil. Sprinkle with 1/2 teaspoon salt. Place flesh-side down on a large baking sheet.

Cut the very top of the head of garlic off with a sharp knife. Drizzle with 1 teaspoon olive oil. Sprinkle with a pinch of salt and pepper. Place on a piece of foil and wrap foil around garlic. Place on the baking sheet with the eggplant.


Roast eggplant and garlic until soft and caramelized, about 35-40 minutes. Garlic is done when you can feel it's soft after being pricked with a knife. Eggplant should be very soft and caramelized. Let both cool slightly.

Remove the flesh from the skin of the eggplant. Transfer to a blender. Remove all the garlic cloves from their skin. Transfer to a blender.

Add remaining salt, tahini, honey, lemon juice and Greek yogurt to the blender. Blend until smooth and creamy. Season to taste with salt and pepper. Serve with pita or pita crackers.
Nutrition Information
Serving:
1
serving
,
Calories:
78
kcal
(4%)
,
Carbohydrates:
11
g
(4%)
,
Protein:
3
g
(6%)
,
Fat:
3
g
(5%)
,
Saturated Fat:
1
g
(6%)
,
Cholesterol:
1
mg
,
Sodium:
246
mg
(11%)
,
Potassium:
298
mg
(9%)
,
Fiber:
4
g
(17%)
,
Sugar:
6
g
(7%)
,
Vitamin A:
26
IU
(1%)
,
Vitamin C:
5
mg
(6%)
,
Calcium:
30
mg
(3%)
,
Iron:
1
mg
(6%)