I'm lucky; I have a handful of friends that swoon over food just as much as I do. They talk about dishes with the same twinkle in their eye that I get, they reminisce on life-changing meals from the past, they appreciate a perfectly cooked piece of steak or fish, and they totally get what it means to love food.
My best friend Angie is one of those gals that can talk about food for hours with me; it's actually pretty embarrassing how many of our conversation revolve around something food-related. I mean, we've had a legit fifteen minute long conversation on bagels…if you looked at us from a distance it would probably look like we were discussing something that actually matters, like government spending or how to achieve world peace. Not a chance…
As teenagers you'd think that our meals consisted of trips to the mall food court or local pizza joint, but nope, Angie and I wouldn't settle for just a slice of pizza or chili cheese dog (although I won't lie we did indulge ourselves in a bit of fast food also), we would crave big juicy steaks from our local steakhouse, stuffed mushrooms from another favorite place, along with a never ending list of other gourmet treats.
Today's recipe is a replica of one of my favorite dishes that Angie and I used to have all the time in high school and college, a dish that she introduced me to, and that we both still love to this today.
Shrimp Limone.
Delicate angel hair pasta is tossed with plump shrimp, briny artichoke hearts, mushrooms, and cherry tomatoes, and then coated with a heavenly lemon cream sauce that is slightly indulgent yet light at the same time.
I like to make this when I'm craving something creamy and carb-heavy, but don't want to completely gorge myself in a bath of cream, butter and cheese…
Pasta at its finest…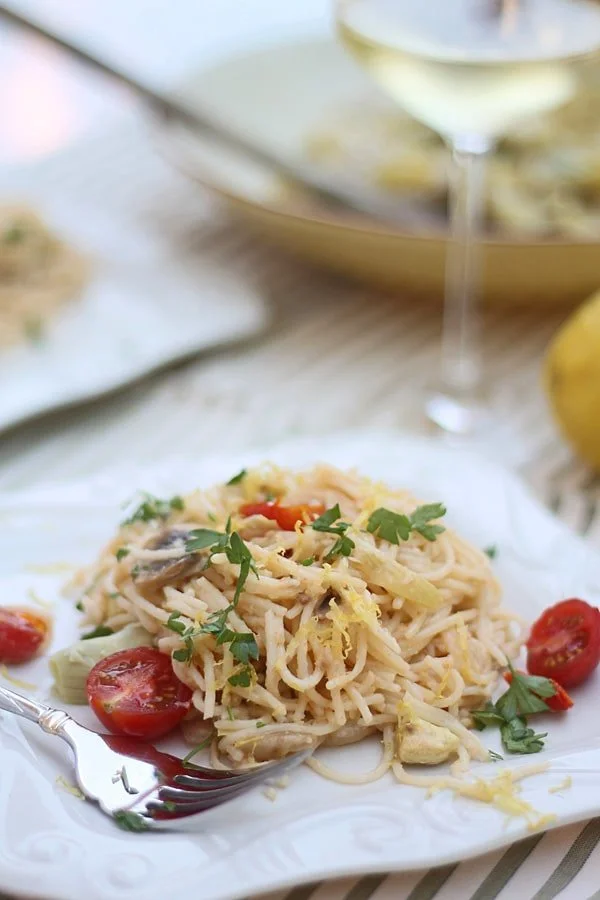 If you didn't notice, I forgot to add the shrimp in, so we can just pretend they made it in the picture instead of sadly sitting in the skillet, abandoned and forgotten.
Creamy Lemon Pasta ~ Artichokes ~ Cherry Tomatoes ~ Shrimp
Author:
Nicole-Cooking for Keeps
Ingredients
10 ounces angel hair pasta
½ tablespoon butter
½ tablespoon olive oil
¼ onion, chopped
2 garlic cloves, minced
1 ½ cups button mushrooms, sliced
½ teaspoon kosher salt
½ cup dry white wine
¼ cup lemon juice about two large lemons, plus a tablespoon more at the end
1 ½ cups artichoke hearts (not marinated)
2 ½ cups halved cherry tomatoes
½ pint heavy whipping cream
¼ - ½ cup parmesan cheese
1 pound medium sized shrimp, peeled and deveined
Salt and pepper to taste
Instructions
Bring a large pot of water to a boil. Salt liberally. Add pasta and cook until al dente, drain return to pot. Save about a cup of pasta water in case you need it.
In a large sauté pan, over a medium-high heat, heat olive oil. Season shrimp with salt and pepper then add to the hot skillet. Sauté until cooked through, about one to two minutes on each side. Set shrimp aside.
In the same pan, heat butter and oil over a medium heat, add onions and garlic cloves, cook until fragrant, about two minutes. Add mushrooms, cook another two minutes. Add wine, reduce, about one minute. Add lemon juice, artichokes, salt and tomatoes, cook another two minutes.
Pour sauce, cream and shrimp over hot pasta, toss until completely combined. Add parmesan cheese and toss until combined, if necessary keep the heat on low, to melt the cheese and bind the sauce. If sauce is too thick, thin out with a little pasta water.
Season with salt, pepper and an extra squeeze of lemon juice.