These Creamy Pumpkin and Cheddar Scalloped Potatoes are the perfect fall twist on a classic. Perfect for Thanksgiving or any holiday gathering!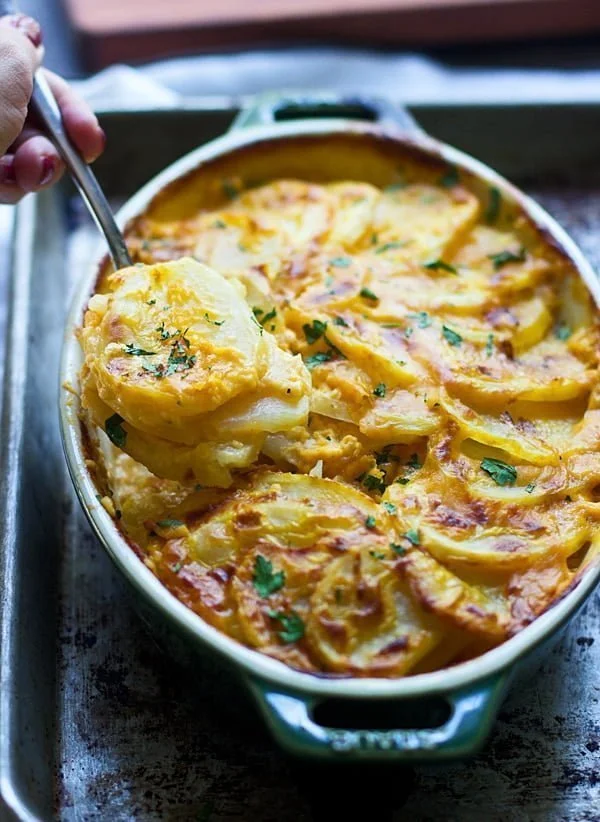 I'll admit, I was hesitant to welcome fall with open arms. In fact, I was full on against it, especially when it came to all things pumpkin. It just boggled my mind that I was still having cherry tomatoes grow faster than I could pick them, sweet corn gracing every produce section within a 5-mile radius of my house and 85-degree heat keeping me in sundresses as I was simultaneously being beat over the head with advertisements for pumpkin spice lattes (which I don't even like).
I guess it's also just hard for this heat-loving, sun-worshipper to say goodbye to sun-kissed tans and watch as all the pools close up for an agonizing nine months.
But…I've now finally embraced the fall, probably a little too much if I'm being honest, because not only do I still have several pumpkin recipes in the blog queue on top of the handful I've already published, but I now have a one-track mind on my favorite upcoming holiday – Thanksgiving.
Unlike fall in of itself, Thanksgiving is always something I can get on board with early. It's easy to do since it's the only holiday that revolves solely around food. For years, I've planned what I'm going to make weeks, sometimes months in advance and almost get giddy in anticipation to inhale all of my favorite foods – even though it ultimately leads to a solid three-pound weight gain, probably more this year since I'm currently growing a human.
Typically, we don't stray too far off from tradition and stick with mostly tried-and-true favorites, but we always manage to sneak in one or two new dishes, hoping they'll be a huge hit and possibly, a new tradition.
Classic mashed potatoes and gravy is a non-negotiable when it comes to our Thanksgiving, but we almost always have at least one or two other starches aside from the stuffing. It's generally something in the gratin family, because what better than layers of cheesy, creamy potatoes to commence the greatest eating holiday of the year?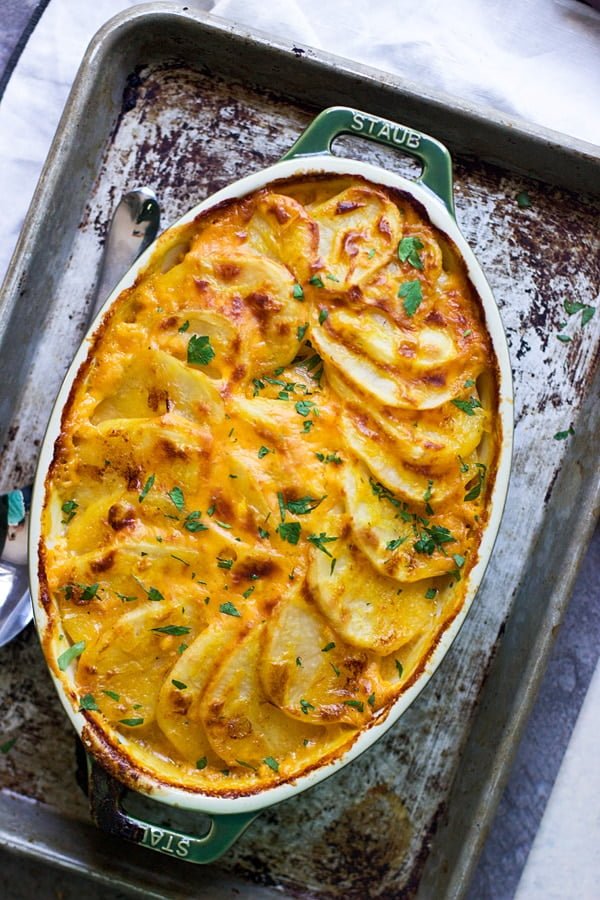 This time, I wanted to mimic the classic scalloped potato of all of our childhoods, but with a pumpkin twist.
You remember those scalloped potatoes, don't you?
Layers of semi-thin sliced potatoes covered in a thick, creamy sauce and drowned in cheddar cheese – I'm pretty sure that and my addiction to cream cheese and sugar spoon snacks attributed to my rather awkward "baby fat" stage in the sixth and seventh grade.
I'm ashamed to admit that I may have even begged my Mom to buy the horrible, processed boxed kind you see on the top shelf at the grocery store from time to time, and to this day, still sometimes feel myself compelled to grab a box when I'm feeling nostalgic and lazy at the same time.
But really, scalloped potatoes couldn't be easier to make, and actually might even be easier to cook than mashed potatoes since you don't have to worry about lumps or overworking the spuds into a nasty, gluey mess. What I also love about scalloped potatoes, is the layers don't have to be perfect, just cut them up as uniform as you can, layer them up and slather them in your sauce and cheese of choice.
How to make Creamy Pumpkin and Cheddar Scalloped Potatoes:
Here, I just whipped up a simple béchamel made with whole milk, threw in a handful of pumpkin puree and covered the first layer of potatoes. A good amount of sharp cheddar cheese is sprinkled on top, and the whole process is repeated two more times. It's covered with foil, plopped onto a cookie sheet and baked until the potatoes are fork-tender.
Now, we just need the stuffing, turkey, green bean casserole and desserts!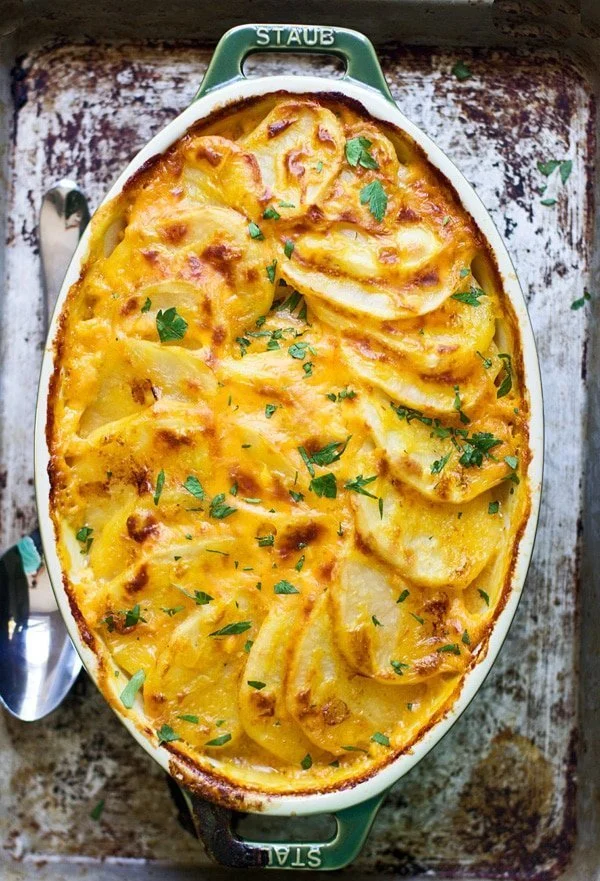 For more easy potato sides, check out these posts:
4 Ingredient Mashed Sweet Potatoes with Brown Butter & Brown Sugar: Cooking for Keeps
Cheesy Herb Garlic Scalloped Potatoes: The Cookie Rookie
Buttermilk Blue Cheese Mashed Potatoes: Foodie Crush
Creamy Pumpkin and Cheddar Scalloped Potatoes
Pumpkin puree gives scalloped potatoes a subtle twist!
Author:
Nicole -` Cooking for Keeps
Ingredients
1 tablespoon butter
1 tablespoon minced garlic
1 tablespoon flour
1 cup hot milk
½ teaspoon salt
Heaping ¼ cup pumpkin puree
2 cups shredded sharp cheddar cheese
3 large russet potatoes cut into ¼-inch thick slices (3¾ cups ¼-inch sliced potatoes)
Instructions
Preheat oven to 350 degrees. Butter or grease a 1 quart oval casserole dish.
In a medium saucepan, melt butter over a medium heat. Add garlic, cook until soft and fragrant, 1-2 minutes.
Whisk in flour. Cook 1 minute. Slowly whisk in milk. Add salt. Bring to a boil and reduce to a simmer until thickened, about 3-4 minutes. Remove from heat and whisk in pumpkin puree. Season to taste with salt and pepper.
Layer half of the potatoes in the bottom of the prepared dish, pour half of the sauce over. Cover with half of the cheese. Repeat for next layer. Place on a rimmed baking sheet.
Cook until potatoes are fork tender and top is golden brown, about 1 hr. If the top starts to get too brown, cover with foil and remove a few minutes before the potatoes are done cooking.
(Visited 51,202 times, 31 visits today)