Never have lumpy mashed potatoes again! Here, we talk about the Best Creamy Dreamy Mashed Potatoes Recipe and how to make the creamiest mashed potatoes perfect every single time. These mashed potatoes are are silky-smooth, SO flavorful and perfect for a crowd.
For more awesome potato recipes, check out these Brown Butter Mashed Sweet Potatoes, these Pumpkin and Cheddar Scalloped Potatoes, or these Four-Ingredient Brie and Brown Sugar Hasselback Sweet Potatoes.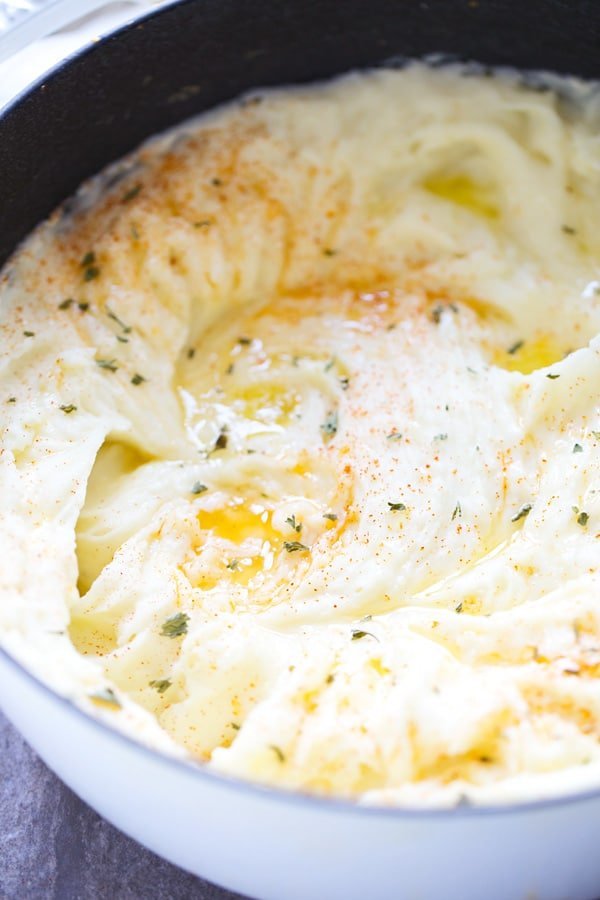 Best Creamy Dreamy Mashed Potatoes Recipe
I first posted the recipe for these Creamy Dreamy Mashed Potatoes around Thanksgiving in 2014, three years ago! They've been one of the most popular recipes on the blog around the holidays since then, so I thought it was time to give them a little love again. We updated some of the old photos, and re-shared it just so we can make sure it doesn't ever get forgotten.
This is my tried-and-true method for making mashed potatoes, I promise, they come out PERFECT every single time and they truly are the best mashed potatoes recipe.
These whipped potatoes are smooth as silk, full of garlicky goodness, and of course, lots of butter! Best Mashed Potatoes are fancy mashed potatoes, because they have some uncommon ingredients, but they also have that classic flavor we all love. A must in the perfect mashed potatoes recipe. They're also really easy to double or triple to serve a giant crowd, which I love.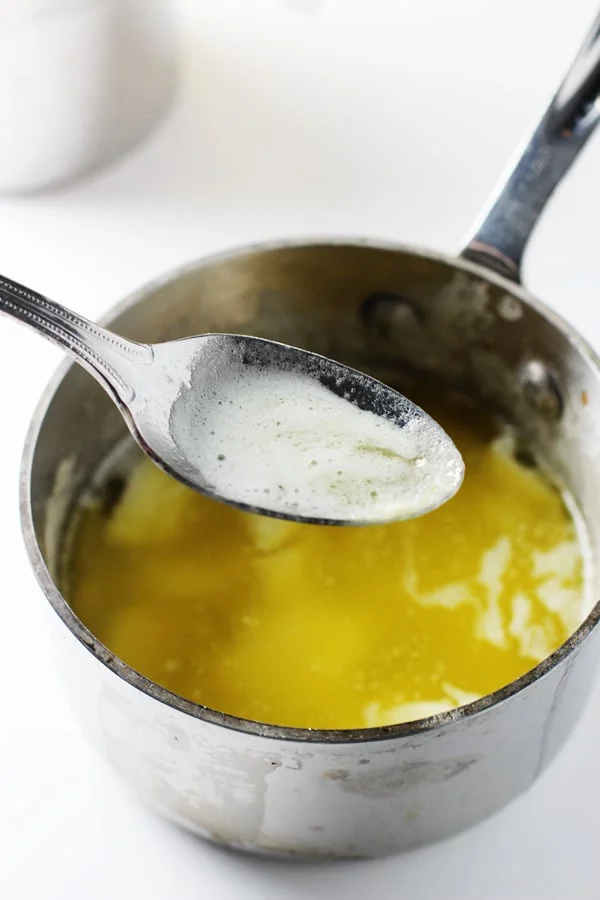 Why mashed potatoes??
Mashed potatoes are often the overlooked middle child of the Thanksgiving table. While you may preach that everyone gets the same amount of love, and equal attention is paid to all three children, really the middle child, mashed potatoes, always gets the short end of the stick – or so I've heard.
On Thanksgiving, after you've lovingly prepared Grandma's dressing and taken the time to make green bean casserole from scratch, the mashed potatoes are oftentimes a dish that get completely overlooked or haphazardly put together minutes before turkey time.
They happen to be one of the simplest additions to the lineup of food on the big day, BUT they're also one of the easiest sides to screw up. The mashed potatoes can have lumps. The starchy flesh can turn gummy in an instant. The mashed potatoes can be grainy. And worst of all, the mashed potatoes can be completely and utterly flavorless. It's hard making the best mashed potatoes!
Over the years I've humbly mastered the mashed potato process, and I think I have few key tips that will ensure that you too, can become a pro at whipping up the perfect mashed potato. Thus ensuring equal love to all sides.
What potatoes should you use for creamy mashed potatoes?
First things first, what kind of potato should you use?? I've tried every potato out there — russet, yukon gold, red gold, etc. — and while they all yield tasty mashed potatoes, for me, classic is best, which means you want to go with the russet potato.
A russet potato has the perfect amount of starch, is forgiving, and the best part, yields the fluffiest mashed potatoes.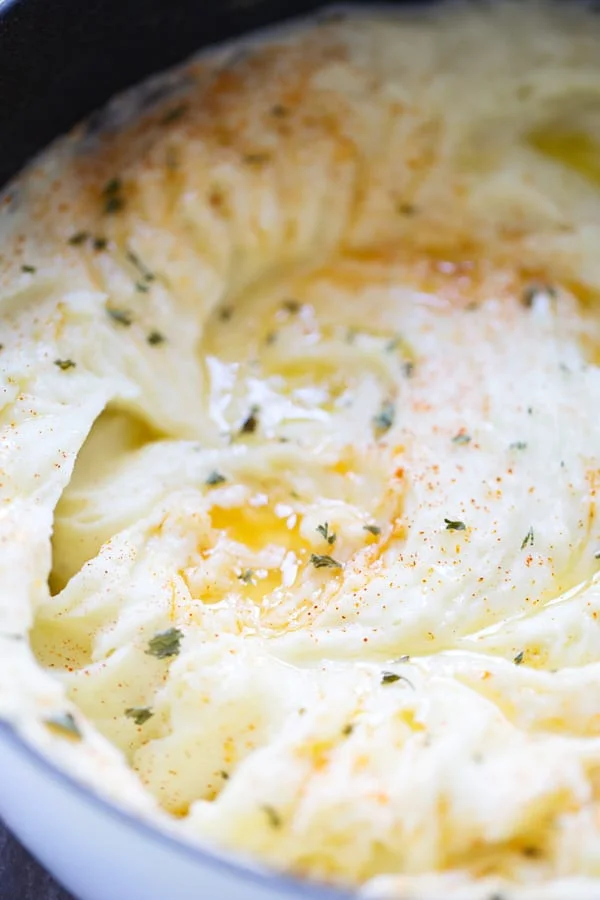 How to make creamy mashed potatoes
Season your cooking liquid! This is SO important! Because potatoes naturally have no seasoning or taste, you want to be able to flavor the mashed potatoes in each step. When you salt the cooking liquid, you ensure ample flavor infuses into the actual potato itself.
Dry the potatoes! You don't want any excess moisture in the mashed potatoes. Once you drain them, let them sit for 1-2 minutes until they don't have any excess moisture on them.
Use a ricer. I am so thankful for purchasing this guy years ago, it's been a total lifesaver and produces silky-smooth whipped mashed potatoes every single time. I've had countless people ask if they can substitute something else, and the answer is no. These guys are inexpensive, stored easily and you'll use it time and time again. I have this one and love it.
Rice potatoes when they are still hot. Hot potatoes = smooth mashed potatoes.
Add hot liquid to the hot mashed potatoes. Adding cold cream, milk or butter will actually cool the potatoes down, which will in turn risk a lumpy mash.
Lots and lots of butter.
Work quickly and do not over-mash! This is as important as any other step, working quickly, again, facilitates in a lump-free mashed potato, but it also keeps the mashed potatoes from becoming gummy, something I know first-hand.
Why so many steps?
I know it may seem like an obnoxiously long list of steps, but they're all insanely easy to follow. I can assure you, it will put perfect mashed potatoes at your table in less than 30 minutes. Of course you can also make them ahead of time, and re-heat them later, which I'd actually suggest for Thanksgiving Day. Gently reheat them on the stove, or if there's more heating real estate in the oven, transfer the potatoes to an oven-safe dish and let them warm up in there.
Because I didn't actually make the best mashed potatoes on Thanksgiving, it was just Kevin and I inhaling these, so this recipe isn't going to feed a group of 20+ people, I'd say this is more geared towards 6-10 people depending on how big the serving is, but it's easily doubled or tripled if you have a large Thanksgiving crowd.
Variations on mashed potatoes
cream cheese mashed potatoes (Tried it, loved it!)
roasted garlic paste
pesto mashed potatoes ( Can you imagine the beautiful color?!)
garlic powder
make cheesy mashed potatoes! Add in shredded cheddar, gouda, or even goat cheese for a tangy twist.
HOWEVER, I would suggest you make them as is the first time around, because honestly, these mashed potatoes really don't need anything else.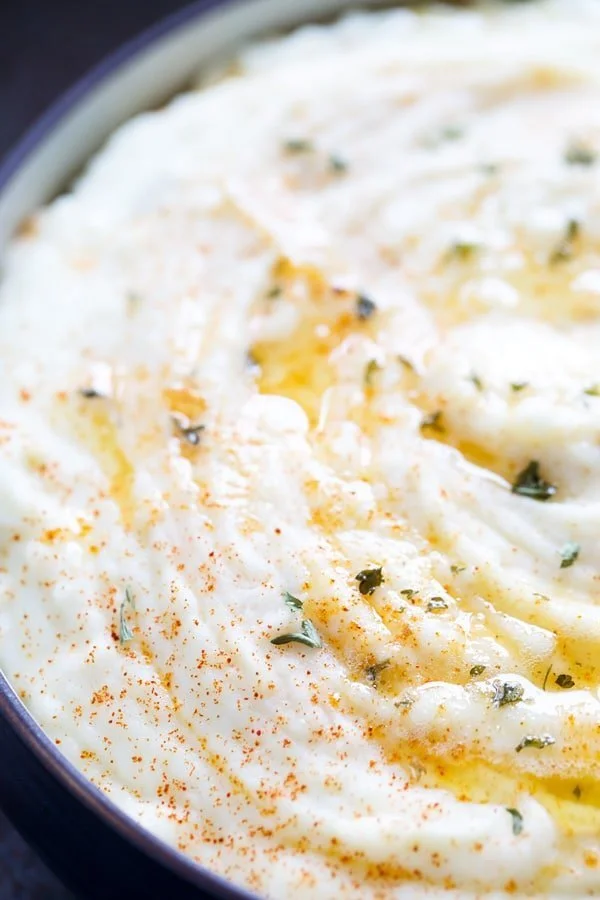 Check out these posts for more delicious potato side dishes:
Creamy Pumpkin and Cheddar Scalloped Potatoes: Cooking for Keeps
Cheesy Garlic Roasted Potatoes: Eatwell 101
Parmesan Potato Stacks: Cooktoria
BEST Creamy Dreamy Mashed Potatoes
These are the BEST Creamy Dreamy Mashed Potatoes! Step-by-step instructions on how to make the creamiest mashed potatoes every single time!
Ingredients
3

pounds

russet or yukon gold potatoes, peeled and cut into large cubes

1

sticks + 2 tbsp

unsalted butter, divided

1

head of garlic

cloves individually smashed with the back of a knife

3/4

cup

warm heavy cream

3/4

cup

sour cream

1

teaspoon

salt, plus more to taste
Instructions
Melt 1 stick of butter on a low heat in a small saucepan. Continue to keep warm on a low heat until milk solids rise to the top, remove milk solids. Add smashed garlic and cook on low to infuse the garlic, 15 minutes. Remove garlic pieces and keep warm. 


While the butter melts and garlic cooks, add potatoes to a medium pot and fill with water making sure all potatoes are covered, Season liberally with salt. Bring to a boil and reduce to a simmer until potatoes are fork-tender, about 20 minutes.

Drain potatoes, making sure to get rid of ALL excess moisture. VERY IMPORTANT! I like to let them drain for a few minutes in the colander and then blot them with a dry paper towel.

While potatoes are still hot, pass through a ricer and add back to pot. (I rice them into the pot.)

Pour in melted butter, salt, and warm cream. Use a hand held mixer to beat the potatoes until whipped and butter is incorporated, about 2-3 minutes. Do not over mix. Add sour cream and use the mixer on the lowest setting to mix until smooth, another minute or so. (Sour cream does not need to be at room temperature or warm.) DO NOT OVER BEAT. Season to taste with salt and pepper.

Transfer to serving dish. Melt remaining butter and pour over potatoes. Sprinkle with paprika and chopped parsley.
Nutrition Facts
BEST Creamy Dreamy Mashed Potatoes
Amount Per Serving (1 g)
Calories 338
Calories from Fat 153
% Daily Value*
Fat 17g26%
Cholesterol 56mg19%
Sodium 433mg19%
Potassium 1009mg29%
Carbohydrates 43g14%
Protein 6g12%
Vitamin A 616IU12%
Vitamin C 13mg16%
Calcium 80mg8%
Iron 2mg11%
* Percent Daily Values are based on a 2000 calorie diet.
(Visited 1,039,187 times, 828 visits today)