This five layer Dark Chocolate Peanut Butter Pie is made completely from scratch from the Ritz cracker crust, to the chocolate ganache, to the peanut butter mousse filling. A chocolate and peanut butter lover's dream!
Every three months or so, it never fails, Kevin asks for a pie. The request isn't usually followed by a preference on what flavor, but I try to keep things seasonal, so in the fall, it's apple. In the winter, pecan, chocolate or pumpkin. When spring hits, I'm all about coconut. Early summer, berries. But right now I feel like we're in this weird traditional time, where the berries are slowly diminishing in quantity and quickly rising in price, and the peaches aren't quite up to par yet.
So instead of waiting days for the peaches to be up to my standards, I decided to use what I have on hand and whip up a pie I know will be demolished just in time for that first peach to ripen.
Introducing the richest, most delicious, Dark Chocolate Peanut Butter Cup Slab Pie.
It's not particularly groundbreaking, but it is delicious, and unlike a lot of recipes out there that require store-bought whipped topping, this is made with REAL whipped cream. So while it's not exactly light, a little will go a long way, which means you can feel less guilt.
Even though the pie itself is in slab form with a mere one inch of depth, there are five different layers within that inch.
First, there's a sweet and salty Ritz cracker crust.
Second, a thin layer of chocolate ganache.
Third, a rich, mousse-like peanut butter filling.
Fourth, homemade whipped cream.
And lastly, a layer of roughly chopped dark chocolate peanut butter cups.
Five layers is a little daunting when listed out, but each layer on its own is pretty simple to throw together, and the crust is the only one that requires baking.
While the crust cools, everything else comes together in a relatively easy manner. The chocolate ganache only requires two ingredients and two easy steps: Scald a half cup of heavy cream, turn the heat off and then whisk in a half cup of semi-sweet chocolate chips. That's it.
Next, the peanut butter filling. Softened cream cheese is whipped up with creamy peanut butter (I stay away from natural since it tends to have a thinner consistency), powdered sugar, a pinch of salt and just a touch of vanilla extract. It's then slowly combined with a little bit of homemade whipped cream and ready to be spread evenly on top of the crust and chocolate layer.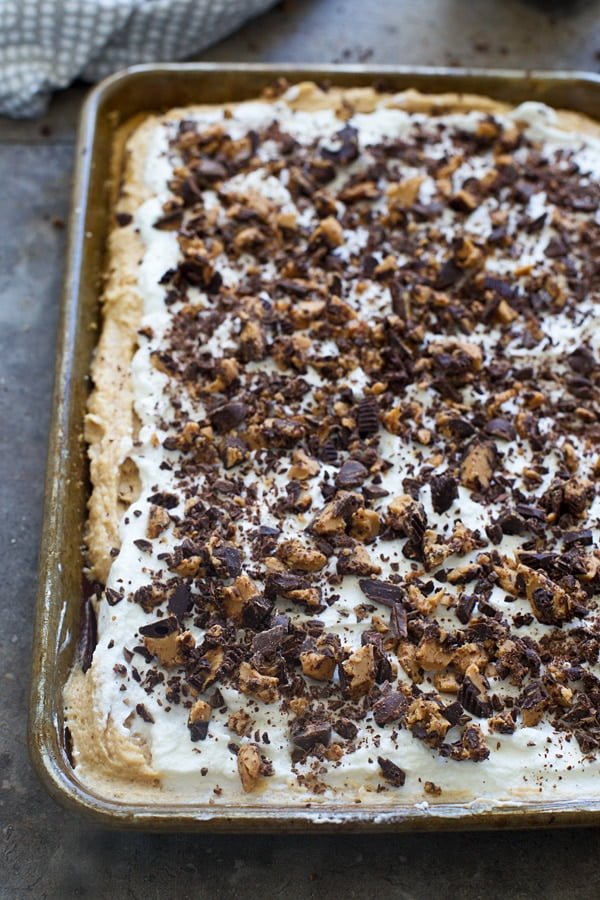 Once the whipped cream and chopped peanut butter cups get layered on, the whole pie chills for a few hours until it's ready to be served. (Although I ate it after only about 30 minutes of chilling and it was still PERFECT.)
I'll meet you back here in a couple weeks with another pie using up the last of summer's produce!
Dark Chocolate Peanut Butter Cup Slab Pie
This Dark Chocolate Peanut BUtter Cup Slab Pie is what chocolate and peanut butter dreams are made up. The crust is made up of salty ritz crackers, followed by a layer of dark chocolate, and finally a creamy layer of peanut butter cup filling. It's topped off with whipped cream, chocoalte shavings, and chopped peanuts.
Ingredients
56 (4 sleeves fresh stacks)

Ritz crackers

2

tbsp

sugar

4

tbsp

unsalted butter, melted

2

cups

heavy cream, divided

1/2

cup

semi-sweet chocolate chips

8

oz

softened cream cheese

1

cup

creamy peanut butter

3/4

cup + 2 tbsp.

powdered sugar

1/2

tsp

vanilla

Pinch

salt

10

dark chocolate peanut butter cups, roughly chopped
Instructions
Preheat oven to 325 degrees. Grease a half sheet pan with non-stick cooking spray. (A half sheet pan should be 9x12)

Add graham crackers and sugar to the bottom of a food processor. Pulse until graham crackers are crumbs. Add melted butter and pulse until combined.

Pour crust in to prepared pan and evenly spread them on the bottom. Use a measuring cup to press the crust firmly into the pan. Bake for 12-15 minutes until golden brown. Cool completely.

While the crust cools, make the filling and the chocolate ganache. Add 1/2 cup heavy cream to a small saucepan. Turn the flame on medium and heat until scalding hot. Turn the heat off and add chocoalte chips. Whisk until chocolate is melted. Set aside to cool.

Add remaining cream to the bottom of a stand mixer. Use the whisk attachment and beat on a medium-high speed until medium peaks form. Transfer to another bowl.

Add cream cheese, peanut butter, all but 2 tablespoons of the powdered sugar, salt, and vanilla to the stand mixer. Switch the whisk attachment for the paddle attachment. Beat the mixture on a medium speed until combined. Add half of the whipped cream and mix on a low speed until combined. Do not overmix or you will deflate the whipped cream.

Once the crust has cooled, pour chocolate on bottom. Place in the freezer for a few minutes to solidify. After it's hardened, remove and spread peanut butter mixture on top.

Add remaining powdered sugar to whipped cream. Gently fold in. Spread whipped cream on top of peanut butter mixture. Sprinkle chopped peanut butter cups on top.
Nutrition Information
Serving:
1
slice
,
Calories:
446
kcal
(22%)
,
Carbohydrates:
34
g
(11%)
,
Protein:
8
g
(16%)
,
Fat:
32
g
(49%)
,
Saturated Fat:
15
g
(94%)
,
Cholesterol:
60
mg
(20%)
,
Sodium:
286
mg
(12%)
,
Potassium:
237
mg
(7%)
,
Fiber:
2
g
(8%)
,
Sugar:
23
g
(26%)
,
Vitamin A:
645
IU
(13%)
,
Vitamin C:
1
mg
(1%)
,
Calcium:
77
mg
(8%)
,
Iron:
1
mg
(6%)