This Easy Basil Pesto is the only recipe you'll ever need for pesto. It has a little punch of citrus, tons of parmesan cheese, and of course, plenty of basil. It's easy to throw together requires minimal ingredients, and is good on just about anything.
This is so versatile, but some of my favorite ways to use it are in this 5-Ingredient Roasted Summer Veggie Pasta, this Grilled Prosciutto and Pesto Chicken, and these Green Beans with Pesto.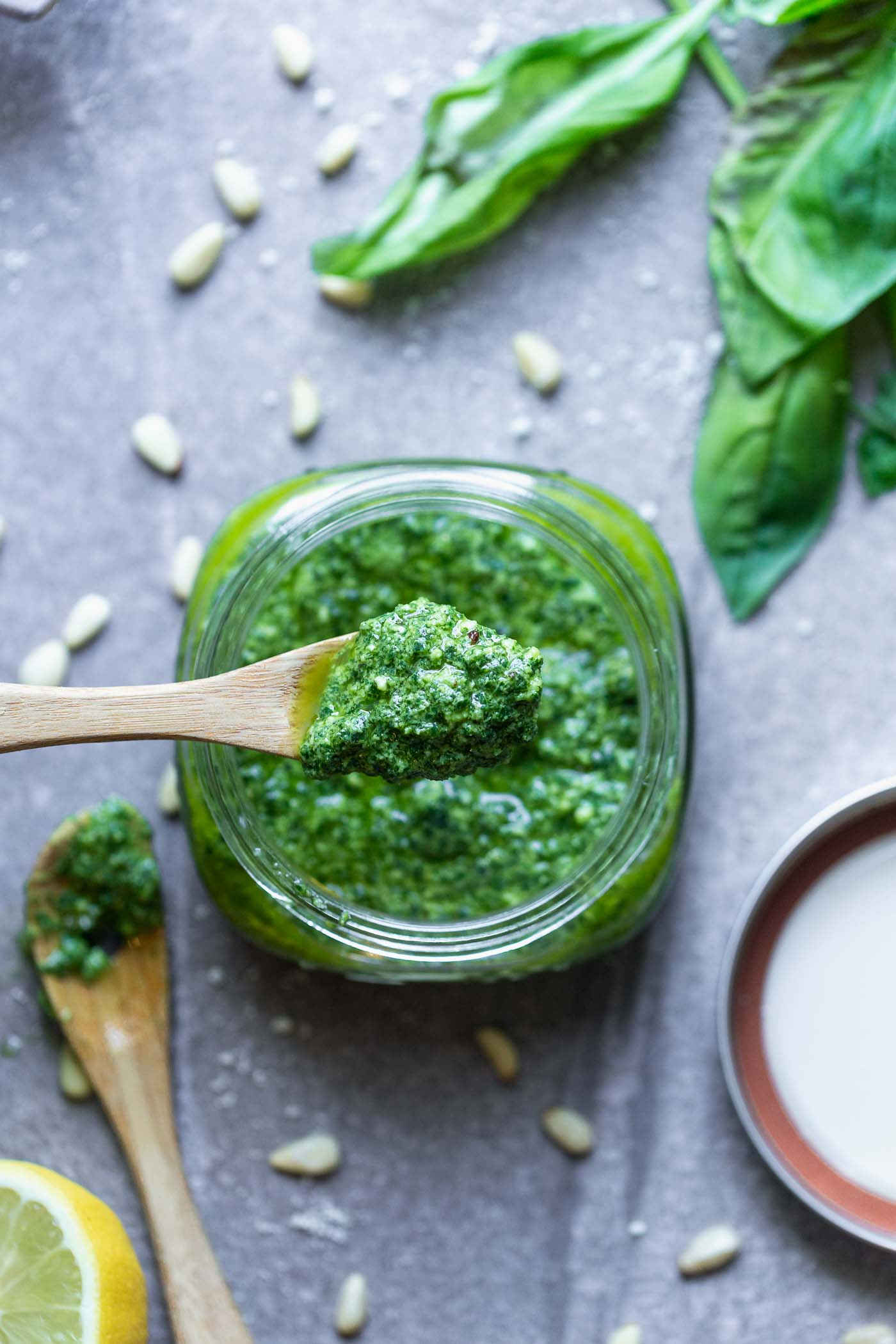 Easy Basil Pesto
Ok, so basil pesto. I know there are probably thousands, actually probably millions of recipes for basil pesto out there, each one only slightly deviating from the next, but seeing as this is sort an index of my own go-to recipes, I thought it was important to have one in the archives.
So, here it is. My no-fail, perfect-to-me basil pesto.
My version has a little bit more citrus than most variations, it's simply a taste thing for me, plenty of pine nuts, and of course, lots of parmesan cheese.
This is actually the first year I've grown enough basil to put together a full batch of pesto. Each year, without fail, my basil plant grows about three feet tall, but doesn't grow out and produces a pretty pathetic crop of bright green basil leaves. By July, I've usually thrown in the towel and promised myself I'll do better next year.
This year, what we did different was plant the basil in the ground instead of the pot, and much to our surprise it seemed to do the trick! I haven't had to buy basil from the store all summer long, and I'm pretty much giddy with excitement.
Tricks to Easy Bail Pesto
Use high-quality basil. This means the leaves need to be vibrant green and plush, if any of your leaves are light green or starting to turn a murky color, throw them out, they'll deter from the final product.
Good parmesan cheese. And absolutely no parmesan cheese from a can.
Fresh pine nuts. Nuts have a shelf life, so if you haven't pulled them out of the pantry in two years, chances are, they're no good anymore. I know pine nuts are expensive, but these days, you can just buy them in the bulk bin, and save a lot of money.
I actually don't find that you need to use a really expensive olive oil. I actually like to use a middle-of-the-ground one that isn't super strong.
How to make Easy Bail Pesto
Toast the pine nuts. Throw them in a dry pan, and let them sit over a medium heat until they smell nutty and fragrant. Cool.
Throw basil, toasted pine nuts, PLENTY of parmesan cheese, garlic and lemon juice, into the food processor and blend until it's a paste.
Drizzle in the olive oil while pulsing the mixer until the pesto comes together.
Season to taste with salt and pepper.
Simple things to make with Basil Pesto
Add to hot pasta along with halved cherry tomatoes and a little bit of paste water.
Toss with roasted veggies or potatoes.
Use in place of mayo on deli sandwiches.
Mix in with scrambled eggs.
Blend with store-bought hummus for a semi-homemade dip.
Can pesto be made ahead of time and stored?
Yes! I always make a big batch and store in a mason jar. I pour a little bit of olive oil on top to seal the vibrant green color and pull it out as needed.
This Easy Basil Pesto is the only recipe you'll ever need. It's easy to throw together requires minimal ingredients, and is good on just about anything.
Ingredients
3

tbsp

pine nuts

3

cups

packed basil leaves

1

large

garlic clove

1 1/2

tbsp

lemon juice

1/4

cup

grated parmesan cheese

1/4

cup + 1/8 cup

olive oil

salt and pepper to taste
Instructions
Add pine nuts to a small skillet. Turn the heat on medium and while WATCHING CAREFULLY, toast pine nuts until they smell nutty and fragrant. Cool completely.

Add pine nuts, basil, garlic, lemon juice and parmesan cheese to a food processor. Blend until almost pureed. While pulsing, slowly drizzle olive oil in until combine. Pulse a few more times. Season to taste with salt and pepper.

To store: Place in an airtight container or mason jar. Drizzle with olive oil.
Nutrition Information
Serving:
2
tbsp
,
Calories:
72
kcal
(4%)
,
Carbohydrates:
1
g
,
Protein:
1
g
(2%)
,
Fat:
7
g
(11%)
,
Saturated Fat:
1
g
(6%)
,
Cholesterol:
2
mg
(1%)
,
Sodium:
32
mg
(1%)
,
Potassium:
33
mg
(1%)
,
Fiber:
1
g
(4%)
,
Sugar:
1
g
(1%)
,
Vitamin A:
335
IU
(7%)
,
Vitamin C:
2
mg
(2%)
,
Calcium:
34
mg
(3%)
,
Iron:
1
mg
(6%)