I find a certain solace in making foods myself that are easily picked up at the grocery store. Things such as handmade pasta, from-scratch salad dressings, fresh pesto and ricotta cheese are just a few of the foods I find to be worth the extra effort to make at home versus getting them store-bought . It wasn't until my recent trip to Mexico that I fully understood the discrepancy in quality of a freshly made tortilla compared to the run-of-the-mill tortillas you find piled high at the end of the Mexican food isle. They've now been added to my long list of items I'll skip a grocery store run for.
The reason I fell in love with Puerto Vallarta wasn't purely for the warm weather and sunshine, it was also because of my deep-rooted adoration for the authentic Mexican food you find around (literally) every corner. Even at the most ordinary, hole-in-the-wall, family-run restaurants, you can expect nothing but fresh, local ingredients, and can even usually catch a glimpse of the family matriarch whipping up freshly made tortillas faster than Bobby Flay can slice an onion (FAST). You'd think at the wrap speed those babies are churned out, the quality might suffer, but I've found it to be quite the opposite. The faster, the tortillas are made, the more experience the tortilla-maker has, in turn, producing tastier tortillas. Even coming from a saturated Mexican food market here in Kansas City, most of the restaurants around here don't hold a candle to what you can find in Mexico, and I'm guessing, a lot of them outsource that aspect of restaurant life.
After far too many discussions with my Mom about how you just can't find tortillas here like they make them across the border, I finally decided to peruse the Internet for an easy recipe so I could make homemade tortillas.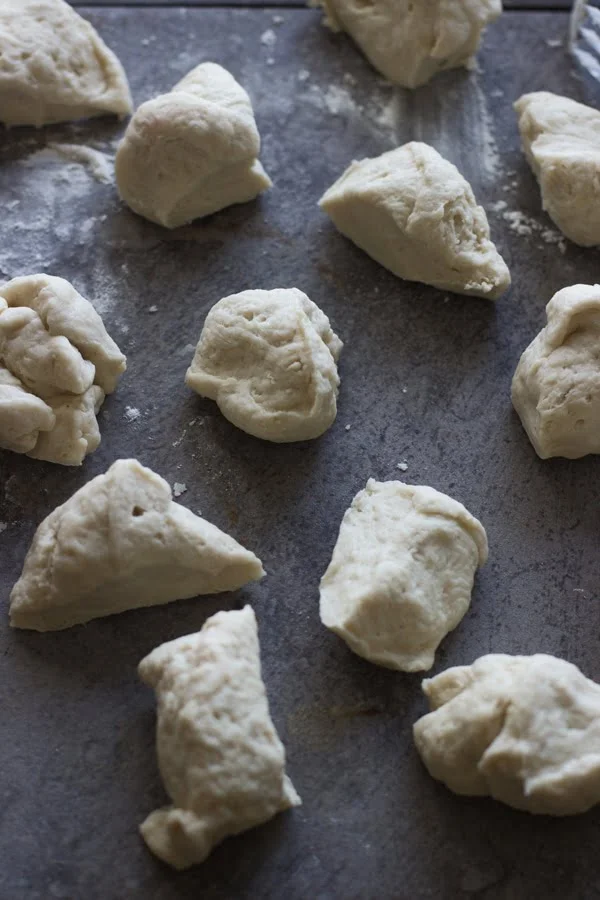 Enter: Easy Homemade Garlic Tortillas.
So. Let's just dive into it. Because there are plethora of pictures here, I think it might just be best to explain each one.
But first, a little about the recipe. When searching the Internet for a recipe, I knew I wanted one that could easily be adapted and also one that didn't require the use actual lard. While I'm sure I could find it, I really didn't feel like searching high and low; plus I had vegetable shortening on hand. After skimming through five or so recipes, I finally spotted a recipe by the great Rick Bayless, and I just knew it would be perfect. For those of you who don't know him, Rick Bayless is pretty much the end all, be all of Mexican cooking. It's his specialty, and if you live in the Chicago area, you might have even dined at one of his restaurants — to put it mildly, he's the king of authentic Mexican cuisine, so as you can imagine I trust his recipes implicitly.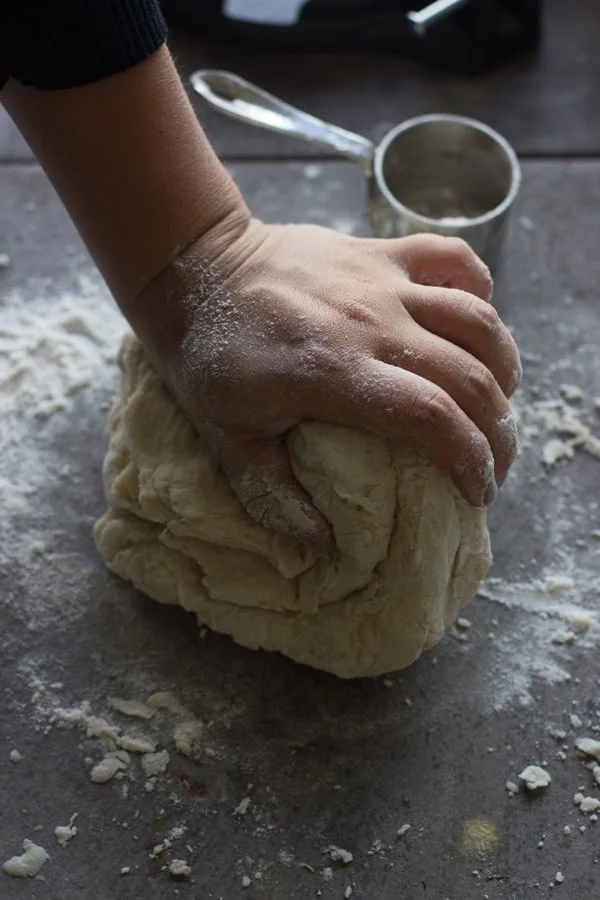 The steps really couldn't be simpler. As shown above, the first step is very much similar to making a pie or biscuit dough, the only difference being that you don't have to keep your ingredients cold, in fact, it's just the opposite, as you want them to be slightly warm.
Room temperature shortening is cut in with a pastry blender until it resembles a course meal (again just like a pie crust), if you don't own a pastry cutter (I only recently have), a fork will do the job perfectly as well. Once the fat is completely blended in, a salt and garlic laced water is slowly stirred in — Rick's recipe calls for 3/4 of a cup of water, but I found that I needed closer to one cup to bring the dough together. I'd start with ¾ of a cup and then add more if you need it.
Also, a note on the garlic. I happen to love the flavor of garlic laces throughout pretty much anything I eat, especially Mexican food, but if you don't love the flavor, cut it back to one clove, or even omit it altogether.
Once the dough is sort of shaggy, I use my hands to bring it together completely and then knead it on a lightly floured surface just until it's smooth — for me, it took about five minutes, but for someone with stronger arms, it might take less time.
The dough is then divided into twelve (I wanted small tortillas so I divided mine into 14 pieces) pieces, rolled into tiny balls and set aside to rest.
Once the dough rests, all you have to do is pop each one into your tortilla press and flatten them. If you don't have a tortilla press no worries, you can just use a lightly floured rolling pin and roll the dough out in a circle as thin as you'd like. I actually tried both ways, and surprisingly preferred rolling them out myself.
Lastly, you cook them up! All you need is a clean dry pan, or if you have a gas burner, you can cook them directly on grates of the your stove. I ended up using a cast-iron skillet, which browned up the tortillas perfectly. Just set the tortilla in the dry skillet set over a medium-high heat and wait for it to brown, once it does, flip it over and wait for the other side to brown. The whole process takes literally no time at all, maybe 2-3 minutes.
There you have it! Homemade flour tortillas. Perfectly easy. Perfectly delicious. Infinitely better than store-bought.
Tomorrow, I'm recreating these streets tacos I had several times in Mexico. So easy and so flavorful – stay tuned!
Easy Homemade Garlic Tortillas
Ingredients
2¾ cup all-purpose flour
5 tablespoons vegetable shortening
1 teaspoon salt
2 garlic cloves, grated
1 cup warm water
Instructions
Using a pastry cutter or fork, cut the shortening into the flour until it resembles a coarse meal.
Dissolve salt in warm water. Stir in garlic.
Slowly pour in water, stirring with a fork to combine. Use the fork to stir the mixture until it comes together.
Transfer the dough to a lightly floured surface and knead with hands until the dough comes together and is smooth, about 3-4 minutes.
Divide dough into 12 pieces. Roll into a ball and set on a large plate or sheet pan. Cover with plastic and let rest at room temperature for one hour.
Using a tortilla press, take the dough and press into tortillas. If you don't have a tortilla press, just use a rolling pin to roll dough into concentric circles.
Heat a skillet to a medium-high heat. Add tortilla dough to the hot skillet. Cook until golden brown, about 1-2 minutes. Flip, cook another 30 seconds to one minute.