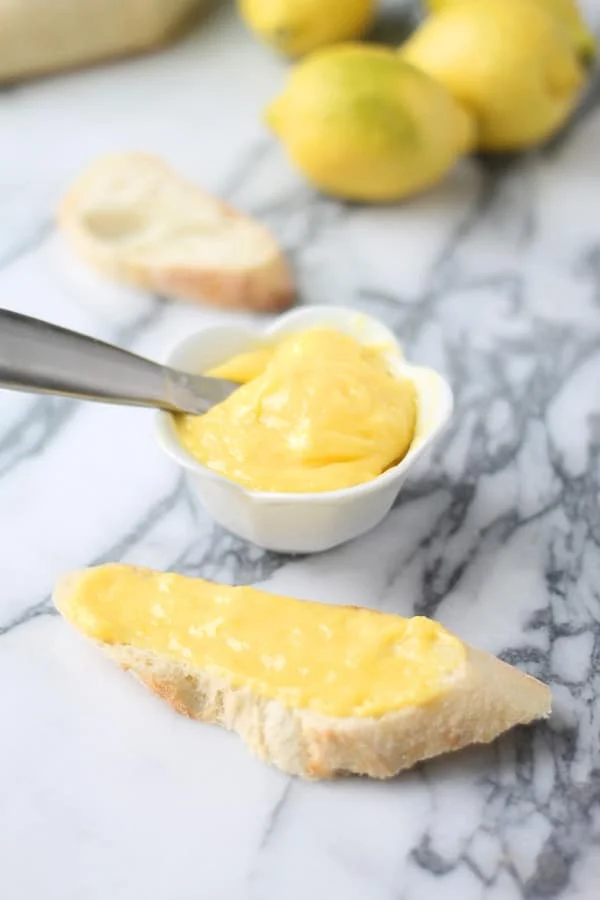 Most people have very passionate opinions when it comes to lemon desserts – they either love them or hate them. I'm on the love side since I don't really gravitate towards super sweet desserts. Instead, I tend to lean towards tart and delicately sweet flavors, so lemon suits me just fine. Plus my favorite cocktail of all time is a vodka soda with lemon juice NOT lime – easy on the waistline, tasty, and especially refreshing in the summertime.
My refrigerator is always overflowing with lemons since I generally use them on a daily basis. Whether it's in a simple salad dressing, a quick pan sauce, my cocktail of choice, or to add a nice fresh kick of acid to finish off dinner, a lemon is almost always something I blindly reach for. In my dream home, I picture a huge yard with an abundance of lemon trees and see myself dreamily plucking them from the branches everyday in the early morning – although the climate here in Kansas may not be conducive to lemon tree growing, let's just pretend it is for now, k?
This weekend seemed like the perfect time to finally break out the lemon desserts since it was absolutely wonderful weather. There's something about the sunshine and warmth on my face that makes me crave citrus and bright colorful looking food. Since I realize (as mentioned before) that some people may have a love/hate relationship with lemons, I wanted to make something that was lemony but didn't scare any timid lemon skeptics away – something that could be light and used in a variety of ways that didn't scream lemon….
Enter: lemon curd.
On it's own it can shock your face into a sour pucker, but paired with a few selected items it can be sweet and tart but not overpowering in the least. I also love the fact that it takes less than twenty minutes to put together – that's always a winner in my book.
Here are some of my favorite ways to utilize this luscious curd:
Dollop on sweet biscuits with butter and blueberry jam.
Spread in between layers of plain white cake
Swirl into homemade vanilla ice cream
Mix into Greek yogurt for a citrusy snack
Or stayed tuned for Wednesday's Coconut Cupcakes with Lemon Curd, Whipped Cream and Toasted Coconut – a lemony sweet treat you're bound to love…
Easy Lemon Curd
Author:
Nicole-Cooking for Keeps
Ingredients
4 egg yolks
¾ cup sugar
1 teaspoon lemon zest
Juice of two large lemons, (scant ⅓ cup juice) strained of seeds and pulp
3 ½ tablespoons butter, cut into half tablespoons
pinch of salt
Instructions
Whisk yolks, sugar, lemon zest and juice in the bottom of a heat-proof bowl. Fill a medium saucepan up with water, ¼ full. Bring water to a simmer and place bowl with lemon mixture over. Stir constantly with a wooden soon until the mixture thickens, about 8-10 minutes. Be sure to keep the heat low enough to keep the eggs from curdling. Once the mixture has thickened, remove from heat, add butter half a tablespoon at a time until all is incorporated. Season with a pinch of salt. Cool and store in an airtight container in the fridge.