Easy Snacks with RITZ Crackers is a conversation written by me and sponsored by POPSUGAR and RITZ Crackers. Thank you in advance for supporting the brands we love!!!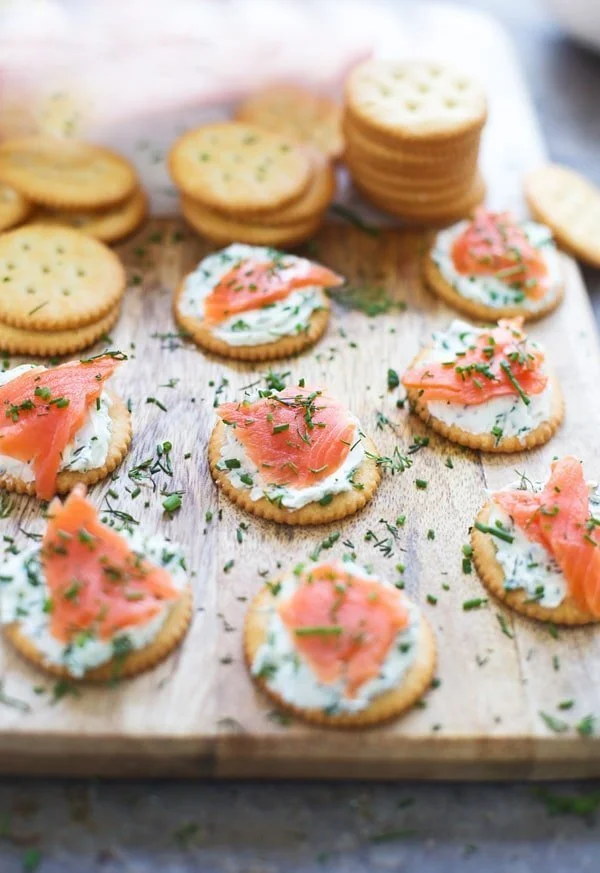 I'm not typically overconfident in any area of life, but I will say, I make a mean snack, and I've become quite well-versed at hosting parties over the years. The combination of the two has resulted in me throwing some type of gathering on a weekly basis, typically a play date with my son and some of his baby "friends" (if you can call them friends at 15 months old) or a casual happy hour with a few of my girlfriends.
When it comes to entertaining, I'm always up for a challenge, so when POPSUGAR and RITZ Crackers wanted me to show that I have "the right stuff" to get creative with RITZ Crackers for some type of occasion, I couldn't say "yes" fast enough!
We are big on snacks in our family, and like a lot of people our age, we practically grew up on RITZ Crackers. Not surprisingly, our son has become equally infatuated with the buttery flavored cracker, so it's definitely something we tend to keep on hand. While we love to eat them plain, for a get-together it's nice to elevate things a bit while keeping things simple at the same time – and the options are endless with these guys.
I happen to be hosting a happy hour at my house tonight, so I thought it would be fun to set up a little happy hour for Teddy before the girls showed up. For me (and for the girls later), I whipped up a supereasy take on bagel and lox by mixing some softened cream cheese with a ton of fresh herbs. I used chives from my backyard and dill from the store, which both go perfectly with smoked salmon, but you could use whatever herbs you've got on hand – even finely minced green onion would work nicely. From there, it couldn't be simpler: the cream cheese mixture is spread onto the crackers and each one is topped with a tiny piece of salmon and then sprinkled with a little bit of extra dill and chive – literally the easiest snack on the planet.
I'm pretty sure from start to finish the whole thing took me five, maybe six minutes to throw together, and they could not look more elegant!
For Teddy's snack, I went even simpler and topped each cracker with a bit of almond butter. Again, you can just use what you have on hand, but if you have it, sunflower butter would also be lovely, and obviously, you can't go wrong with classic peanut butter.
Nestled on top of each almond-butter-covered cracker are apples sliced superthin so they fit ever so perfectly onto each cracker. For a little sweetness, I drizzled a touch of honey over the top of each one and then let Teddy go to town, and as you can see, he definitely went to town.
I know you've got "the right stuff" to get creative yourself, what would YOU make?? I want to hear ALL of your ideas so I can start implementing them at my next happy hour, which is next week…
Be sure to check out RITZ Crackers for more easy snack ideas!
Easy Snacks with RITZ Crackers
Author:
Cooking for Keeps
Ingredients
⅓ cup almond butter
16 RITZ Crackers
1 Granny Smith apple
3 tablespoons honey
Flaked salt (optional)
Instructions
Spread about a teaspoon of almond butter onto each RITZ Cracker.
Peel apple. Cut off cheeks and thinly slice each cheek. Cut in half so each apple slice is about the length of the RITZ Cracker.
Layer three or four pieces of apple on top of almond butter. Drizzle with honey. Sprinkle with salt, if using.