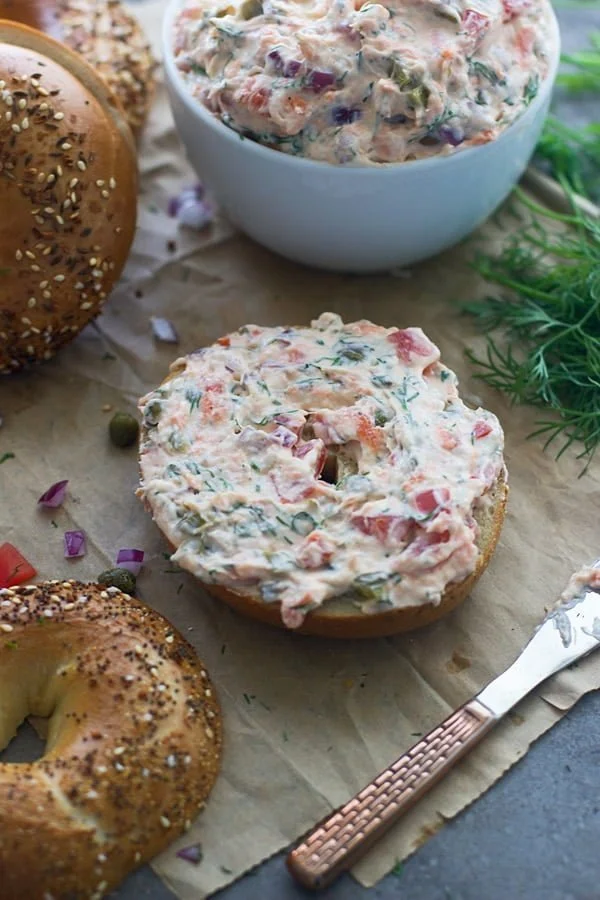 I adore a good bagel with lox and all the accouterments. The more toppings I can pile on a bagel smeared with copious amounts of cream cheese, the better.
The only problem? By the time I get the perfect ratio of smoked salmon to capers to red onion, and tomatoes, my bagel is well over three inches high. The towering stature looks pretty impressive, yes, but it makes it near impossible to get the perfect bite without all the ingredients tumbling off the bagel and on to my plate. Worse, my dining companions have to witness me trying to tackle it, which to say the least, isn't a pretty site to see.
So! Why not take all my favorite parts of the lox, mash them together with cream cheese, and then spread it on a perfectly toasted (everything) bagel. Every bite has a little taste of each ingredient, and the cream cheese acts as a glue holding everything snugly together.
This particular recipe includes all my favorite aspects of the bagel and lox, but the beauty here, is you can tailor it your own preference. Hate red onion? Leave it out. Love the briny bite of a caper? Throw more in.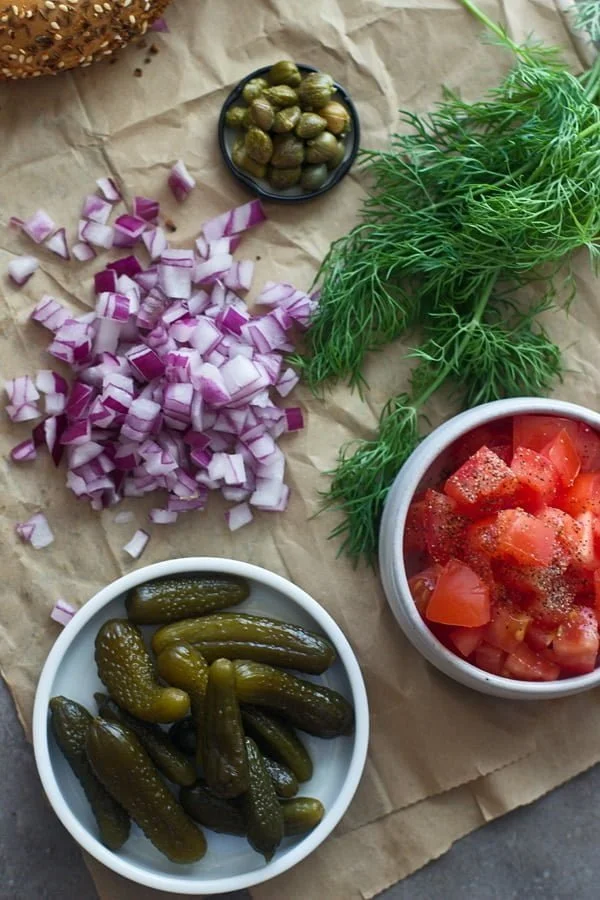 The most important step here is to aggressively whip the cream cheese, otherwise it can be kind of difficult to spread. Plus, everyone knows that whipped cream cheese is a hundred times more delicious.
I throw the room temperature cream cheese in the bottom of a stand mixer along with some heavy cream (you could also use milk), garlic powder, onion powder, and salt, then let her go for about five minutes. I actually used a reduce fat cream, because I can't tell the difference in situations like this, and if I'm going to be using heavy cream, I might as well try to cut some of the fat and calories somewhere.
From that point, the smoked salmon, red onion, capers, cornichons, tomatoes, and dill are gently folded in. It's seasoned to taste with salt and pepper, then ready to be slathered across your favorite bagel.
Lox and Fixings Dip
All of the fixings of bagel and lox in one dip!
Author:
Nicole ~ Cooking for Keeps
Serves:
Makes 1½ cups dip
Ingredients
8 oz. softened cream cheese
4 Tlbs. heavy cream
¼ tsp. garlic powder
¼ tsp. onion powder
¼ tsp. + ⅛ tsp. salt
3 oz. smoked salmon, roughly chopped
3 Tlbs. capers, chopped
2 Tlbs. chopped dill cornichon
4 Tlbs. finely diced red onion
4 Tlbs. chopped dill
¼ cup finely diced tomato
Torn and toasted everything bagels
Instructions
In the bottom of a stand mixer, add cream cheese, cream, garlic powder, onion powder, and salt. Using the whisk attachment, whip until fluffily, about five minutes.
Add remaining ingredients, use a spatula to combine everything. Season to taste with salt and pepper.
Serve with toasted bagel pieces.