For some people summer means burgers, steaks and everything grilled. And while I share those sentiments as well, my summer isn't complete without several variations of this Ricotta and Cherry Tomato Pasta. We take aldente linguine noodles and toss them in a creamy ricotta sauce studded with burst cherry tomatoes and garlic. Really simple and really delicious.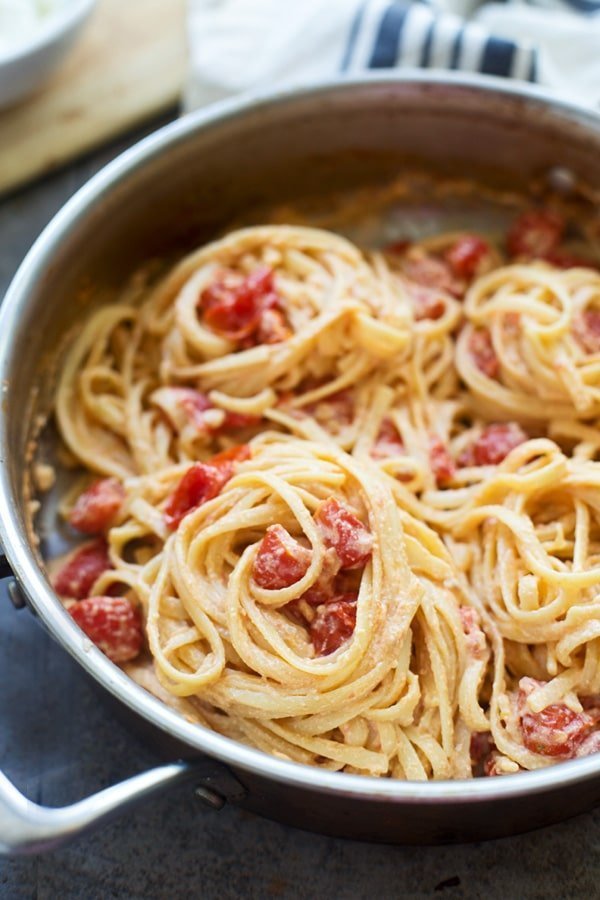 Ricotta and Cherry Tomato Pasta
This time of year it's nearly impossible for me to leave the grocery store without a basket-full of cherry tomatoes. Usually I pick them up with intentions of throwing them in to salads or snacking on a few when a hunger emergency strikes, but a week later, I often find myself with a horde of the tiny red jewels on the verge of exiting their perfectly ripe, juicy prime.
Being a girl who doesn't waste anything, my answer to the surplus almost always comes in the form of pasta. Sometimes, I halve them and toss them with lemony angel hair pasta. Other times, I'll leave them whole and cook them until they burst before nestling the makeshift soft over veggie lasagna rolls. I'll also roast them at the same time as a giant spaghetti squash and toss the two together for a healthier take on traditional pasta.
Today, we're making Ricotta and Cherry Tomato Pasta. Here's what we're going to do. Cook the cherry tomatoes in some olive oil and garlic, toss with silky strands of linguine pasta, a little bit of creamy ricotta cheese, and some pasta water.
The reason I make so many variations is because it comes together in flash and the tomatoes themselves are packed with an endless amount of flavor, which to me, just screams summer. Also, it's an easy way for me to get my pasta fix in a seasonal, healthy form, because I will never be one of those people who say goodbye to pasta once the last snow has fallen.
Ingredients in Ricotta and Cherry Tomato Pasta
Olive oil. You need a little bit of fat to cook the cherry tomatoes, and olive oil does the trick. It can withstand a high temperature of heat which we need to help the cherry tomatoes burst.
Tomatoes. I like to use true cherry tomatoes, even better if you can find them at the farmer's market, but grape or any kind of small tomato will work.
Garlic. Lots and lots of garlic. Normally I like to grate garlic, but in this Cherry Tomato Pasta, I really want to be able to taste the bits of garlic, so I opt to slice it really thin so there's a basically a piece of garlic in each bite.
Pasta. We use linguine here, but spaghetti, pappardelle, or fettuccine will also work.
Ricotta. You'll need full-fat whole milk ricotta for our ricotta and cherry tomato pasta. I find that low-fat ricotta has an odd texture and reads almost as sweet, which I don't like.
How to make Ricotta and Cherry Tomato Pasta
The process is really so simple, it barely requires a recipe. Halve cherry or grape tomatoes and sauté in a tablespoon or so of olive until they start to soften and almost melt away. Once they cook for a good five minutes, drop a half pound of linguini in some boiling, liberally salted pasta water.
While the pasta boils, finish cooking the tomatoes, and then turn the heat down a touch so the garlic can go in without burning. Once the garlic is soft, the pasta should be just under aldente and ready to add in, along with a half a cup or so of salty pasta water. Now, this is very important, as I just mentioned, the pasta needs to be UNDER aldente. Because it's going to continue to cook in the sauce, the pasta strands will eventually reach their aldente status later.
The linguine, pasta water and tomato garlic mixture are tossed together, seasoned with some salt and by all accounts it's ready to go. However, I had some homemade ricotta on hand, so to change things up a bit from my traditional method, just before serving, I tossed about ¾ cup in to transform the tomato-based pasta into something just a bit creamier and indulgent. Of course, if you don't have homemade ricotta lying around, store-bought is more than sufficient.
A final sprinkling of salt and pepper finishes this easy weeknight pasta off.
Substitutions and Tips and Tricks for Recipe Success
You can absolutely use store-bought ricotta, just make sure it's good quality. I like to make my own, because I can make it low-fat without compromising flavor or texture.
In our house, this recipe only fed two of us (plus Teddy), so if you have a family of four or more, I'd double the recipe.
Again, don't overcook the noodles! You want them just under aldente.
For more ways to use your cherry tomatoes, check out these posts:
Arugula and Tomato Pizza: Nourish and Fete
Tomato & Whipped Feta Crostini: Certified Pastry Aficionado
Tomato Butter-Roasted Salmon with Cherry Tomatoes: Cooking for Keeps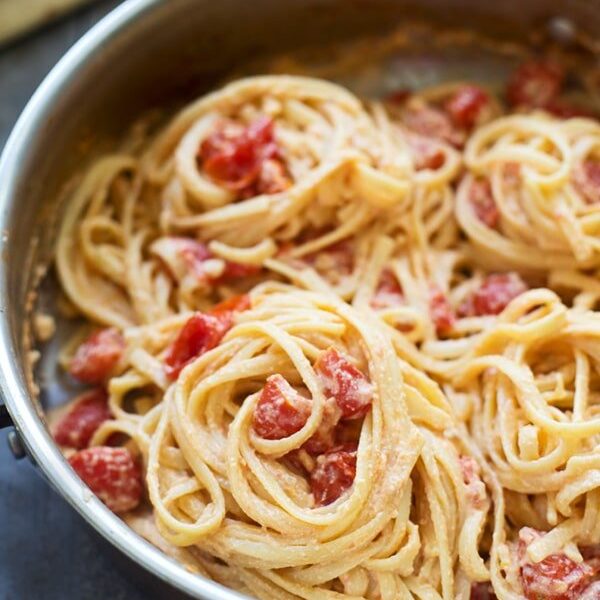 Five Ingredient Tomato Ricotta Linguini
This easy Cherry Tomato & Ricotta Linguini uses only five ingredients and comes together in under 30 minutes. It's the perfect summer pasta!
Ingredients
1

tbsp

olive oil

3/4

lb

cherry or grape tomatoes, halved

3

large

garlic cloves, sliced

1/2

lb

linguini

1/2

tsp

salt

3/4

cup

whole milk ricotta
Instructions
Bring a large pot of water to a rolling boil. Season liberally with salt. It should taste like the sea.

While the water comes to a boil, heat a large saute pan to a medium heat. Add olive oil, once oil is hot, add tomatoes. Saute until tomatoes start to soften, after 5-7 minutes. After 2-3 minutes of cooking, drop the pasta in to the water, make sure to use tongs to separate the noodles.

Once tomatoes start to soften, add garlic and toss. Saute 2 minutes.

When the pasta is just under aldente, use tongs to transfer the pasta to the tomatoes and garlic. (We want the pasta to be underdone because it will finish cooking in the sauce). Be sure to reserve cooking liquid! Add 1/2 cup along with the noodles and salt. Use tongs to toss.

Add ricotta. Toss. If necessary, add another 1/4-1/2 cup of pasta water. (I used 1/2 cup) Season to taste with salt and pepper.
Nutrition Information