When tomatoes are plump, red and irresistibly sweet, it's second nature to slap them between two pieces of bread, a few salty pieces of bacon, and crisp lettuce for the perfect summer BLT. And when they're not?? You reinvent the BLT with tart green tomatoes and herb-infused goat cheese, and call it a Fried Green Tomato & Goat Cheese BLT.
Every summer we find ourselves at the beginning of August with an obscene amount of tomatoes we've grown in our backyard. The only problem?? All but two or three of them have yet to ripen. Typically I'll wait around until they slowly, but surely turn from a bright green to a soft pink and finally, a vibrant red, but this year, my patience has run dry. So I decided that while I wait for the rest of the bunch to turn red, I'd swipe a few of the green ones from the vine to make one of my favorite savory summer treats – fried green tomatoes.
I first fell in the love with fried green tomatoes years ago in Destin, Florida. There was a restaurant called The Old Florida Fish house, and every single time we'd go, I'd order the fried green tomato appetizer with lump crabmeat and hollandaise sauce (a dish I replicated in the beginning years of the blog, hence the less than stellar photos). I'd unapologetically finish most of the dish myself, and then spend the next six months lusting over it until I could have it again.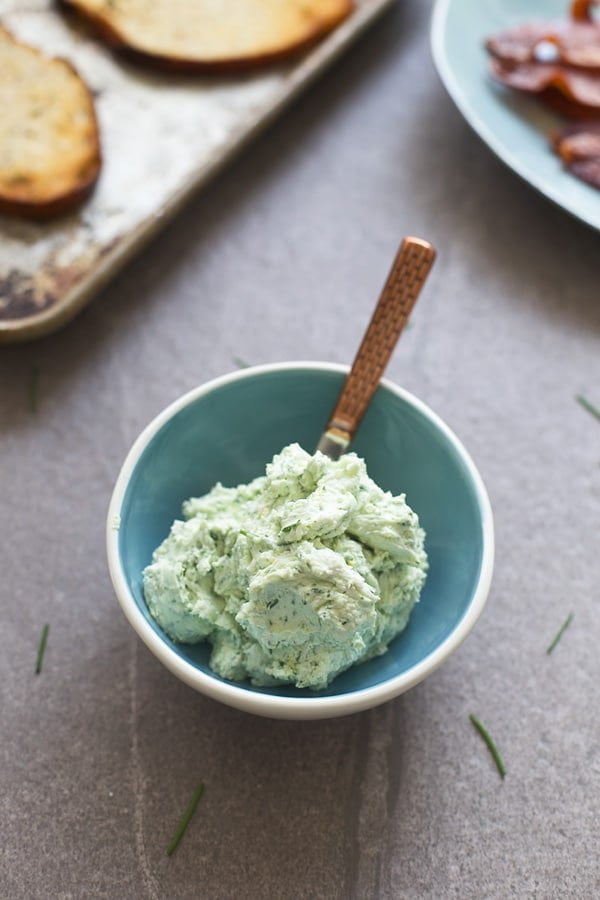 In addition to the fried green tomato I've been craving as of late, I've also had my mind on a classic BLT, so I thought it only made sense to take the two and combine them for the perfect departure on a classic summer sandwich.
In my version of a classic BLT, a liberal slathering of mayo is a must, so at first I was going to make a thicker version of this green goddess dressing, but as I brainstormed a little bit more, I realized that an herbed goat cheese might work (and taste) even better.
Spoiler alert: it does.
You could buy a pre-packaged herbed goat cheese, which is delicious, but typically uses dried herbs. I might prefer this in the winter when I don't have access to fresh herbs, but I happen to have a plethora of them available and I love the brightness fresh herbs lend to goat cheese, so I used a bunch of chives and basil instead. I also threw in the zest of a lemon, a small garlic clove and just a touch of salt and pepper for seasoning.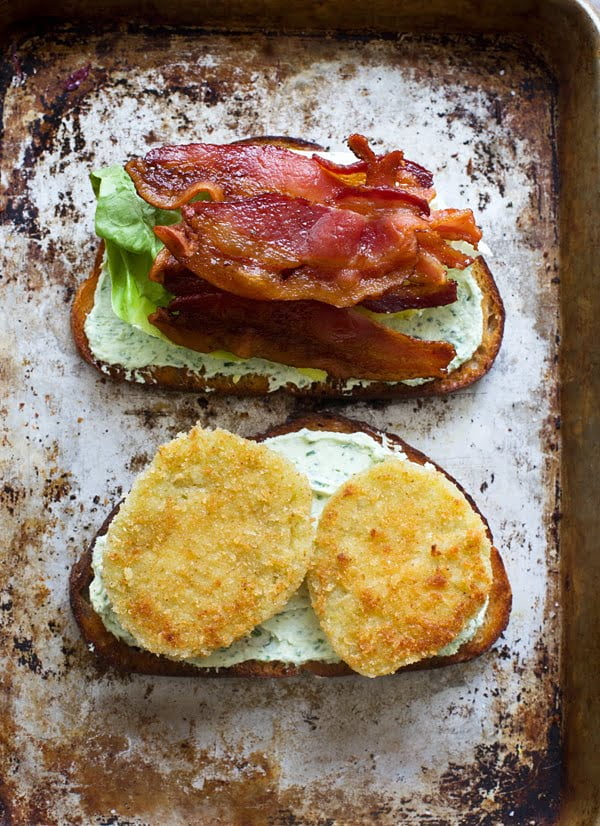 I've made fried green tomatoes a number of ways, but my favorite method is simple. I quickly dredge each tomato slice in flour, followed by a dunk in egg wash and then finish it off in a mixture of panko and plain breadcrumbs seasoned with some salt, garlic powder and dry mustard.
Once each tomato is breaded, I heat a few tablespoons of olive oil in a large non-stick pan and pan-fry them until each side is crispy and golden brown. I let them air out on a cookie rack while I make the rest and once the bacon is done cooking, they're ready to be assembled.
To start, I slather a generous portion of the herbed goat cheese on each butter-toasted slice of sourdough bread. I pile the tomatoes on, followed by an obscene amount of bacon and lastly, a few leaves of crisp butter lettuce. That's it.
It's a simple sandwich, but each component – from the goat cheese to the fried tomatoes – is packed full of flavor. I might even go out on a limb and say, these rival any classic version of BLT..
Happy summer!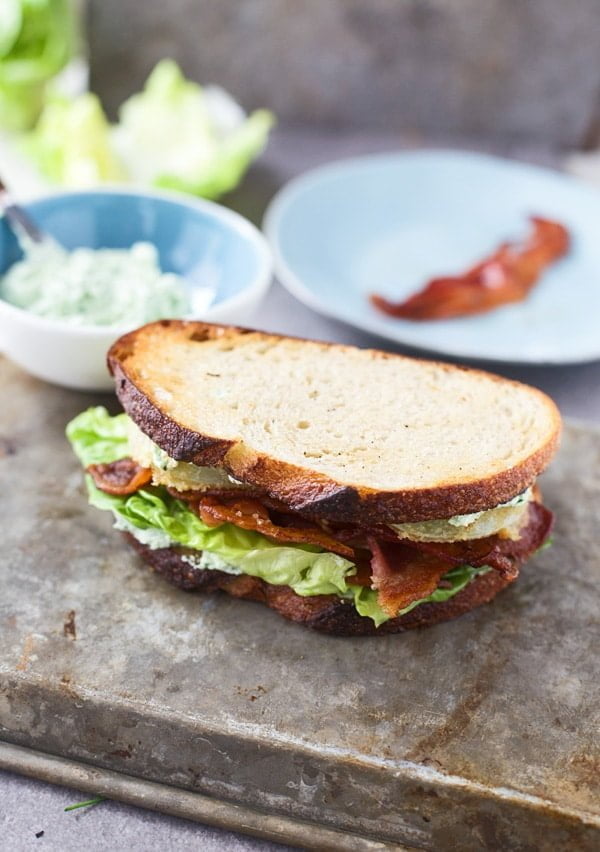 For more updates on a classic BLT, check out these posts!
Egg & Avocado BLT with Chipotle Mayo : Sweet Remedy
BLT Ranch Chicken Salad Sandwich: The Creative Bite
Buffalo Chicken BLT Wraps: Half Baked Harvest
Fried Green Tomato and Goat Cheese BLTs
We reinvented the BLT with tart green tomatoes,herb-infused goat cheese and butter-toasted sourdough, and called it a Fried Green Tomato and Goat Cheese BLT!

Ingredients
8

pieces bacon

2

large

green tomatoes, sliced into 1/4 inch pieces

1

egg + 1 Tbsp. water whisked together

1/2

cup

panko bread crumbs

1/4

cup

plain breadcrumbs

3/4

tsp

salt

1/2

tsp

garlic powder

1/4

tsp

ground mustard

1/4

cup

flour

6

oz

goat cheese, softened

1/4

cup

packed basil

1/4

cup

roughly chopped chives

1

small

garlic clove

1

tsp

lemon zest

8

slices

sourdough bread

2

tbsp

butter

4

tbsp

olive oil

butter lettuce
Equipment
Non-stick skillet

sheet pan
Instructions
Preheat oven to 400 degrees.

Line bacon up on a rimmed baking sheet and bake until crisp, about 15 minutes. Remove the bacon and turn the oven on broil. Drain bacon on paper towels.


While the bacon cooks, bread the tomatoes. Add the egg and water to a shallow bowl. Whisk to combine. Add the bread crumbs, 1/2 tsp. salt, garlic powder, and dijon mustard to a plate. Whisk to combine. Add flour and 1/8 tsp. flour to another plate. Whisk to combine.

Dredge the tomatoes in flour, pat off excess. Dip in egg, let excess drip off. Dredge in flour. Place breaded tomatoes on a cookie cooling rack while you make the rest.

Add goat cheese, basil, chives, garlic, lemon and 1/8 tsp salt to a food processor. Turn the mixer on and process until goat cheese is whipped and herbs are minced. Season to taste with salt and pepper.

Spread butter on one side of sourdough. Place bread on a large baking sheet and pop under the broiler. Broil until toasted. Remove and season with salt and pepper.

Add 1 1/2 tablespoons olive oil to a large non-stick skillet. Heat to medium. Add half of tomatoes and cook until golden brown on both sides, about 2 minutes per side. Clean pan and add the remaining olive oil to the pan, repeat with remaining tomatoes.

To assemble: Spread goat cheese on the unbuttered side of every piece of bread. Add lettuce, two tomatoes, and 3-4 slices of bacon to half of the slices. Top with the other slice of bread. Cut in half and serve.
Nutrition Information
Serving:
1
sandwich
,
Calories:
500
kcal
(25%)
,
Carbohydrates:
92
g
(31%)
,
Protein:
33
g
(66%)
,
Fat:
25
g
(38%)
,
Saturated Fat:
19
g
(119%)
,
Cholesterol:
105
mg
(35%)
,
Sodium:
1702
mg
(74%)
,
Potassium:
478
mg
(14%)
,
Fiber:
5
g
(21%)
,
Sugar:
8
g
(9%)
,
Vitamin A:
1277
IU
(26%)
,
Vitamin C:
22
mg
(27%)
,
Calcium:
154
mg
(15%)
,
Iron:
7
mg
(39%)