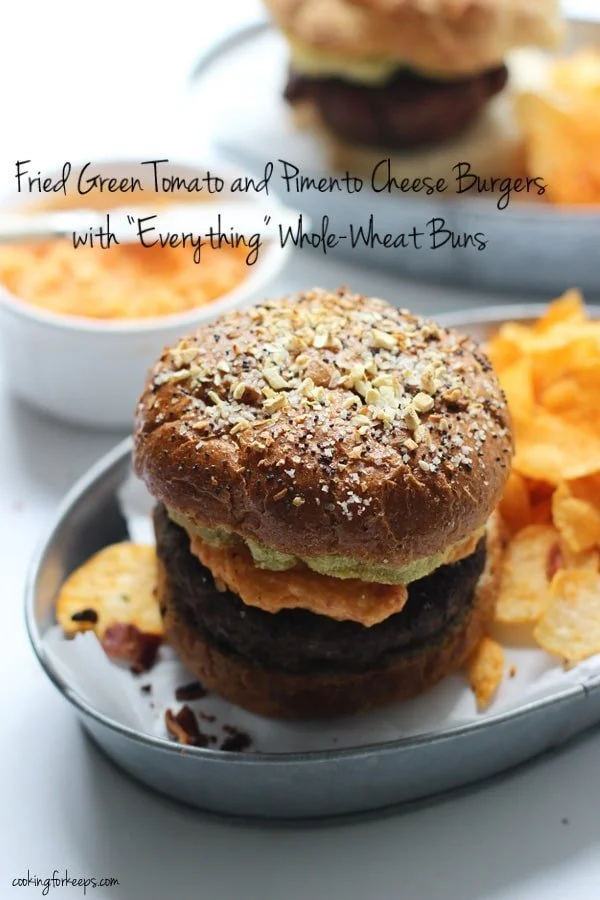 Ooops, I did it again.
Another day, another burger.

Please don't hate me.
Despite my best efforts to practice self control and hold out another week to share this, my will power increasingly decreased as the days went on. Something this good should never be neglected.
Plus, this is the first real beef burger I've made in ages – no turkey, no chicken, no seafood, no veggies – just a traditional burger patty gussied up with a few classically southern touches.
Recently Kevin and I were in Atlanta for his cousin's wedding, while we were there we had few opportunities to sneak away for a few brunches, and of course I made sure to only order completely authentic southern dishes. Think, fried green tomato benedict, sweet tea, biscuits, grits, pimento cheese….All things wonderful. And yes, I ate it ALL.
For me, vacations are not only a time to relax and enjoy myself, they're also a time I get some of the best inspiration for this blog so I always make sure to have my handy dandy food journal with me wherever I go. After my very brief taste of the south, I quickly jotted down some recipe ideas that included some of my favorite southern foods I had the pleasure of trying. First up a way to tie pimento cheese and fried green tomatoes together, naturally, a burger seemed like the only logical choice.
After typing up this recipe, I realized, holy cow, there are A LOT of ingredients listed, please do not let that scare you, yes there are a lot of ingredients, but the preparation for each is insanely easy and will take you no time at all, promise.
The pimento cheese is just a combination of sharp cheddar, light mayo, light cream cheese, garlic powder, salt and chopped pimentos. Every ingredient except the pimentos is pulverized in the mini food processor until smooth, and at the last second the pimentos are thrown in and pulsed until they're combined, but still whole. What I really love about this spread is it's not only a great addition to a burger, but you can slather the stuff on everything from grilled cheeses, to chicken or, my personal favorite, and coming to the blog soon, an elevated BLT – ummm yum!
Second most important component of the burger – fried green tomatoes! Even prior to my visit to the south I've been obsessed with fried green tomatoes. I first tasted them when I was kid, in Florida, and have been in love with their tangy tasty and crunchy texture ever since. This time of years is quintessential time for green tomatoes since our garden is at the point where the tomatoes need just a few more weeks to ripen, so frying them up with an easy choice. If you can't find green tomatoes or are one of the lucky ones that have beautiful ripe tomatoes growing out the wazoo in your garden, you could use a very firm ripe tomato instead.
The rest of the burger is pretty simple, 85/15 ground been if formed into patties, and hit with a generous dousing of salt and pepper (seasoning is key in burger making!), grilled or seared and then piled high with the pimento cheese, fried green tomato and a little bit of bacon. The loaded patty is stuffed between a whole-wheat bun fancied up with a little sprinkling of a homemade "everything" seasoning mix (which I plan on doing to all my buns from here on out), and ready to be devoured.
You still hate me??
Fried Green Tomato and Pimento Cheese Burgers with Everything Whole-Wheat Buns
Ingredients
1 pound 85/15 ground beef
Pimento Cheese
1 cup reduced fat shredded sharp cheddar cheese
1 ounce light cream cheese
¼ cup light mayo
½ teaspoon garlic powder
¼ teaspoon onion powder
½ teaspoon Dijon mustard
¼ cup pimentos
Fried Green Tomatoes
2 large green tomatoes sliced ¼ inch thick
½ cup cornmeal
½ teaspoon salt
½ teaspoon garlic powder
1 egg
2 tablespoon milk
6 slices reduced-fat bacon, cooked and crumbled
2 tablespoon olive oil
"Everything Whole-Wheat Buns"
4 whole-wheat buns
leftover egg from tomatoes
1 ½ teaspoons granulated onion
1 teaspoon granulated garlic
½ teaspoon poppy seeds
¾ teaspoon flaked grey salt (or another flaked variety)
Instructions
For the pimento cheese: Place all ingredients except the pimentos in the food processor, pulse until combined. Add pimentos, pulse until combined.
For the tomatoes: On a small plate, mix cornmeal, salt and garlic powder together. In another bowl, whisk egg and milk. Heat a large non-stick skillet to a medium-heat. Add oil. Dip tomatoes in egg, shake off excess, and then coat in cornmeal, shake off excess.
Fry tomatoes in oil until brown on both sides, about two minutes per side.
For the buns. In a small bowl, mix together garlic, onion and poppy seed. Heat oven to 400 degrees. Brush buns with egg wash, and sprinkle with spice mixture. Sprinkle buns with salt. Place on a sheet pan, and bake for 5-6 minutes until spices are toasted and buns are golden brown and crispy.
For assembly: Cook burgers on a grill or grill pan until medium, about 4 minutes per side. Place burger on bun and spread with pimento cheese. Top with bacon and slather more pimento cheese on top pun. Secure with food pick.