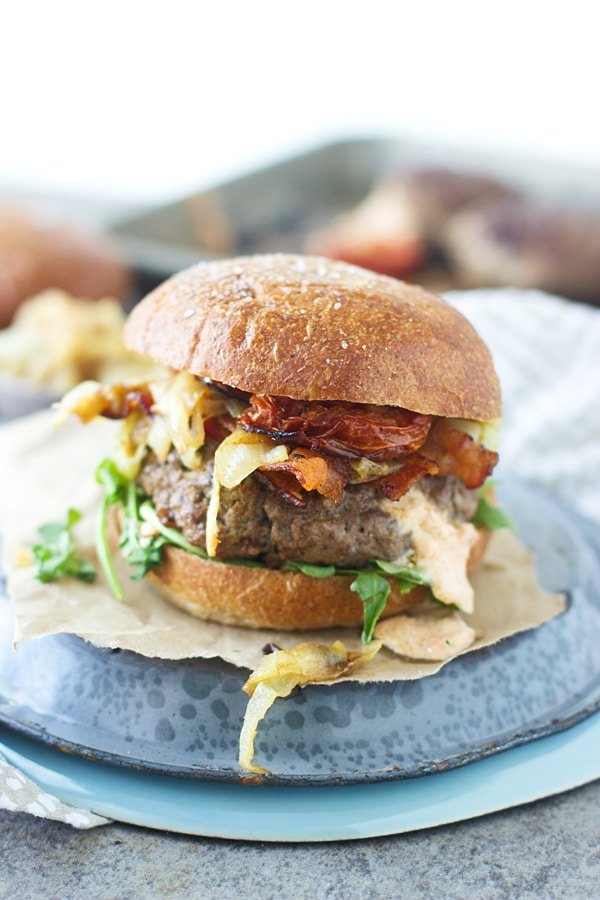 For me, the ultimate sign that summer is nearly upon us isn't the freshly bloomed daffodils in my backyard, the consecutive three day weather forecast of sunny and 75, or the start of another baseball season – although, all three of those events put an extra pep in my step this time of year.
Nope, for me, the first time I can picture summer being just around the corner is the exact moment when my nose detects the first aromas of a backyard barbecue. There's something about the first round of hot dogs, brats, and burgers that really makes it feel like the season has finally turned. Am I the only one that feels that way?
I live for a good burger, and while a classic patty with lettuce, tomato, ketchup, mayo, and cheese is more than enough to satisfy me half of the time, the other half of the time, I need a burger with an obscene amount of fancy toppings. The more fattening, the better.
Have you heard of a juicy lucy before? Apparently it's a pretty common name for a cheese-stuffed burger, but up until a handful of years ago, a cheese-stuffed burger, was just a cheese-stuffed burger to me. It wasn't until we started going to a burger place down the street from us, that I discovered the gooey, cheesy patty had an alternate name, and I have to say, it has a much better ring to it.
I think the original version uses plain American cheese, which is fine, but we can do better with whipped pimento goat cheese. Softened goat cheese is thrown into a food processor, along with some freshly roasted red peppers, some garlic powder, and salt. It's pulsed until the peppers are almost pulverized, but still have some texture to them. I use a small ice cream scoop to gently mold the cheese into balls, then transfer them to the freezer to firm up – an essential step if you don't want the cheese to ooze out of the burgers before they're done cooking. The little balls are stuffed between two patties, then grilled until about medium (my personal preference).
Next, slow-roasted tomatoes. You could definitely get by with using some in-season sliced tomatoes instead, but since we don't have anything resembling a good tomato around here, taking the under ripe tomatoes, and roasting them, transforms them into something totally irresistible. The tomatoes shrivel up, and become super sweet, making them the perfect compliment to the pimento cheese.
I also caramelized some onions, crisped up some bacon, and threw on some peppery arugula because, like I said before, when I go with an untraditional burger, the more toppings I can stuff in between two buns, the better.
If that isn't a perfect burger, I don't know what is…
Pimento Goat Cheese Juicy Lucys
Beef patties are stuffed with pimento goat cheese, topped with caramelized onions, slow-roasted tomatoes, bacon and peppery arugula.
Author:
Nicole ~ Cooking for Keeps
Ingredients
6 roma tomatoes, cut into ½ inch slices
2 teaspoons olive oil
1 pound ground beef
1¼ teaspoons salt, divided
2 tablespoons worcestshire sauce
5 ounces goat cheese
3 heaping tablespoons chopped roasted red peppers or pimentos
½ teaspoon garlic powder
1 medium onion, thinly sliced
1 tablespoon butter
8 slices bacon, cooked
1 cup arugula
Instructions
Preheat oven to 325 degrees. Toss tomatoes with olive oil. Sprinkle with a little bit of salt and pepper. Place on a baking sheet lined with parchment paper. Roast until shriveled and caramelized, about 40 minutes.
In a medium bowl, add ground beef, 1 teaspoon salt, and worcestshire sauce. Use your hands to gently combine. Form into 8 balls. Press into patties.
In the bottom of a food processor, add goat cheese, pimentos, ¼ teaspoon salt, and garlic powder. Pulse until peppers are mostly pureed, but still have a few chunks. Season to taste with salt and pepper. Use a tablespoon or small ice cream scoop to form cheese into heaping tablespoon balls. Place on a plate or piece of parchment paper. Freeze until firm, about 20 minutes.
In a small skillet, add butte. Heat to a medium-low, and add onions. Season with salt and pepper. Cook until caramelized, stirring frequently, it should take about 20 minutes.
Place each ball in the middle of one patty, top with another and enclose it around the cheese. Slightly flatten. Grill burgers until medium, about 2-3 minutes per side.
Top with tomatoes, onions, bacon, and a handful of arugula.