The BEST Homemade Green Bean Casserole! SO easy, and sure to become your go-to recipe for the holidays!
For me, Thanksgiving isn't complete without an obscenely large batch of green bean casserole. And by obscenely large, I mean there better be enough to feed 10 plus people AND enough leftovers to feed me for at least three days post Thanksgiving. I love the stuff. How could you not? Soft green beans entangled in a creamy, mushroom-laced sauce and topped off with crispy fried onions. It's the perfect combination of creamy, crunchy and indulgent.
Plus, it's a heck of a good way to trick your kiddos into eating their veggies. Win!
Typically, I tend to reach for the same classic recipe, but this year, I wanted to try my hand at a slightly richer, homemade version. Because while I'll all about tradition when it comes to holidays, tradition could always use a little tweaking. In my version, hearty crimini (baby portabella) mushrooms, onions and garlic sautéed in butter are the base and foundation of the casserole, while a splash of dry sherry aids in a sweet, almost nutty undertone.
The cream portion is an equal mixture of whole milk and half and half, which I find to be the perfect combination to achieve that luscious, smooth-as-silk texture we all love about classic green bean casserole. A final splash of worcestershire sauce and a generous hand of salt complete the sauce.
Fresh or canned green beans??
Next up, the green beans. Because what's a green bean casserole without the green beans? I love using these guys because they're SO quick and require minimal preparation — and let's be serious, when it's Thanksgiving and you're preparing a million dishes, an ingredient that's ready to go is seriously welcomed. I've tried using fresh green beans, and they just don't have that nostalgic factor I crave in my green bean casserole. I make sure I get to get a variety that has no added sodium, so I can control the amount of salt that goes into the dish.
Annd of course our casserole wouldn't be complete without that quintessential crunchy topping – fried onions. You could go one of two ways here.
1. You could make your own.
2. You can pick up some store-bought.
I'm a from-scratch-is-better kind of gal when it comes to almost everything, but here, again for nostalgic purposes, I'm just fine using something store-bought. It's Thanksgiving, you're allowed to take SOME shortcuts, right? However, I've made this several times, and a few of the times I've made my own.
I've included the instructions if you're feeling ambitious, but it you're not, no worries. Really.
If you're going the homemade route, here's how it goes down.
Thinly sliced onions are soaked in  whole milk and then dunked into a bowl of lightly seasoned flour and plunked in a shallow pool of hot oil. It's simple and quick, and yields the CRISPIEST fried onions.
All that's left is to toss some of the onions with the beans and mushroom cream mixture, top with more onions and bake until crispy and bubbly!
Other perfect Thanksgiving sides:
Creamy Dreamy Mashed Potatoes (Literally, the only recipe you'll need)
Pumpkin and Cheddar Potato Gratin
Delicata Squash, Sage and Pancetta Stuffing
Pretty things/Tools used in today's post:
Cast Iron Skillet
Deep Fry Thermometer
The BEST Homemade Green Bean Casserole
This really is The BEST Homemade Green Bean Casserole. Say by to cream of mushroom soup and hello to a homemade creamy mushroom sauce. Homemade french fried onions top this easy homemade casserole!
Ingredients
2

tbsp

unsalted butter

1/2

cup

diced yellow onion

1

large

garlic clove, minced

2

cups

finely chopped crimini mushrooms

1

tsp

kosher salt, divided

1//4

cup

all-purpose flour

1/2

cup

dry sherry

3/4

cup

whole milk, warm

3/4

cup

half and half, warm

1

tsp

worcestershire

2

14.5 oz

cans green beans, no salt added, drained and shaken of all excess moisture

2

cups

French fried onions
Fried Onions (If Using)
2

small

onions, sliced thin

1

cup

milk

1

cup

all-purpose flour

2

tsp

kosher salt

1/4

tsp

black pepper
Instructions
Preheat oven to 350 degrees. Grease a square baking dish (8x8 or 9x9 is fine).

For the casserole: In a large skillet, melt butter over a medium heat. Add onions, garlic and mushrooms. Sauté until softened, about 3-4 minutes. Add ½ teaspoon salt. Stir. Reduce heat to low and whisk in flour. Cook one minute. Slowly whisk in sherry. Cook 30 seconds.

Slowly whisk in whole milk and half half making sure to get all lumps out. Bring to a boil and then reduce to a simmer. Simmer until thickened, about five minutes. Add in remaining salt and Worcestershire sauce. Remove from heat.

Stir in green beans, mix until combined. Stir in 1/2 cup of fried onions. Transfer to baking dish and top with remaining fried onions. Bake until onions are golden brown and filling is hot and bubbly.
Fried Onions (If Using)
In a medium skillet, heat about ½ inch of canola oil. Heat to 375 degrees.In a small bowl, whisk flour, salt and black pepper. Place milk in another small bowl. Working in batches coat the onions first in the milk, then flour (shaking off excess) and then into the hot oil to fry. When the onions become golden brown, remove with a slotted spoon and drain on a paper towel.
Nutrition Facts
The BEST Homemade Green Bean Casserole
Amount Per Serving (1 serving)
Calories 332
Calories from Fat 171
% Daily Value*
Fat 19g29%
Cholesterol 28mg9%
Sodium 1374mg60%
Potassium 285mg8%
Carbohydrates 30g10%
Protein 6g12%
Vitamin A 341IU7%
Vitamin C 1mg1%
Calcium 121mg12%
Iron 1mg6%
* Percent Daily Values are based on a 2000 calorie diet.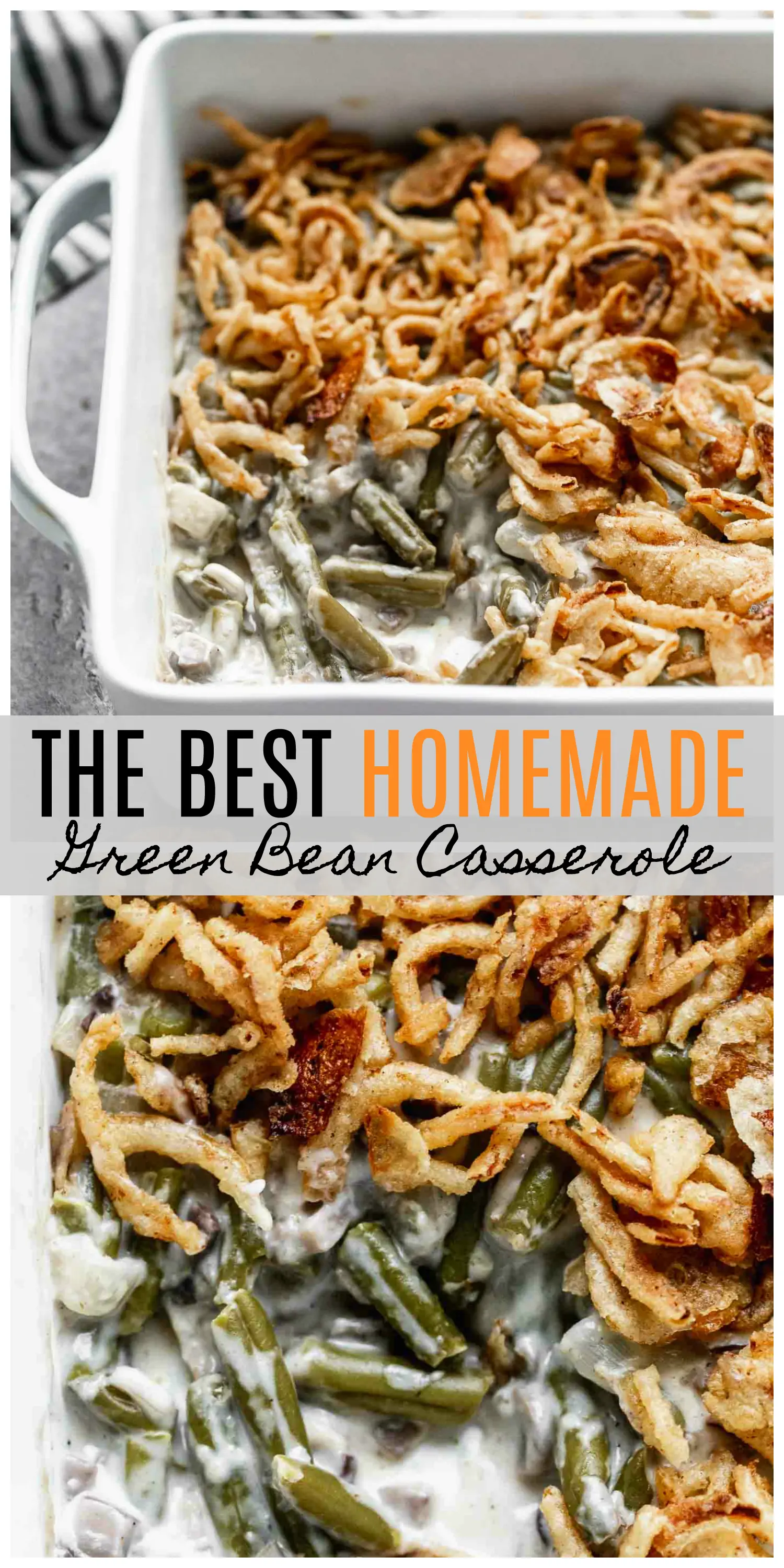 (Visited 55,172 times, 2 visits today)