This Traditional Stuffing with Leeks and Sage is not only comforting, rich, and so delicious, it's easy too! It's packed with day-old bread, plenty of celery and onion, melted butter, and all the classic flavors of Thanksgiving.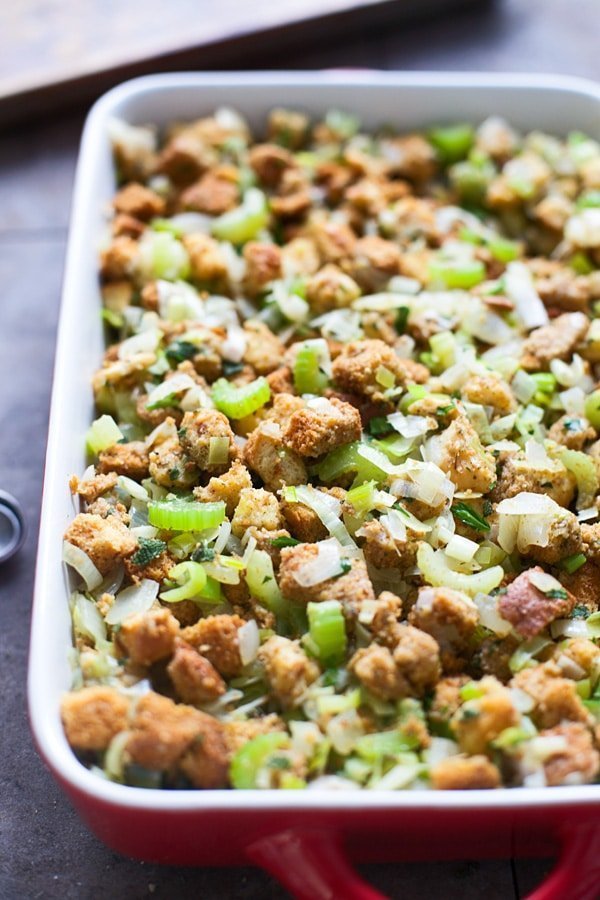 Traditional Stuffing with Leeks and Sage
My rank of Thanksgiving menu items goes likes this: stuffing, green bean casserole, potato (whether is be mashed, a gratin, or sweet potatoes), gravy, bread (if homemade), salad, corn, and finally, turkey.
Clearly, I'm all about them sides.
Stuffing, however, is my number one side.
Over the years, I've fiddled with dozens of variations, and each November, I thrive on coming up with new, creative ways to eat it, but this year, I just wanted to do something simple and classic, which is exactly what this Traditional Stuffing with Leeks and Sage is.
Bread for Stuffing
There are SO many choices when it comes to bread for stuffing. There's:
white bread
wheat bread
brioche
rye
cornbread
ciabatta
focaccia
I mean really, you could use practically anything. I typically use a mixture of cornbread and a ciabatta, but since we're keeping things pretty classic in this recipe, I went with a 60/40 mix of plain ol' white and wheat sandwich bread.
Drying bread for stuffing
If I was planning ahead, I would have cut my bread up in to a dice, and then let it set out overnight or longer, this is what you SHOULD do. However, if you don't plan ahead like me, you can also cut the bread up into a small dice, toss it on a baking sheet and toast it in a 275-degree oven until the texture mimicks day-old bread.
Dressing vs Stuffing
I think this is different for everyone. According to tradition, stuffing is what you actually "stuff" in something, so here, it would be stuffing if you stuffed it into the cavity of the turkey. Dressing is baked in a casserole dish, so I guess technically, this is dressing. However, growing up, dressing was always much more moist and more of a soufflé texture. Stuffing was more bread-heavy, and crumbly, if that makes sense.
How to make Traditional Stuffing with Leeks and Sage
Sweat onion, celery, seasoning, leeks, and sage in a little bit of butter.
Pour the hot cooked vegetables over the dried bread.
Drizzle more butter on top. We use a total of a stick butter, because it's a holiday, and we should. Butter is always better.
Whisk eggs and chicken stock together and pour over the vegetables and bread.
Toss until combined. Season with salt and pepper.
Pour in the baking dish, cover with foil and bake 35-40 minutes.
Remove the foil and cook until golden brown and puffed.
Substitutions and Tips and Tricks for Recipe Success
If you like your stuffing on the dry side, leave it be, if you like it on the more moist side, add a quarter cup or so of chicken stock, if you like your stuffing really wet, add another cup or so of stock. I personally like my stuffing to be somewhere in the middle. I love for the outside to get crisp, but I want the inside to be moist as can be, so I added about ½ cup more stock.
Toss the ingredients together just until they're combined. You want to avoid a mushy end product.
Be sure to season with plenty of salt and pepper.
Feel free to use all whole-wheat bread or all white bread.
Simple Leek and Sage Stuffing
Sage and leek give this classic stuffing a fresh update while staying true to classic flavors.
Ingredients
8

slices

white sandwich bread

cut into 1/4-inch cubes

8

slices

wheat sandwich bread

but into 1/4-inch cubes

8

tbsp

unsalted butter

1

cup

diced onion

2

cups

chopped celery

2

leeks

chopped (about 2 cups)

1/4

cup

finely chopped fresh sage

1 1/2

tsp

salt

divided

2

tsp.

poultry seasoning

1/4

cup

chopped parsley

1

egg

1 1/2

cups

warm chicken stock

plus more if necessary
Instructions
Preheat oven to 325 degrees.

Grease a 8x11 baking dish with butter or non-stick cooking spray.

Add diced bread to a large, rimmed baking sheet. Bake in the oven for 15 minutes or until toasted. Cool. Increase oven temperature to 350 degrees.

While the bread toasts, heat a large skillet to a medium heat. Add butter. Once butter has melted, add onion, celery, leeks, sage and 1/2 teaspoon salt. Saute until leeks and onions are soft, about 5-6 minutes. Add poultry seasoning and chopped parsley. Cook another minute.

Add bread to a large bowl, pour hot veggies, butter and chicken stock on top. Toss until combined. Add remaining salt and egg. Toss until combined.

At this point if you like a more wet stuffing, add more chicken stock. Season to taste with salt and pepper.

Cover with foil and bake for 35 minutes. Remove foil and bake another 10-15 minutes or until golden brown and slightly crisp.
Nutrition Facts
Simple Leek and Sage Stuffing
Amount Per Serving (1 serving)
Calories 224
Calories from Fat 99
% Daily Value*
Fat 11g17%
Cholesterol 40mg13%
Sodium 575mg25%
Potassium 230mg7%
Carbohydrates 25g8%
Protein 7g14%
Vitamin A 717IU14%
Vitamin C 4mg5%
Calcium 115mg12%
Iron 2mg11%
* Percent Daily Values are based on a 2000 calorie diet.
(Visited 9,370 times, 1 visits today)