This Simple Leek and Sage Stuffing is not only comforting, rich, and so delicious, it's easy too! The perfect stuffing recipe for your Thanksgiving table!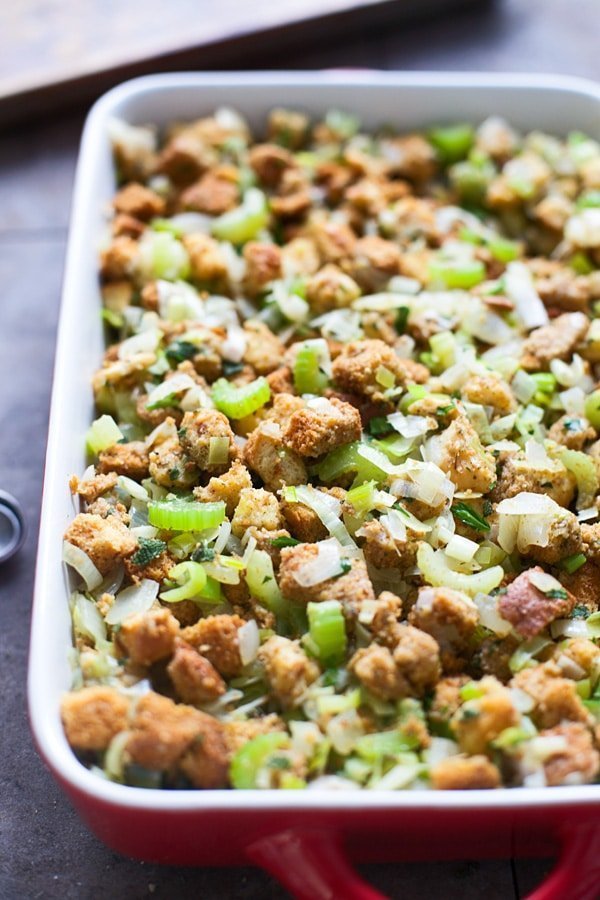 My rank of Thanksgiving menu items goes likes this: stuffing, green bean casserole, potato (whether is be mashed, a gratin, or sweet potatoes), gravy, bread (if homemade), salad, corn, and finally, turkey.
Clearly, I'm all about them sides.
Unfortunately, I'm sort of indifferent to the turkey; I don't dislike it by any means, but it's definitely not one of the menu items I salivate over as the day nears closer. I do, however, always end up snatching a small piece of breast meat out of some sort of deep-seeded Thanksgiving obligation, but as my stomach starts to fill up, I always wish I'd skipped the turkey in lieu of a just a little bit more stuffing. Because stuffing, no mater what the variation, is my first Thanksgiving love.
Over the years, I've fiddled with dozens of variations, and each November, I thrive on coming up with new, creative ways to eat it, but this year, I just wanted to do something simple and classic, which is exactly what this Sage and Leek Stuffing is.
Here's the run down, it's kind of long, so feel free to skip ahead to the recipe, I won't be offended, I promise.
Let's start with the bread. There are SO many choices when it comes to bread for stuffing. There's white bread, wheat bread, brioche, rye, cornbread, ciabatta, focaccia, and a million others. I mean really, you could use practically anything. I typically use a mixture of cornbread and a ciabatta, but since we're keeping things pretty classic in this recipe, I went with a 60/40 mix of plain ol' white and wheat sandwich bread.
If I was planning ahead, I would have cut my bread up in to a dice, and then let it set out overnight, but since I rarely plan ahead, I just cut the bread up into a small dice, tossed it on a baking sheet and toasted it in the oven on a low heat until the texture mimicked day-old bread.
While the bread toasted, I quickly threw together the inside components, which I like to refer to as the "good stuff." This is your onion, celery, seasoning, and BUTTER. And in this case, a liberal (1/4 cup) of freshly chopped sage and a couple of thinly sliced leeks.
I've learned a thing or two about stuffing over the years, and the one thing I've taken away each year, is that you can never underestimate the power of butter, or a little bit of chicken stock.
Stuffing without butter is nothing.
For this recipe, I used a whole stick of butter, but if I'm being honest, I probably could have used more. Once the butter gently melts in the pan, I added the chopped leeks, sage, chopped onions, and celery. When the veggies are softened, they, along with all the accumulated juice, butter, and some chicken stock are poured on top of the dry bread and tossed together.
At this point, it's a personal preference thing. If you like your stuffing on the dry side, leave it be, if you like it on the more moist side, add a quarter cup or so of chicken stock, if you like your stuffing really wet, add another cup or so of stock. I personally like my stuffing to be somewhere in the middle. I love for the outside to get crisp, but I want the inside to be moist as can be, so I added about ½ cup more stock.
The mixture gets poured into a baking pan, covered in foil and baked for 30-35 minutes or so. It's then uncovered and baked for another 10 minutes until the top is crisp and golden brown.
Perfect. Simple. So good.
Gosh, I love Thanksgiving.
Simple Leek and Sage Stuffing
Sage and leek give this classic stuffing a fresh update while staying true to classic flavors.
Ingredients
8

slices

white sandwich bread

cut into 1/4-inch cubes

8

slices

wheat sandwich bread

but into 1/4-inch cubes

8

tbsp

unsalted butter

1

cup

diced onion

2

cups

chopped celery

2

leeks

chopped (about 2 cups)

1/4

cup

finely chopped fresh sage

1 1/2

tsp

salt

divided

2

tsp.

poultry seasoning

1/4

cup

chopped parsley

1

egg

1 1/2

cups

warm chicken stock

plus more if necessary
Instructions
Preheat oven to 325 degrees.

Grease a 8x11 baking dish with butter or non-stick cooking spray.

Add diced bread to a large, rimmed baking sheet. Bake in the oven for 15 minutes or until toasted. Cool. Increase oven temperature to 350 degrees.

While the bread toasts, heat a large skillet to a medium heat. Add butter. Once butter has melted, add onion, celery, leeks, sage and 1/2 teaspoon salt. Saute until leeks and onions are soft, about 5-6 minutes. Add poultry seasoning and chopped parsley. Cook another minute.

Add bread to a large bowl, pour hot veggies, butter and chicken stock on top. Toss until combined. Add remaining salt and egg. Toss until combined.

At this point if you like a more wet stuffing, add more chicken stock. Season to taste with salt and pepper.

Cover with foil and bake for 35 minutes. Remove foil and bake another 10-15 minutes or until golden brown and slightly crisp.
(Visited 5,597 times, 1 visits today)