Green Goddess Brussels Sprout Salad with Bacon and Grilled Chicken: A delicious way to stick to that New Year's resolution of eating healthier this year.
I'm not one for New Year's resolutions. Like many people, I set my sights high on something unachievable like no sugar, exercising almost daily, or working twice as much as the prior year, and find myself failing before the month is over. Setting yourself up for failure is never a good thing, so I do my best to avoid it.
However, today's Green Goddess Brussels Sprout Salad with Bacon and Grilled Chicken makes me want to set resolutions. Because if my resolution were to eat more salads, more vegetables, or just eat healthier in general, then this would check all of those boxes. Just give me a variation of this every few days until the new year, and I'm set.
While I'm slightly obsessed with a lot of the salads (like this kale salad and this chopped salad) on the blog, they're almost all sides, and definitely not enough to suffice for a meal. But this, this is a meal salad. Hearty. Stick-to-your-bones filling. PACKED with good stuff.
Because there's quite a lot going on, here's a synopsis:
chopped brussels sprouts
juicy grilled chicken cooked to perfection
grilled zucchini
tarragon-infused pretzel croutons
creamy, completely addictive avocado cilantro dressing
oh, and we can't forget about the crispy bacon. (Please don't forget!)
First, let's talk about the dressing. I am ADDICTED to this stuff. It's zesty, creamy, garlicky, and pretty much anything you could want in a dressing. It's a play on a classic green goddess dressing, but instead of parsley, chives, and fresh tarragon as the "green," I swapped out cilantro and dried tarragon. You could use fresh, but since it's the middle of winter, I couldn't find in my grocery store.  I happen to adore cilantro, but if it's not your thing you can also stick with parsley.
Instead of mayo, I used creamy avocado and plain yogurt to thicken it, and seasoned it with a little bit of fresh garlic, spicy dijon mustard, and plenty of salt. A little bit of olive and water finish it off. Everything is thrown into a food processor, whipped until smooth and seasoned to taste with salt and pepper.
Of course it's the perfect way to dress a salad, but if you leave out a tablespoon or two of the water, it could also double up as a dip for crudités or roasted shrimp. (<– Totally happening soon.)
The homemade croutons aren't completely necessary, but I typically have to have something crunchy in my salad for it to feel well-rounded. I also carried the tarragon flavor through here, so it's a nice compliment to the dressing. If you're wanting to skip the carbs (which I totally get, it is January after all), you could also swap out roasted almonds or even macadamia nuts.
Admittedly, there's kind of a lot going on here, but if you play your cards right, you can still get this on the table in a VERY decent amount of time.
Here's the game plan:
While the bacon cooks, make the dressing, prep the croutons, cut the zucchini, slice the avocado
As the croutons bake, cook the chicken and the zucchini
Let the chicken rest, cut the zucchini.
Toss the dressing with the sprouts, warm zucchini, half the croutons and bacon.
Top the salad with sliced warm chicken, sliced avocado, and the rest of the croutons.
Serve!
Substitutions:
zucchini –> squash
cilantro –>parsley or basil
yogurt –> greek yogurt, sour cream
pretzel bread –> anything your heart desires
chicken –> salmon or shrimp
bacon –> pancetta
Pretty things/tools used in today's post:
Mini Food Processor

White Oval Platter
Half Sheet Pans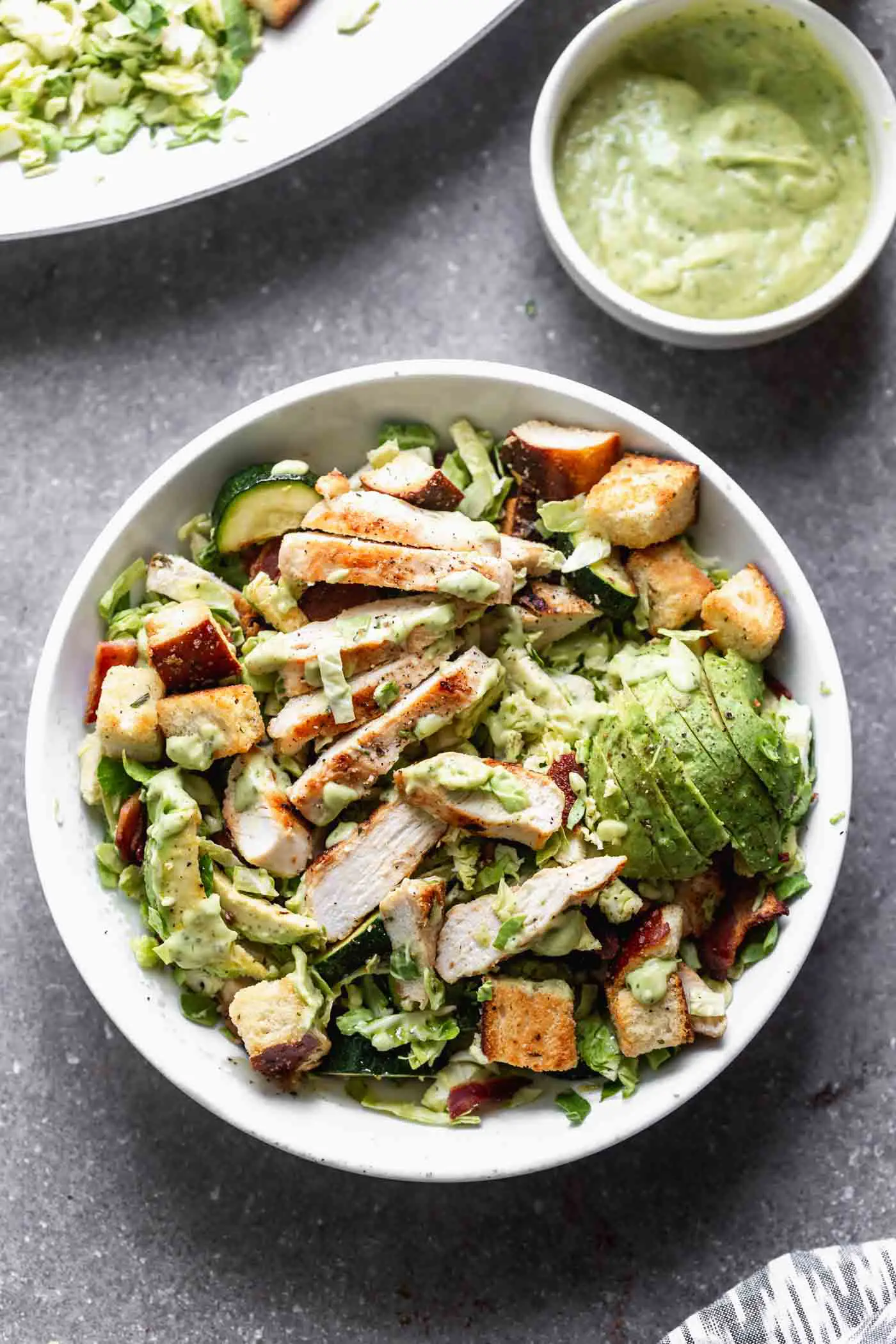 Green Goddess Brussels Sprout Salad with Bacon and Grilled Chicken
This Green Goddess Brussels Sprout Salad with Bacon and Grilled Chicken is a healthy, hearty way to get your protein and veggies in one bowl!
Ingredients
4

slices

thick-cut bacon

4.5

ounces

pretzel bread (I used 1 pretzel stick from Trader Joe's), cut into 1/2 inch squares

3

tbsp

olive oil, divided

1 1/2

tsp

garlic powder, divided

1 1/2

tsp

kosher salt, divided

1/2

tsp

dried tarragon

1

lb

chicken breasts or (2 large cut in half lengthwise or 4 small)

1

medium

zucchini, cut in half length wise

1/2

large

avocado, peeled and seed removed

1

10 oz

bag shaved Brussels sprouts (I get mine from Trader Joe's)
Avocado Green Goddess Dressing
1/2

large

avocado, peeled and seed removed

2

tbsp

plain yogurt

3

tbsp

olive oil

3

tbsp

water

2

tbsp

lemon juice

1

small

garlic clove, grated

1

tsp

dijon mustard

1/2

tsp

agave or honey

1/2

tsp

dried tarragon

1/4

cup

cilantro

1/4

tsp

salt

pinch

black pepper
Instructions
Preheat oven to 400 degrees. Cover a large baking sheet with aluminum foil. Line bacon up on sheet pan and bake until crisp, about 10-12 minutes. While the bacon cooks, make the dressing.

For the dressing: Add avocado, yogurt, olive oil, water, lemon juice, garlic, mustard, agave, tarragon, cilantro, salt and pepper to the bottom of a food processor. Turn on and blend until smooth, you may need to stop once or twice to scrape the sides down with a rubber spatula. If you like a thinner consistency, add a little bit more water. Season to taste with salt and pepper. Pour into a dish and set aside.

Once the bacon is done cooking, remove and drain on a paper towel, but reserve grease. Reduce heat on the oven to 350 degrees. Add bread cubes to a large bowl. Use 1 tablespoon of the bacon grease to drizzle on top of the bread along with 1 tablespoons of olive oil. Toss until the grease has evenly coated the bread cubes. Sprinkle with 1/2 teaspoon garlic powder, 1/2 teaspoon dried tarragon and 1/2 teaspoon salt. Toss to evenly coat. Remove foil from baking sheet and spread bread cubes on the clean pan. Bake 12-15 minutes, tossing halfway through until bread is toasted and golden brown.

While the croutons cook, cook the chicken and zucchini. Coat chicken and zucchini with remaining olive oil. Sprinkle both sides of chicken breasts evenly with 1 teaspoon salt, 1 teaspoon garlic powder and a little bit of black pepper. Season zucchini on both sides with salt and pepper. Heat a grill, grill pan or large sauté pan to a medium heat. Once hot, add chicken and zucchini. Cook until brown on both sides and cooked through, about 5-6 minutes per side. (Remember, you should have either small chicken breasts or very thinly sliced chicken breasts, so they cook relatively fast.)

Once chicken and zucchini are done cooking, let them rest for a few minutes. Slice chicken, zucchini and bacon.

To assemble: Toss brussels sprouts, bacon, zucchini, and half of the croutons together with dressing. Season to taste with salt and pepper. Top the salad with sliced chicken, sliced avocado and remaining croutons. Serve immediately.
Nutrition Facts
Green Goddess Brussels Sprout Salad with Bacon and Grilled Chicken
Amount Per Serving (1 serving)
Calories 553
Calories from Fat 342
% Daily Value*
Fat 38g58%
Cholesterol 88mg29%
Sodium 1486mg65%
Potassium 786mg22%
Carbohydrates 22g7%
Protein 32g64%
Vitamin A 236IU5%
Vitamin C 16mg19%
Calcium 73mg7%
Iron 2mg11%
* Percent Daily Values are based on a 2000 calorie diet.
(Visited 3,216 times, 1 visits today)