Sooooo…I'm in Greece guys! GREECE!! We were in Mykonos for the last three days and just arrived in Santorini via ferry yesterday. I've been posting a tad on Instagram, but my wi-fi is pretty spotty, so it's up in the air how often I'll post. Mykonos was really beautiful, but Santorini is like a dream….pretty much straight out of a magazine. I promise I'll tell you allll about it when I get back into the states next week.
To celebrate my time here, I put a couple blog posts together on what I thought the food might be like – first up, a classic gyro with a twist. Kevin has been to Greece before and informed me that all Gyros come with French fries stacked on top of them, which I didn't believe at first, but after my first Gyro in Santorini, I can attest that it's 100% true. Who knew??
Because I don't have a professional rotisserie or spit fire, I thought it would be fun to take all of the flavors of a classic gyro and turn it into a burger. Ground lamb is combined with a little bit of grated onion, garlic, rosemary and oregano, shaped into patties and cooked off on an outdoor grill or grill pan. I slap the patty between two pieces of pita, and top the whole thing off with homemade tzatziki sauce, store-bought French fries, lettuce and tomato.
So delicious!! I'll be back in a few days with a new recipe, and possibly some pictures of our trip. Opa!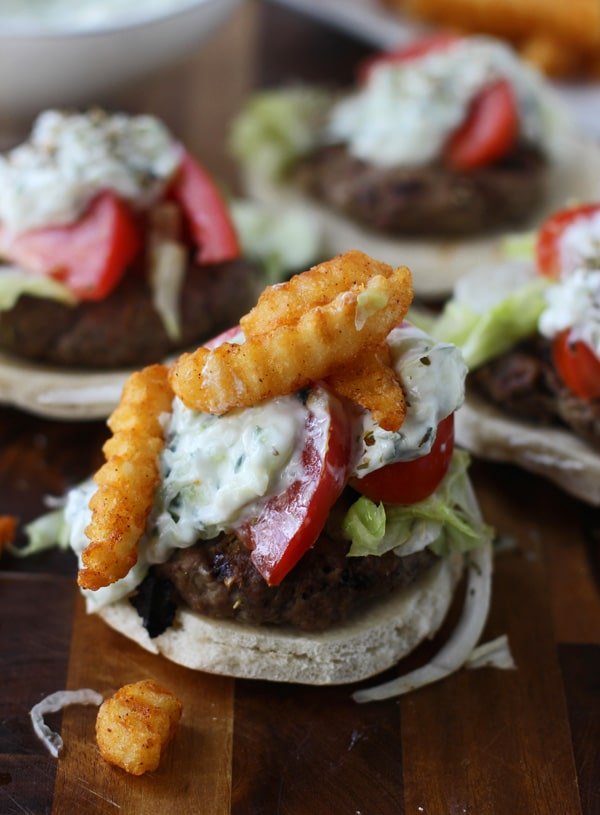 Gyro Burgers with Homemade Tzatziki and Seasoned French Fries
Ingredients
Burgers:
1 pound ground lamb
1 tablespoon dried oregano
1 teaspoon dried rosemary
1 heaping teaspoon salt
1 teaspoon olive oil
½ onion, grated
2 garlic cloves, grated
Tzatziki Sauce:
1 cup grated cucumber
8 ounces Greek yogurt
1 garlic clove, grated
2 teaspoons lemon juice
¼ teaspoon salt
¼ teaspoon fresh dill
2 teaspoons olive oil
Assembly:
4 Pita round
Chopped Tomato
Iceburg Lettuce
1 cup Frozen seasoned crinkle fries
Instructions
For the burgers:
Combine all ingredients, form into patties. Grill until medium, about 3 minutes per side.
For the tzatziki
Combine all ingredients.
Assembly:
Cook fries according to package directions. Place patty on pita and top with tzatziki, lettuce, tomato and French fries.
https://www.cookingforkeeps.com/gyro-burgers-homemade-tzatziki-seasoned-french-fries/