These Ham and Pimento Cheese Biscuit Sliders are simple, but bursting with flavor! They're the perfect paired with soup, a salad or all by their lonesome…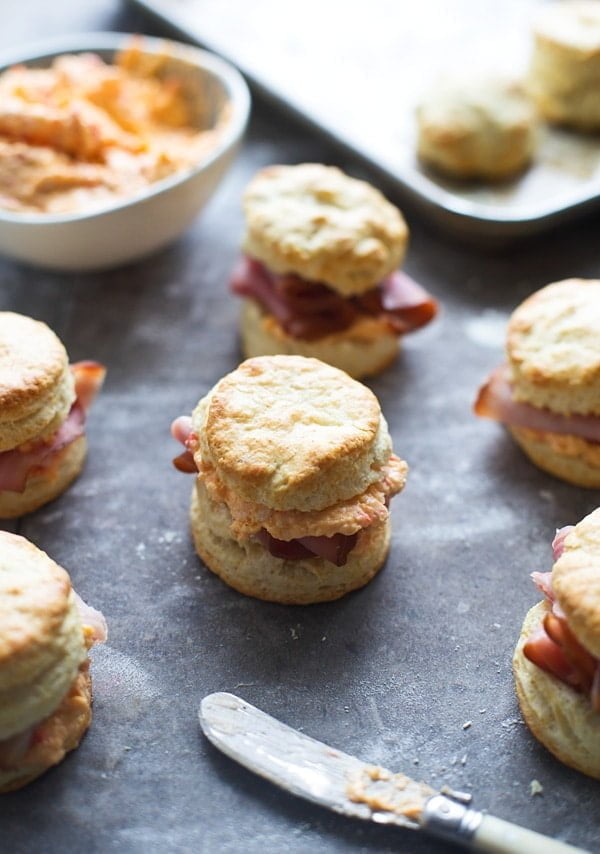 I think I was secretly born in the south, because if I had my choice, I could live off a diet of crispy fried chicken, sweet cornbread, and mile-high buttermilk biscuits for an eternity, but really, who couldn't??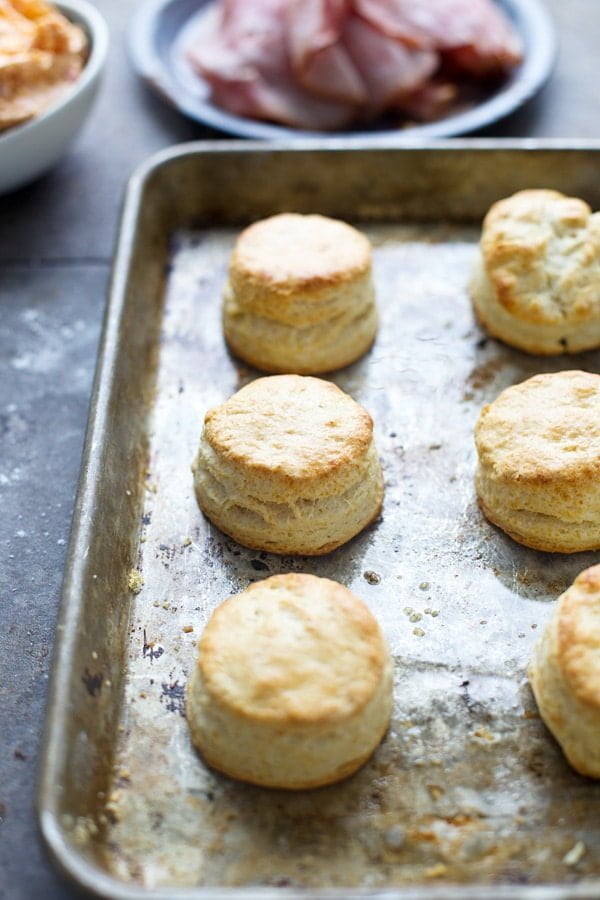 I love southern food for its indulgent qualities, yes, but I also love it just as much for its simplicity. In a world where we put bacon on doughnuts and cheeseburger sliders on bloody marys, sometimes it's nice to stick to the basics – classics done right with minimal alterations. As a food blogger, I'm obviously guilty of ratifying the trend of more is more, but even I know when to hold back, thus is the case with today's Ham and Pimento Cheese Biscuit Sliders.
Classic pimento cheese – my way – is smothered on homemade buttermilk biscuits, topped with smoked ham and served either room temperature or slightly warm from the oven. Because of their miniature size, they're perfect for a party, and have built-in portion control that allows even a person who's watching their weight to join in on the action.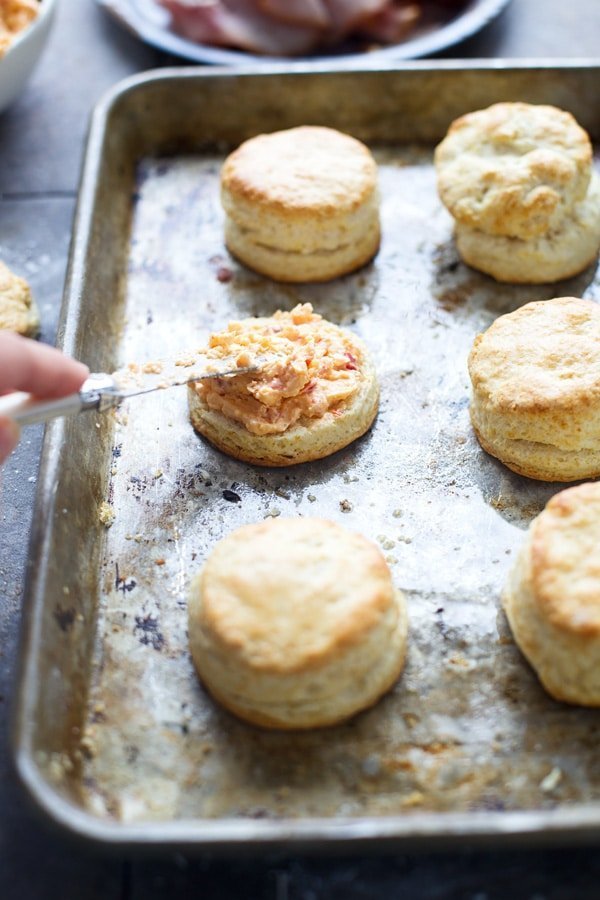 I wanted the cheese to easily spread, and melt if necessary, so my version of this southern classic has equal parts of extra sharp cheddar cheese to cream cheese. Garlic powder, onion powder, Dijon mustard, a touch of salt and of course, chopped pimentos complete the ingredient list. Most versions just have you mix the ingredients in a mixer, but again, I wanted it to be more of a spread, so I whipped everything up in the food processor to blend it a little bit better. To keep the pimentos somewhat in tact, I processed the cheese, cream cheese, mustard, and spices together first, then added in the pimentos at the last minute.
Because there are so little components to these sliders, making everything from scratch is key, so of course, the biscuits are also homemade. I used this recipe from Sally's Baking Addiction which was an adaptation of this All Recipes version, and I LOVED it. The method of folding the dough over itself several times is really what makes them some of the flakiest biscuits I've ever baked, and they're perfect in this recipe.
You can use your ham of choice, I used a smoked Virginia ham, but black forest would also work, I would just steer clear of anything sweet. And again, because these biscuits are fairly simple, you really want to use a high quality ham.
Because I was serving these at a baby shower, I left them at room temperature, but Kevin and I heated them up in the oven that night, and they were outrageously delicious, so whichever way you prefer works!
Ham and Pimento Cheese Biscuit Sliders
These Ham & Pimento Cheese Biscuit Sliders are simple, but bursting with flavor! They're the perfect paired with soup, a salad or all by their lonesome...
Author:
Nicole ~ Cooking for Keeps
Ingredients
1 batch of biscuit dough(see note)
6 oz. extra sharp cheddar cheese, shredded
6 oz. light cream cheese, softened
1½ tsp. dijon mustard
½ tsp. garlic powder
1 tsp. onion powder
½ tsp salt
4 oz. jar pimentos, drained
¼ lb. virginia or black forest ham
Instructions
Preheat oven to 425 degrees.
Follow directions to roll out biscuits and then use a 2-inch biscuit cutter to make 16 biscuits. You will need to piece scrap dough back together to make them all.
Place on a greased baking sheet and brush with buttermilk as directed. Bake for 12-15 minutes or until golden brown.
While the biscuits cook, add add cheese, cream cheese, mustard, garlic powder, onion powder and salt to the bottom of a food processor. Pulse 3-4 times until cream cheese is incorporated in to the cheese. Do not overmix! You still want some pieces of cheese of whole. Add pimentos, pulse 1-2 times until combined, again, you want them to stay in tact. Season to taste with salt and pepper.
Once biscuits have cooled slightly, split in half. Spread pimento cheese on the bottom. Top with a piece of half, then spread more cheese on the top biscuit. Sandwich together.
You can eat them at room temperature, or pop them back on the baking sheet and in to a 350 degree oven for a few minutes until the cheese has melted.
Notes
I used this recipe for the biscuits. I prepared them through step three. Roll them out as directed and then use a 2-inch biscuit cutter to make 16 biscuits.

(Visited 3,579 times, 1 visits today)