It's the weekend! And what better way to celebrate than to break out the grill, open a cold bottle of Summer Shandy and dive head first into these irresistibly Jalapeño Cream Cheese Burgers with Roasted Strawberries??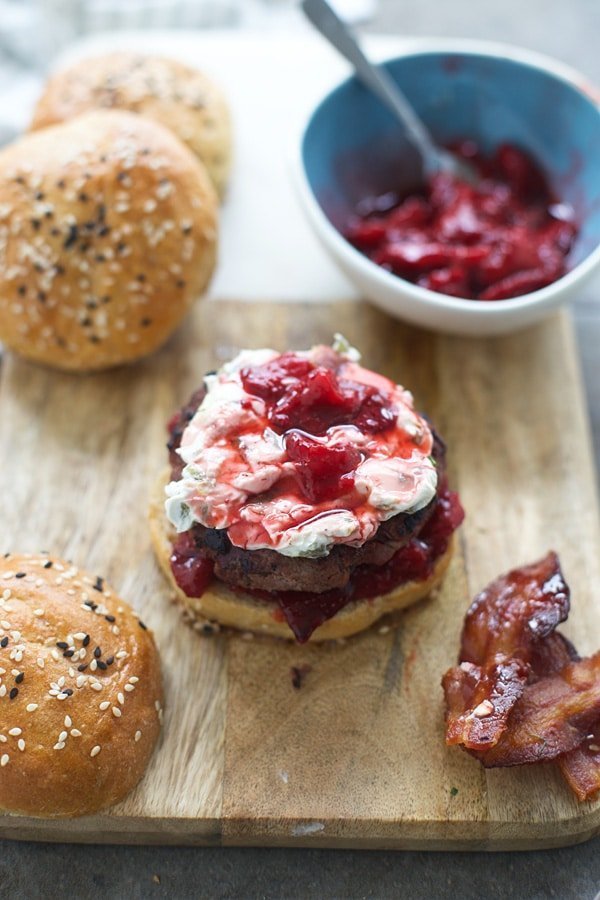 It's crazy, but I honestly feel something in my morale shift once warm weather hits and I know it's here to stay. It's not that I'm unhappy in the winter months, I just think I'm over-the-top happy when I'm not shivering, covered in head-to-toe clothing and drinking hot tea around the clock.
Right now, as I type this, our air conditioning is off, the windows are open and a cool breeze is gently blowing our curtains to the side. I'm perfectly comfortable in shorts, bare feet, and iced coffee in hand, which a far cry from where we were a few months ago. Even Teddy is happier now that he can spend 90% of his waking hours playing in the dirt and running up and down our backyard instead of being cooped up in the house.
The first thing we did once the first warm day came was fire up the grill, except our gas grill decided it didn't want to come out from hibernation like the rest of us, so we, and by we, I mean Kevin, were forced to go old-school with a charcoal grill.
We haven't looked back since.
We got so used to choosing convenience over flavor, we almost forgot what a burger tastes like just after coming off of a screaming hot charcoal flame. Heaven.
While I know a good burger doesn't need a lot of fussiness when it comes to toppings, I just can't help myself because I crave creativity in that area. Honestly, the more stuff on it, the better, don't hate me burger purists!
Here, I went with the ultimate, sweet and spicy combination with slow-roasted strawberries, an easy jalapeño cream cheese and bacon, because it's basically sacrilegious for me to leave bacon off of a burger.
The beef mixture is simple, an 80/20 ration of ground chuck, a bit of worcestershire sauce, grated onion, salt and a pinch of pepper. The burgers are grilled until medium-well, slathered in the jalapeño cream cheese, covered in strawberries, topped with bacon and ready for your consumption!
For more awesome burgers, check out these posts!
Chopped Hatch Pepper and Bacon Burgers
Mozzarella Stick Chicken Burgers
Jalapeño Cream Cheese Burgers with Roasted Strawberries
Author:
Cooking for Keeps
Ingredients
¾ pound strawberries
¼ cup sugar
1 large jalapeño
4 oz. softened cream cheese
¼ tsp garlic powder
1¼ tsp. salt, divided
8 slices bacon
1 lb. of your favorite 80/20 beef blend
2 Tbsp. Worcestershire sauce
1 small onion, grated
¼ tsp. ground black pepper
4 hamburger buns
Instructions
Preheat oven to 350 degrees. Toss strawberries with sugar in a square, glass baking dish. Let sit a few minutes until the sugar has dissolved. Place in the oven and roast for 40-45 minutes or until the strawberries are soft, and syrup is thick.
While the strawberries roast, char jalapeño on a gas flame or you can put the jalapeño in with the strawberries. If you are roasting them over a flame, roast until blackened on all sides, then place in a ziplock bag to steam for 10 minutes. If you are roasting them in the oven, roast until slightly charred and very soft. Remove seeds and stems, chop into small pieces. Make sure to taste the pepper before adding it to the cream cheese so you can gauge how much spice you want. I used all mine, but you may want to use less!
Add chopped peppers to cream cheese along with ¼ tsp. salt and garlic powder. Mix until combined.
Cook bacon.
Add beef, worcestershire sauce, 1 tsp. salt, onion and black pepper together. Use your hands to mix until combined. Form into four patties. Grill until desired doneness, about 3-4 minutes per side for medium-well.
Place patties on bun, spread with ¼ of the cream cheese. Spoon strawberries on top and then top with two pieces of bacon.