I despise Taco Bell. I don't know about you, but I get slightly repulsed when someone even utters the words Taco Bell; I shutter in disgust and then silently judge the person that thinks good food actually comes out of those doors. (My husband is one of those people) I mean, didn't we figure out that their "meat" isn't even meat at all? Or is that an urban myth? Either way, no thank you! But every once in a while, and I'm talking like one time a year, I crave a taco or burrito supreme from there. I'm not sure what it is; one day I can't even think about it without feeling nauseous, and the next day, I'm all like, "take me to the closest Taco Bell, NOW." And then I go back to loathing it for the next 364 days.
I'm pretty sure it's just the idea of Taco Bell that turns me off, and not the food itself, because that one day a year, the combination of spicy taco meat, tomatoes, lettuce, cheese and sour cream is just so indescribably good.
About a month ago when I had my yearly fix, I wondered why I didn't just make them at home, where I could control every aspect of the cooking process and love them all year round. AND then I thought about it even more, and with football season coming up, thought it'd be perfect to turn the traditional taco into something miniature and more portable for parties, and that's how these supreme taco sliders were born.
The slider patty encompasses all the traditional spices in taco meat; chili powder, cumin, coriander, garlic, onion powder, paprika and oregano. It's topped with shredded cheese, chopped tomatoes, chopped lettuce and a tangy sour cream sauce, and then sandwiched between two miniature egg roll halves.
These are sooo cute and taste just like a little taco in burger form, perfect for tailgating and Sunday football party throwing…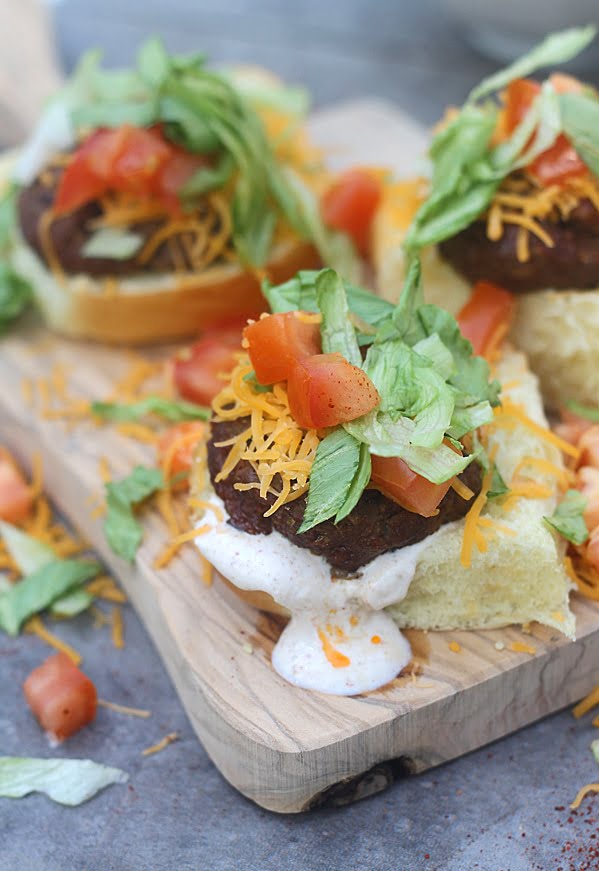 Taco Burgers with Chili Sour Cream
*I used all low-fat ingredients in this: 90% lean beef, greek yogurt and reduced fat cheese
Author:
Nicole-Cooking for Keeps
Ingredients
¾ pound ground beef
1¼ teaspoons chili powder, divided
¾ teaspoon garlic powder + ⅛ tsp, divided
¾ teaspoon onion powder + ⅛ tsp, divided
¾ teaspoon corriander + ⅛ tsp, divided
¾ teaspoon paprika + ⅛ tsp, divided
¾ teaspoon cumin + ⅛ tsp, divided
1 teaspoon oregano
¾ teaspoon salt, divided
¼ small onion, grated
½ cup greek yogurt or sour cream
¾ cup chopped tomatoes
¾ cup chopped iceburg lettuce
¾ cup shredded cheddar cheese
7 slider buns
Instructions
Combine ground beef with grated onion, 1¼ teaspoon chili powder, ½ teaspoon salt, and ¾ teaspoon each of garlic powder, onion powder, corrander, paprika and cumin. Form into seven patties and grill.
In a small bowl combine, greek yogurt, ¼ teaspoon salt and ⅛ teaspoon garlic powder, cumin, chili powder and onion powder. Set aside.
Assemble burgers: Top patties with a little bit of lettuce, tomato and cheese, and then top with a dollop of greek yogurt.