Some people believe there's a correlation between beautiful food and difficult food. However, I don't believe the two go hand-in-hand, and today's Pan-Seared Pork Chops with Sage and Apple Cider Cream Sauce prove it.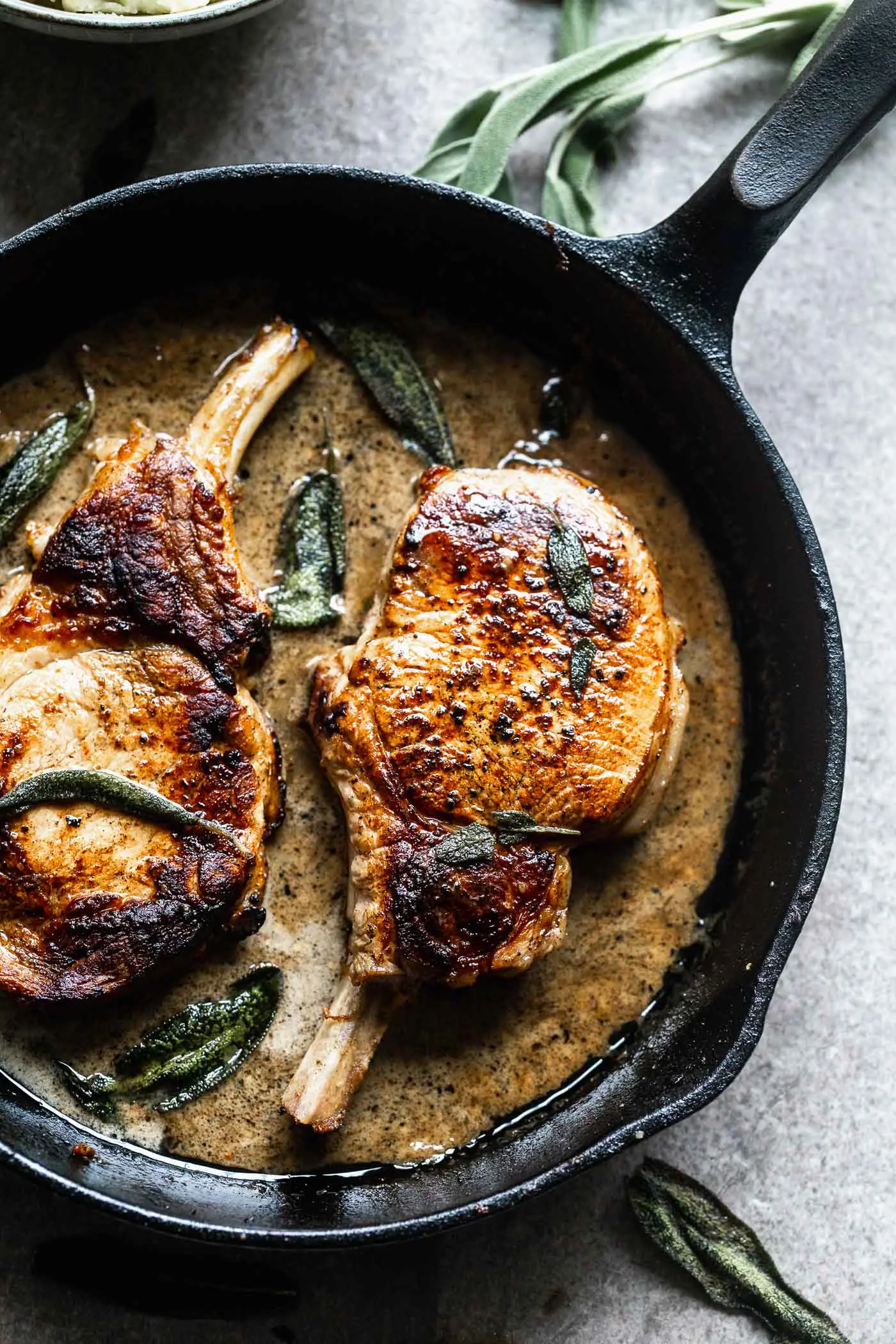 Pan-Seared Pork Chops with Sage and Apple Cider Cream Sauce
While yes, this meal is in my opinion, beautiful, it's actually quite simple to put together. With hints of nutty brown butter, fried sage and apple cider, it's also a meal which fits perfectly into the lineup of other fall goodies happening this time of year.
If you're anything like me and bought a huge gallon of apple cider the second it hit shelves, thinking you'd be sipping on it every night from now until Halloween, but really it has sat in the fridge every night except for night one, then you need an excuse to get rid of it.
And, I mean LOOK at those pork chops! Gorgeous. Do you even need an excuse to make them?? Here's the gist of what's happening:
Brined bone-in pork chops (bone-in is important!) are seared in brown butter in a cast-iron skillet, then finished cooking in the oven. Once they come out, a quick creamy apple cider and mustard infused sauce is thrown together and then it's all topped off with fried sage leaves. Aside from the brining process (which isn't really mandatory, more on that later), the meal comes together in about 30 minutes, or less. It's honestly one of the easiest, most impressive meals I've made in a while.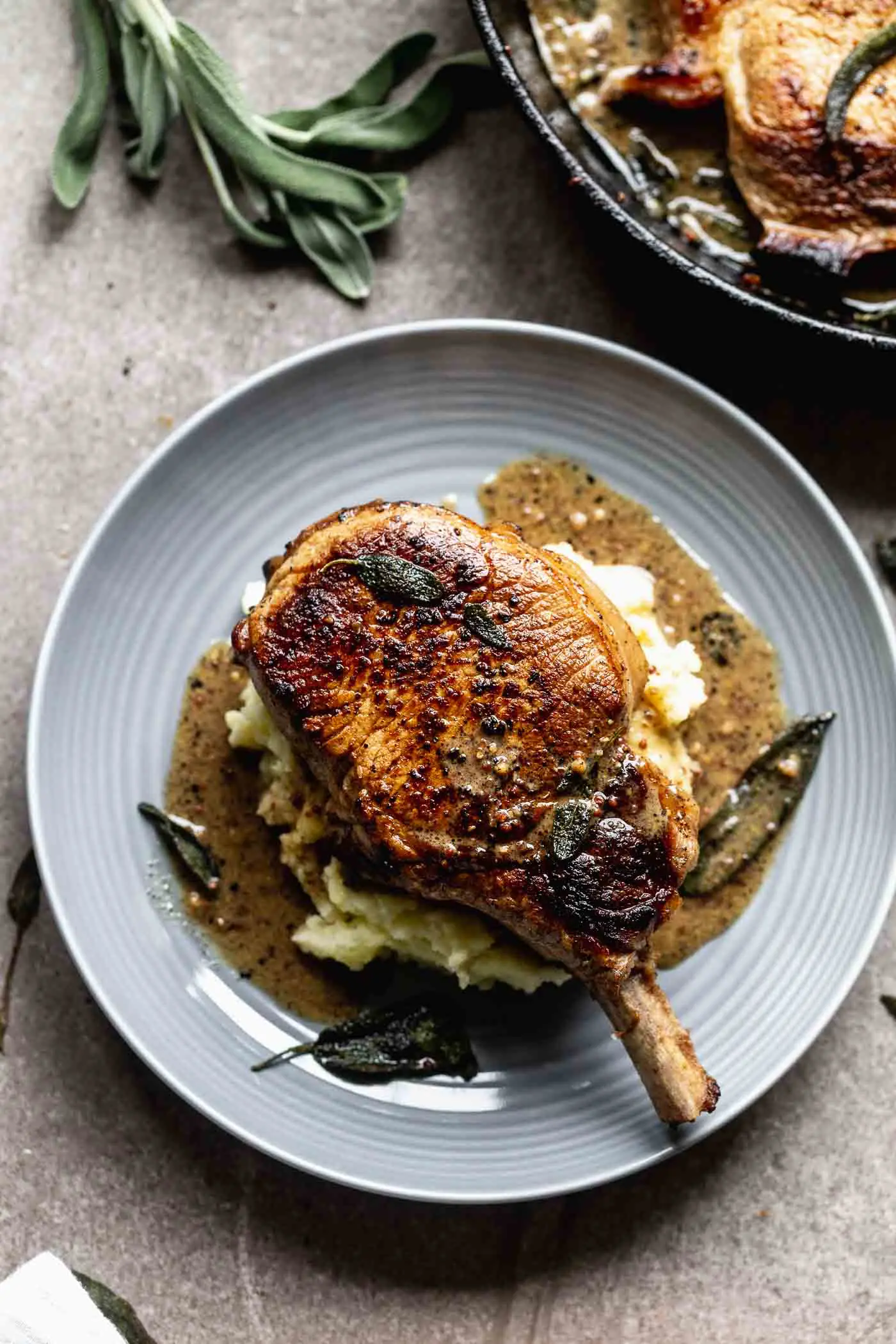 Just like pumpkin, apple cider seems to inadvertently fall into the sweets category more often than not, but it also makes a lovely addition to a bevy of savory foods. Here, we use it in two ways. First to brine the pork chops. And second, as a balancing act between tangy whole-grain mustard and acidic apple cider vinegar in the sauce.
To brine or not to brine
If you're not familiar, brining is a way to infuse plenty of moisture AND flavor into meat. It's typically an almost equal part of liquid to salt and sometimes sugar. Here, I went with apple cider, three tablespoons of salt, and just a little bit of apple cider vinegar. Because pork chops weigh less than a pound, it's really not necessary to brine them longer than an hour or two. Mine sat in the solution for about an hour, and they came out SO moist and flavorful. While I do recommend the brining process, you don't HAVE to do it. Because the meat doesn't cook for a very long time, you shouldn't end up with pork chops that have the texture of beef jerky if you cook them correctly.
One of my very favorite flavor combinations of all time is brown butter and sage. I've used the combination in tons of recipe over the course of this blog's life, a few of my favorite being this Five Ingredient Faux Roasted Chicken, this Pomegranate Roast Chicken and this Butternut Squash & Spinach Lasagna. Sometimes the flavor is in your face, and sometimes it's more subtle, like today.
Both the pork chops and the sage are cooked in the brown butter, but instead of dominating the dish, it really just adds a hint of nuttiness to both the pork chops and the finished sauce. It's a flavor that just kind of tastes like fall, and one of the reasons I love this so darn much.
Let's make Pan-Seared Pork Chops with Sage and Apple Cider Cream Sauce!
If you're afraid of cooking pork chops, don't be. It's honestly very similar to cooking any other kind of protein, but just like chicken, they have a tendency to dry out rather quickly, so pay try to avoid overcooking.
Although, first thing's first. I HIGHLY recommend using a cast-iron skillet. It sears protein SO well, and unlike a normal sauté pan, it's hard for anything to stick to it. I have one very similar to this
, and it's something I use almost daily.
After you pull the pork chops out of the brine, you're going to want to pat them completely dry – another essential step in a perfect sear. If there is too much residual moisture on the meat, it's not going to get the golden brown crust you see in the photos. When the meat is dry, season with lots of salt. Don't be shy! A well-seasoned piece of meat is the difference between a bland and stellar end product.
How to make brown butter.
We've talked about browning butter a hundred times before here, but if you're new, you want to start with a super hot pan. Add the butter, then as it melts, swirl the pan. Normally, you'd take it all the way to the browning point, but since the pork chops are being cooked in it, when the butter starts to turn chestnut in color and smell nutty, you immediately put the chops in. Let them sear for a good 2-3 minutes, then flip and sear on the other side for another minute or so.
From there, the chops get pulled out for a moment, and the sage goes in to fry. The sage is pulled out, the chops go back in, and it's popped into the oven along with a little bit more apple cider until it's done cooking and reaches 145 degrees. It happens fasts, so it will likely only need a few more minutes to cook. If your chops are thin enough, you may not even need the oven at all, just be sure to check!
The sauce
Ok, so the apple cider cream sauce. Oh, the sauce. This stuff is liquid GOLD. So good.
After the pork chops sear and cook in the oven, they, along with the brown butter leave the most delicious bits of flavor in the bottom of the pan. Keep them!
Apple cider vinegar and whole-grain mustard are whisked into what's left of the liquid in the pan. Then more apple cider and a little bit of cream are whisked in as well. The sauce simmers until it's reduced, about one or two minutes, and then it's ready to be served.
What to serve with pan-seared pork chops with sage and apple cider cream sauce.
Goat Cheese Smashed Potatoes!
There's no better match up than meat and potatoes, right? And when there's a sauce this delicious, you know you need something to soak it up. Enter: Goat Cheese Mashed Potatoes. These aren't necessary to make the meal, but they are a lovely addition. Bonus? They're equally as simple to make. Here's how it goes:
boil Yukon gold potatoes in salted, boiling water
smash potatoes with goat cheese, butter, salt and cream (1/2 & 1/2 or milk is fine as well)
season to taste
serve with pork chops
done
Other awesome AND easy fall recipes:
Easy Chicken Pot Pie
Creamy Chicken Noodle Soup
Creamy 4-Ingredient Gorgonzola Carbonara
Pretty things and tools used in today's post:
Cast Iron Skillet

Stainless Steel Whisks

Potato Masher
Pretty Blue Plates
Juicy Pork Chops with Apple Cider Cream Sauce
These Juicy Pork Chops with Apple Cider Cream Sauce are SO easy to prepare and will WOW anyone you serve them to. Plus, they're out of this world delicious!
Ingredients
1 1/4

cup

apple cider, divided

3

tbsp

kosher salt

3

tbsp

apple cider vinegar, divided

2

bone-in pork chops

2

tbsp

unsalted butter, divided

20

sage leaves

2

tsp

whole-grain mustard

1/2

cup

heavy cream (or 1/2 & 1/2)

1

tsp

white sugar
Goat Cheese Mashed Potatoes
1 1/2

lbs

Yukon gold potatoes

5

oz

goat cheese

1/2

cup + 1/8 cup

1/2 & 1/2

2

tbsp

unsalted butter

1

tsp

kosher salt
Instructions
1-2 hours before cooking, add 1 cup apple cider, 3 tablespoons salt and 1 tablespoon of vinegar to a large plastic ziplock. Add pork chops. Place in a shallow dish and let it soak for 1-2 hours.

Preheat oven to 350 degrees.

Remove pork chops from the baggie and pat dry with paper towels. You want the chops to be completely dry. Season liberally with salt. Heat a large cast-iron skillet to a medium-high heat. Add 1 tablespoon of butter. Swirl the pan and when the butter begins to brown, turn the heat down to medium and add pork chops. Sear until golden brown and crusty, about 2-3 minutes. Flip and cook another 2-3 minutes until seared on the other side.

Remove chops from pan and set on a plate. Cover with foil. Add remaining butter to the pan, and when it starts to brown, add sage. Fry sage leaves for 30 seconds or until slightly brown. Remove from pan and drain on paper towels. If the pork chops are at 145 degrees, continue to make the sauce, if they aren't. Add back to the pan and place in the oven until they are, I had to do this for about 3-4 minutes.

Remove the chops from the pan again, and set on a plate. Cover with foil. Set the pan back over a medium heat. Add vinegar and mustard to the pan. Whisk until combined. (It will spatter, that's ok). Whisk in remaining apple cider, cream or half and half and sugar. Bring to a boil and then reduce to a simmer until thickened, about 2-3 minutes. Season to taste with salt and pepper. (I did not need to)

Serve pork chops over mashed potatoes. Spoon sauce over and sprinkle with fried sage leaves.
Goat Cheese Mashed Potatoes
Cut potatoes into quarters. Add to a medium stock pot. Cover with water. Season water with salt. Bring to a boil and cook until potatoes are fork-tender. Drain.

Add potatoes back to pan, along with goat cheese, half and half, butter and salt. Use a potato masher to smash the potatoes. Season to taste with salt and pepper.
Recipe Notes
Recipe can easily be double or triples for four or six people!
Nutrition Facts
Juicy Pork Chops with Apple Cider Cream Sauce
Amount Per Serving (1 pork chop with sauce)
Calories 680
Calories from Fat 441
% Daily Value*
Fat 49g75%
Cholesterol 229mg76%
Sodium 10646mg463%
Potassium 775mg22%
Carbohydrates 21g7%
Protein 37g74%
Vitamin A 1230IU25%
Vitamin C 1mg1%
Calcium 89mg9%
Iron 1mg6%
* Percent Daily Values are based on a 2000 calorie diet.
(Visited 16,326 times, 1 visits today)