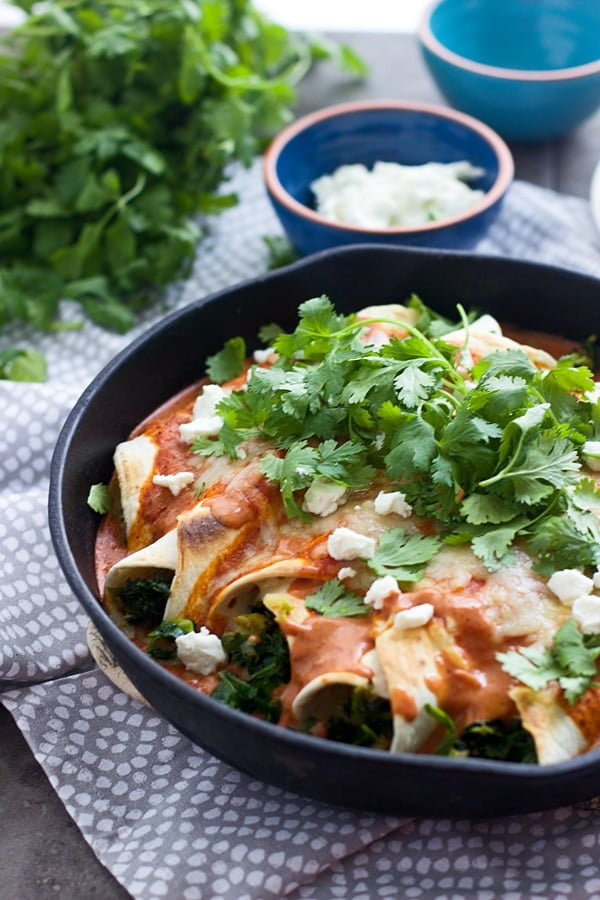 Pictures don't depict how insanely delicious these enchiladas are. Oh, how I wish they did.
Enchiladas are by far my favorite thing to eat, and they happen to one of my favorite dishes to twist and turn in a million directions for the blog, but unfortunately they aren't the most photogenic things to capture. You can't see the bright green specks of buttery, garlicky Brussels sprouts and kale. You also can't see the gooey gruyere and Swiss cheeses perfectly melted inside the tortillas. And you can't physically see the tangy goat cheese laced throughout my classic enchilada sauce.
But it's all there, so you're just going to have to take my word for it.
Although, in the words of Elle Woods, "They're not totally unfortunate to look at."
While chicken and cheese enchiladas reign supreme when ordering at restaurants, at home – as aforementioned – I find it sort of a game coming up with creative variations on the enchilada. I actually didn't even know just how obsessed I am or realize how many enchilada recipes I already had on the site, until the other day when my friend Jamie was trying to decide which one to make and kept mentioning variations I'd completely forgot about.
Let's add these kale and brussles sprouts ones to the archives.
If I had to put a ranking on the recipes I have, today's would be right up there in the number one slot along with these creamy beef and hatch pepper enchiladas. Surprising, because when it comes to Mexican and tortillas, an all veggie route isn't usually something that makes it to the top of the list. Yes, I adore veggies. And yes, I couldn't live without them. But give them a starring role in a normally carnivorous situation, and it's a little difficult to get me fully on board.
However, when Brussels sprouts and hearty kale get sautéed in butter and garlic, then smothered with cheese and rolled into a tortilla, all prior convictions are thrown out the window.
On top of all the butter, kale and bs, I've taken my favorite classic enchilada sauce and added in softened goat cheese which I now want to cover in everything. So good.
The filling is stuffed into flour tortillas (you can use corn if you'd like), sprinkled with a combo of gruyere and swiss cheese, smothered in enchilada sauce, and baked until bubbly and hot. I garnish with extra goat cheese and loads of cilantro.

Kale and Brussels Sprout Enchiladas with (Homemade) Goat Cheese Enchilada Sauce
Chocked full of buttery, garlicky brussels sprouts and kale, and covered with a tangy goat cheese enchilada sauce -- these vegetarian enchiladas are every bit as delicious as their meat counterpart!
Author:
Nicole ~ Cooking for Keeps
Ingredients
1 tablespoon butter
3 cups chopped brussels sprouts
½ medium onion, chopped (about 1 cup)
1 garlic clove, grated
5 cups packed, chopped kale (massaged)
¼ teaspoon salt
2 cups shredded swiss or gruyere cheese
8 tortillas
Enchilada Sauce
¼ cup onion, grated
1 garlic clove, grated
1 tablespoon canola oil
6 ounces tomato paste
2 cups low-sodium chicken stock
3 teaspoons chili powder
½ teaspoon oregano
⅛ teaspoon ground coriander
¼ teaspoon garlic powder
3 teaspoons apple cider vinegar
1 teaspoon salt
4 ounces goat cheese
Instructions
Preheat oven to 375 degrees. Lightly grease a rectangular baking dish.
Heat a large non-stick skillet to a medium heat. Add butter. Once butter has melted, add onion and garlic. Sauté until translucent and fragrant, about 2-3 minutes. Add brussels sprouts, kale, and salt. Stir. Cook until tender, about 8-10 minutes. Set aside.
Ladle enough enchilada sauce into the prepared pan to cover the bottom. Fill about ½ cup of the filling into each tortilla, and sprinkle with two tablespoons of cheese. Roll up, and place seam-side down in baking dish. Cover with remaining enchilada sauce. Sprinkle remaining cheese on top.
Bake until cheese is melted and enchiladas are hot, about 20 minutes.
Enchilada Sauce
Sauté onion and garlic in olive oil in a small saucepan over medium heat.
Add remaining ingredients. Bring to a boil and then reduce to a simmer for 20 minutes. Season with salt and pepper if necessary.