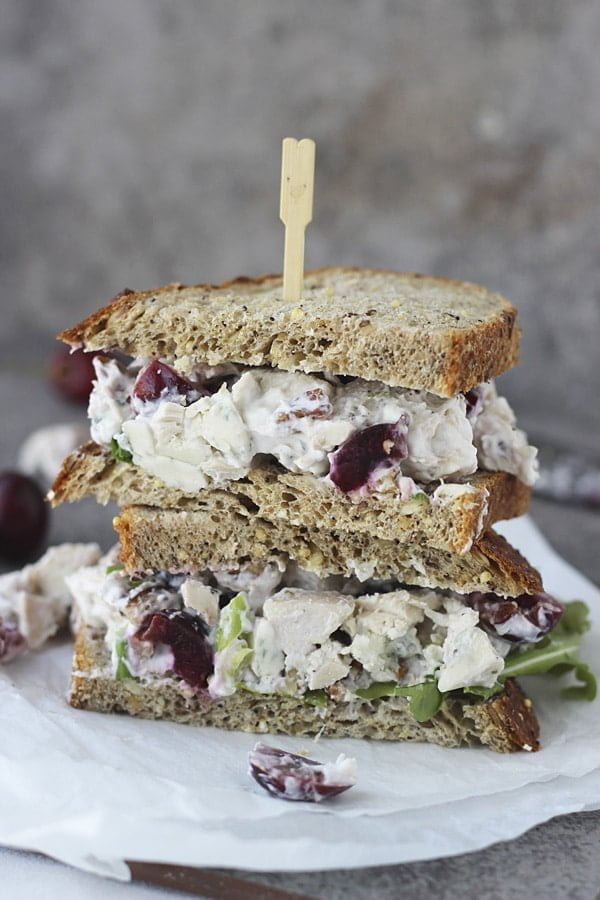 Chicken salad…Ahhh…Be still my heart.
If I'm going to eat a sandwich for a meal it's gotta be A SANDWICH. You know what I'm talking about, a how-many-ingredients-can-I-pack-in-this-sandwich or a how-else-can-I-fancify-this-sandwich, sandwich.
Plain ham and swiss will not suffice.
Or turkey on white bread.
Or peanut butter and jelly.
No, if it's a ham and swiss, it has to be made with black forest ham and the nuttiest Swiss cheese I can find (preferably gruyère or emmental), slathered with honey mustard, and toasted or baked until the cheese is oozing down the sides of the bread.
If it's a turkey on white bread, it must rest atop tangy sourdough and be piled infinitely high with lettuce, tomatoes, bacon, mayo and possibly even blue cheese.
If it's peanut butter and jelly….well, there's just nothing I can do with that, peanut butter and jelly sandwiches are not meant for meals…ever. That's what I'd like to call a snack.
Although, please don't tell that to my husband who must result to a peanut butter sandwich for dinner once a week when his wife neglects to cook him dinner or provide him any food remotely resembling dinner..
Chicken salad is actually the one sandwich I don't feel the need to alter. Perhaps it's because the sandwich is already relatively fussed up from the mayo and other components; or perhaps it's because it is already exactly as it should be.
BUT since occasionally I can't help myself, I fussed up the only sandwich that doesn't need fussing with, because that's what we food people do. Sigh. What I also simultaneously did to justify the obliteration of sandwich perfection was to lighten it up a touch. Instead of being drowned in full-fat mayo, I lightly dressed the chicken with low-fat mayo and plain Greek yogurt for that tang factor I love so much.
My Mom always made chicken salad growing up and, like me, occasionally threw in not-so-traditional ingredients, but the two constants in each batch were dried tarragon and dried cherries or cranberries. When I was really young, I would get incredibly upset over the dried cherries, despising their sweet taste studded throughout my sandwich, and consequently picked each and every one out before I'd take my first bite; as I grew older I found the sweet addition to be welcomed on my taste buds rather than shunned. To this day, I still need a sweet bite in my own chicken salad, and usually still go the dried route, but bing cherries were on sale at the store this week, and with the amount of groceries that have been going into my cart lately, a sale is welcomed with open arms.
I've always loved the combination of cherries and blue cheese, so I decided to throw some of those into the mix as well, along with a little bit of herbes de Provence (I didn't have tarragon on hand, otherwise I would have used that) and chopped pecans for added crunch.
Since I was trying to keep it relatively low-fat and heart-healthy I went with a classic 9-grain bread from our local bread bakery, Farm to Market. Oh how I wish they shipped so you could have it in your own kitchen. It's one of the best breads I've ever had, and I don't ever make a fancy sandwich or panini without it. Their challah makes the BEST french toast, and their sourdough? Nothin' like it outside of San Francisco. And don't even get me started on their pretzel rolls – totally swoon-worthy
Anyways, like I said, this is one serious sandwich. Sweet from the cherries, tangy from the blue cheese and Greek yogurt, and full of texture from the pecans, celery and green onion – you'd never know that this serious sandwich is actually kind of good for…
Lightened-Up Chicken Salad with Bing Cherries, Pecans and Blue Cheese
Author:
Nicole ~ Cooking for Keeps
Ingredients
⅛ cup light mayo
¼ cup plain Greek yogurt
½ teaspoon white wine vinegar
¼ teaspoon dried herbes de provence (can substitue tarragon)
1½ cups chopped chicken breast
¼ cup crumbled blue cheese
⅛ cup chopped pecans
1 green onion, sliced thin
⅛ cup chopped celery
¼ cup quartered bing cherries
Salt & Pepper to taste
4 slices good quality grainy bread
Instructions
In a medium bowl, whisk together mayo, yogurt, vinegar and herbs. Gently fold in chicken, blue cheese, pecans green onion and cherries. Season with salt and pepper.
Serve on whole-grain bread.