I can't believe it's Friday, let alone, the Friday before the Fourth of July. I mean, wasn't it just snowing like yesterday?? I'm just in awe how lightening fast the time flies by these days.
Summer is hands down my favorite of all of the seasons, I love that I'm never cold, I'm always outside and I'm just generally more happy. I don't know if it's the sunshine that lifts my mood from day to day or if it's due to the fact that summer brings so many of my favorite events. There's trips to the lake, weddings, our anniversary (this Sunday!), Kevin's birthday, my birthday, my Dad's birthday, my Mom's birthday, our annual trip to the beach, and of course the Fourth of July – one of my very favorite holidays.

Because Fourth of July if one of my favorite holidays, and I'm absolutely gaga over summertime foods, I'm always planning my menu months in advance. First up on that list? These Lightened-Up Coconut Red Velvet, Cheesecake and Blueberry Trifles.
I just adore how festive these are, don't you? Coconut red velvet cake (YES COCONUT RED VELVET!) is layered between cheesecake filling and blueberries, making for the perfect dessert to bring to all those Fourth of July barbecues I know you'll be attending. And the best part?? They're a cinch to make AND lightened-up.
Now I'm not usually proponent of store-bought anything, however, when it's just one of many components I think it's just fine. Here, boxed (gasp!) cake mix is combined with instant vanilla pudding mix, coconut oil (instead of vegetable), water and eggs for an instant upgrade on plain ol' boxed cake. What results is light, moist and seriously delicious – no one will ever know it came from a box!
A little bit about coconut oil. Have you guys cooked with it yet?? Ashley from Baker by Nature first turned me on to it when I made this cake of hers. I was pleasantly surprised when the cake came out not only moist as can be, but with just an underlying hint of coconut flavor, which I loved. Same goes here, the coconut oil yields in a super moist cake and subtle coconut essence throughout. (You can find coconut oil pretty affordably at Trader Joes.)
So next component: cheesecake filling. Really all this layer consists of, is light cream cheese beaten together with a little bit of milk, powdered sugar and vanilla for a "cheesecake" flavor, while still reigning in the calorie and fat content normal cheesecake has.
The last layer: blueberries! 'Nuff said.

Putting them together is super easy. I chose to use mason jars because I have a billion lying around my house, but any glass will work, you could even assemble one giant trifle if you don't feel like doing individual portions. First, cake is layered on the bottom of the jar, then drizzle with the "cheesecake" cream and topped with blueberries. The process is repeated one more time, and then it's topped off with another layer of cake and light cool whip to finish.
Just a suggestion, I made these up the night before, screwed on the lids popped them in the fridge, and then right before serving, I piped the cool whip on top. That way they're ready to go and you can focus on things like family, friends and all the other foods bound to be calling your name…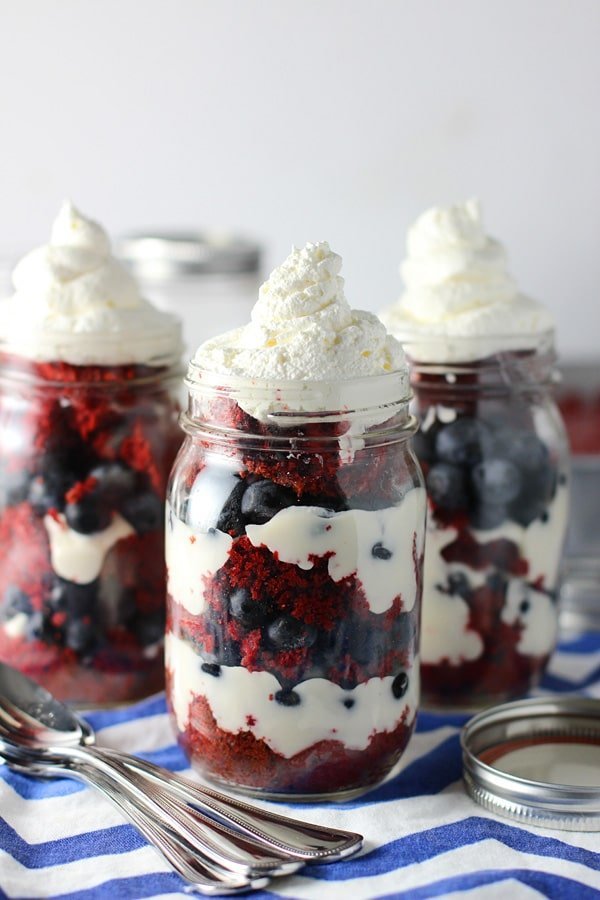 Lightened-Up Coconut Red Velvet, Cheesecake and Blueberry Trifles
These lightened-up red, white and blue trifles will be the hit of your Fourth of July party!
Ingredients
Cake:
1 box red velvet cake mix
1 package instant vanilla pudding mix
¾ cup melted coconut oil
1 cup water
Pinch of salt
3 eggs
Cheesecake Filling:
16 ounces light cream cheese, softened
6 tablespoons powdered sugar
½ cup skim milk
1 teaspoon vanilla extract
Pinch of salt
Remaining Ingredients
3 pints of blueberries
1 container frozen light whipped topping
6-8 pint sized mason jars or trifle cups
Instructions
Preheat the oven to 350 degrees. Grease a 13x9 baking pan.
In a large mixing bowl, whisk together cake mix, pinch of salt, and pudding mix. Add eggs, coconut oil and water. Vigorously mix until combine, it's alright if there are a few lumps. Pour into prepared baking dish. Bake for 30-35 minutes or until a toothpick crumbs out with just a few scattered crumbs attached. Cool.
In a medium bowl, whisk together, cream cheese, milk, powdered sugar, vanilla and pinch of salt until smooth.
To build the trifles, slightly break up the cooled cake, place some cake (about ⅓ cup) in the bottom of the jar, top with a tablespoon or two of the cheesecake filling and then sprinkle blueberries on top. Repeat once more. Top with more cake and then pipe or spoon whipped topping on top.