Let's talk football food. Because lord knows I've got nothing of substance to say about the actual game itself. The only reason I even know who the two teams playing in "the game" are, is because of this whole deflated ball hoopla going on. I don't watch sports center, but I sure as heck keep up on my celebrity gossip, so thank you TMZ for enlightening me.
I'm not even remotely ashamed to admit that the only thing I care about on Super Sunday is the food (and the company!). I've even stopped paying attention to the commercials, unless it involves dogs or horses, then I'm in, because how can you resist a happy-go-lucky puppy or a triumphant horse? You just can't. Also, the halftime show isn't really that exciting to me anymore either, unless of course it's Bruno Mars or Beyonce who are amazing performers, but Katy Perry?? Eh. So I guess it's just this year's halftime show I'm not too thrilled with.
But the food??? Never boring. Meatballs. Wings. Burgers. Dips. Beer. I love it all.
My new favorite football food? Totchos. Have you had these before?
Basically they're just crispy tater tots dressed up as nachos – in a nutshell.
I saw them floating around the web for a while, and even spotted them on menus at various restaurants I've been to in the last year or so, but I wasn't really sold on the idea. I mean, do we really need to take an already greasy dish and make it even greasier?? It just seemed like complete overkill to me.
And then… I went against my holier-than-thou attitude and tried them at – of all places – a fancy steakhouse, and immediately took back every single word I'd uttered prior. These things are good, really good, I'm not sure I can ever eat a plain tater tot or nacho ever again.
My introduction into totchos –as aforementioned –was at a fancy steakhouse, after I attended the Nutcracker with some of my longtime girlfriends and our mothers. We were absolutely famished by the time the ballet was over, and marched on over to dinner just shortly after they opened…at 4 pm…little black dresses and all. Never in my life did I think I'd order nachos or tater tots over crab cakes or tuna tartar, but present three ravenous girls with a menu item including the words crispy tater tots, nachos, and bacon, and we're sold. The waiter dropped it off, and every single morsel disappeared within two minutes of touching the table.
I was going to go all swanky and layer the tots with some of this braised pork, a creamy cheese sauce and possibly some crispy prosciutto, but then I came to my senses and realized that most people like simple foods when it comes to the Super Bowl. There are just too many subjective palates to please, and everyone loves a good cheeseburger, so this variation is just that – a cheeseburger in tater tot nacho form.
Lean ground beef is browned up with a little bit of onion and garlic, and then hit with a splash of Worcestershire sauce. The crispy tater tots are layered with beef, copious amounts of shredded (mild) cheddar cheese and crispy bits of bacon. It's popped into a screaming hot oven until the cheese melts and then topped with all your classic cheeseburger fixings.
Pretty sure there's no coming back from these….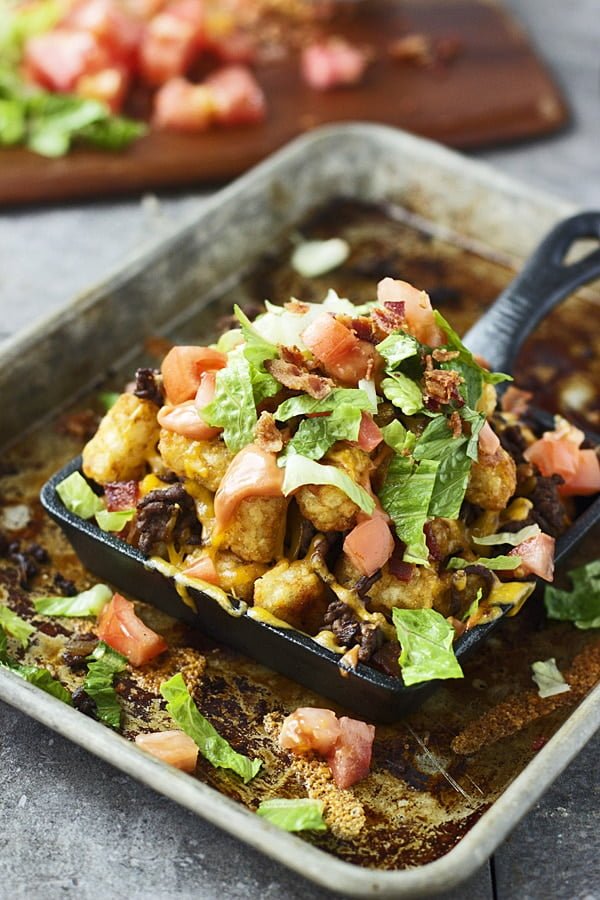 Loaded Bacon Cheeseburger Totchos
Ingredients
½ (28 ounce) bag of frozen tater tots
1 pound lean ground beef
½ small onion, chopped
1 garlic clove, minced
½ teaspoon salt
1 tablespoon worcestershire sauce
1½ cup shredded mild cheddar cheese
3 slices cooked bacon, chopped (plus more for garnish if desired)
2 tablespoons ketchup
1 tablespoon mayo
½ cup chopped tomato
1 cup chopped romaine lettuce
Instructions
Preheat oven to 425 degrees. Cook tater tots according to directions.
In a large non-stick skillet, brown ground beef with onion and garlic until cooked through. Add salt and worcestershire sauce.
Place a third of the tots in the bottom of a small oven-proof skillet or casserole dish. Sprinkle with a third of the cheese, ⅓ of the meat mixture, followed by ⅓ of the bacon. Repeat two times. Place in oven and bake until cheese is melted, about five minutes.
In a small bowl combine ketchup and mayo.
After you remove the totchos from the oven, drizzle with ketchup and may mixture. Top with tomatoes and romaine, along with more chopped bacon if desired.