Juicy strawberries, sweet biscuits and whipped cream are the perfect trifecta of ingredients in these Mini Strawberry Shortcakes. The perfect summer bite!
Queue the bird-chirpin' choirs, summer has officially begun.
Even though Memorial Day weekend was the unofficial start of summer, and we've yet to officially begin the new season, this past week truly felt like summertime. The temperature hasn't dipped below 80 degrees in weeks, we've played in the water more times than I can count, and both Teddy and I have distinct tan lines from all the sun we've been getting. Even all of the summer fruit that has been lackluster in weeks past is so ridiculously sweet and juicy, we're basically subsisting purely on it and nothing else.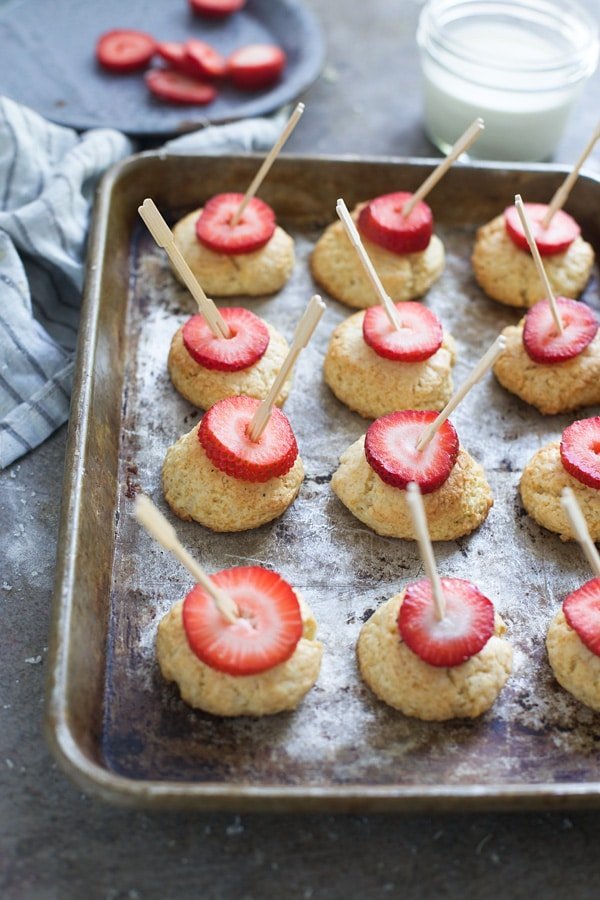 I'd been anxiously awaiting a good batch of strawberries, so when I saw them deeply discounted at the beginning of this week, I knew immediately they were ready to go. Insider tip: When fruit is on sale, that usually means it's hit its peak and you better get on it.
Strawberries are one of those fruits I don't cook much with when they're in season simply because they don't really benefit much from heat. A perfectly ripe strawberry, to me, needs nothing other than a big ol' bowl of whip cream to dip it in, or if we're getting really fancy, the perfect shortcake or biscuit to be paired with.
Strawberry shortcakes have been one of my favorite summertime desserts, even over cobbler or French silk pie because they actually taste like summer. I've shared a couple versions here and here, but with so many get togethers looming ahead of us, I thought it would be fun turn the classic summer dessert into something bite-sized and perfect for entertaining.
Aren't they adorable??!
Now you can make these one of two ways. First, you can assemble the shortcakes and strawberries and then douse the duo in warm sweet cream – a method I stole from my mother a couple of years ago. Or, you can assemble the shortcakes and strawberries and then spoon a dollop of whipped cream over, which is the classic way to prepare them.
Whichever method you decide, you want to make sure one element of the dish is warm, so if you're just using whipped cream, I'd make sure the shortcakes are warm, or if you're using the hot cream method, obviously the cream will be warm. There are two reasons I do this. One, I love for the biscuit to sort of melt away in your mouth. Two, I love the contrast of the warm biscuit or cream, with the cold, sweet strawberries. Of course, I'm being pretty persnickety, and if you happen to serve everything at room temperature, you will still end up with a seriously delicious bite, no worries.
Spear them with a cocktail pick, line them up on a platter and serve them at your next summer gathering!
For more strawberry shortcake renditions, check out these posts:
Vegan & Gluten Free Strawberry Shortcakes: Minimalist Baker
Strawberry Shortcake Toffee: Bittersweet Blog
No Bake Strawberry Shortcake Bars: Bakerita
Mini Strawberry Shortcakes
Fresh strawberries, sweet biscuits and warm cream make these Mini Strawberry Shortcakes the perfect summer bite!
Author:
Cooking for Keeps
Ingredients
1 cup all-purpose flour
¼ cup sugar
2 teaspoons baking powder
Pinch of salt
2 tablespoons cold butter, cut into small cubes
1 cup + 2 tablespoons heavy cream, divided
2 tablespoons powdered sugar
½ teaspoon vanilla extract
6 large stawberries
Instructions
Preheat oven to 425 degrees. Line a large rimmed baking sheet with a silpat.
Whisk flour, sugar, baking powder and salt together in a small bowl. Add in cold butter and use a fork or pastry cutter to cut the butter into the flour mixture. Once the mixture resembles coarse meal, it's done.
Make a well in the center and add a ½ cup cream. Gently mix with a fork just until combined. Dump dough on onto a lightly floured surface. Gently knead until dough comes together, flatten into a disc. Use a floured rolling pin, to roll the dough out until it's about ½ inch thick.
Use a 1-inch biscuit cutter to form biscuits. Place on baking sheet. Brush tops with 2 tablespoons of cream. Bake for 10-12 minutes or until biscuits are golden brown.
While the biscuits cook, add remaining cream to a bowl. Use a whisk to whip the cream until soft peaks form. Add powdered sugar and vanilla, beat until combined. Store in fridge.
Cut ends off of strawberries and then slice horizontally so you have 2 even, round slices.
Once biscuits come out of the oven, place a strawberry on top, followed by a dollop of whipped cream. Use a cocktail pick to hold everything together. Serve warm.