Thank you Argo Corn Starch for sponsoring the post for these Mini Strawberry Custard Tarts. Celebrate sweet moments together with Argo!
Mini Strawberry Custard Tarts
As long as the sun is shining, the tomatoes are juicy, and the strawberries are sweet, I'll be churning out recipes like today's Mini Strawberry Custard Tarts. Fresh summer fare that I'll miss so dearly once the first frost comes October.
Here's what's happening:
vanilla wafer crust
silky-smooth vanilla custard, thickened with Argo® Corn Starch
sweet, fresh strawberries
The combination of the sweet and salty vanilla wafer crust with the vanilla-laced custard filling, whipped cream, and strawberries is one of those classic flavor combination I can't get enough of this time of year. And, unfortunately I could eat a ridiculous amount of the stuff, which is why it's so great we're making them in tiny little tart pans – cheers to built-in portion control!
First thing's first – the crust! I'm a fan of almost all tart crust crusts – graham, shortbread, classic pastry, but I happen to be especially partial to a vanilla wafer crust when it comes to a custard filling. There's something about the crisp, not overly sweet cookie that pairs perfectly with a sweet custard filling. It also helps that it's really simple to put together. All you need is a food processor, cookies, a little bit of melted butter, and just a hint of sugar and salt.
Custard Filling Recipe
Not only are these adorable little tarts delicious, but they're super easy to throw together thanks to Argo® Corn Starch. I actually almost always use corn starch instead of flour when I'm thickening a lot of sauces and custards, because Argo® Corn starch ensures smooth, clear sauces, lump-free gravies, and reliable thickening – in fact it has twice the thickening power of flour. (Which is especially evident in this recipe.) It dissolves easily and it's flavorless so it never alters the taste of the recipe, which I love. Unlike flour, when you add corn starch to custards and heat it up, the custard thickens up almost instantaneously, making it a mandatory ingredient to have in your dessert arsenal.
Here's the five ingredients you'll need
egg yolks
whole milk
sugar
cornstarch
vanilla
How to make Custard Filling
Whisk egg yolks, sugar and milk together in a medium saucepan. Heat over a low flame until hot. Continue to stir with a wooden spoon until slightly thickened, about five minutes.
Whisk cornstarch and remaining milk together in a small bowl.
Take the egg and milk mixture off the heat. Slowly whisk in Argo® corn starch and milk mixture. Return the custard to the stove and heat over medium-low heat until thickened, about two to three minutes.
Once the custard thickens, transfer to a bowl and cool until it's room temperature, about 30 minutes.
How to make Mini Strawberry Custard Tarts
Spread the cooled custard in the prepared crusts.
Dollop whipped cream on top.
Arrange sliced strawberries around the tart.
Finished!
What if I overcook my custard and the eggs curdle?
Unfortunately this can happen. If you catch right away, don't freak out! You can push the finished custard through a strainer to get out all the pieces of egg that cooked. Assemble as instructed. If it all curdles, unfortunately you'll have to start over.
Variations on Strawberry Custard Tarts
So another thing I love about Argo® Corn starch is that unlike flour, it's gluten free, SO if you are looking for a totally gluten-free option for this recipe, you'd need to alter the crust a little bit. Instead of using vanilla wafers, you could use your favorite gluten-free shortbread cookies.
Add in one tsp of almond extract instead of vanilla, for an almond-flavored custard.
Swirl in two tablespoons of seedless strawberry jam into the custard for a strawberry on strawberry
Layer bananas in the tart before you pour the custard in for a strawberry banana tart.
Substitutions and Tips and Tricks for Recipe Success
This is a great custard recipe without cream, however if you don't have whole milk on hand, you can absolutely use heavy cream, half and half or low-fat milk.
You can swap out the vanilla wafers for graham crackers without adjusting any of the other crust ingredients.
Use Cool Whip Lite topping instead of homemade whipped cream to reduce fat.
Do not take your eyes off the custard! There are eggs in the custard, and eggs scramble, so it's imperative to keep your custard at a low enough temperature where they don't scramble, but a high enough temperature so it thickens. I always keep mine as low as it will go while still heating it up, usually this is around medium-low.
Make sure your milk is cold when you add the cornstarch. Adding hot milk to cornstarch will automatically thicken the milk. You don't want this, because you want the cornstarch and milk to thicken the egg, milk, and sugar mixture later.
Pour the filling in the prepared tarts, and then store in the fridge until completely chilled. Just before serving, put the whipped cream and strawberries on top.
Strawberries aren't just about sweets! Be sure to check out this Strawberry and Feta Couscous Salad, Strawberry Frosé , and these Strawberry Caprese Chicken Burgers.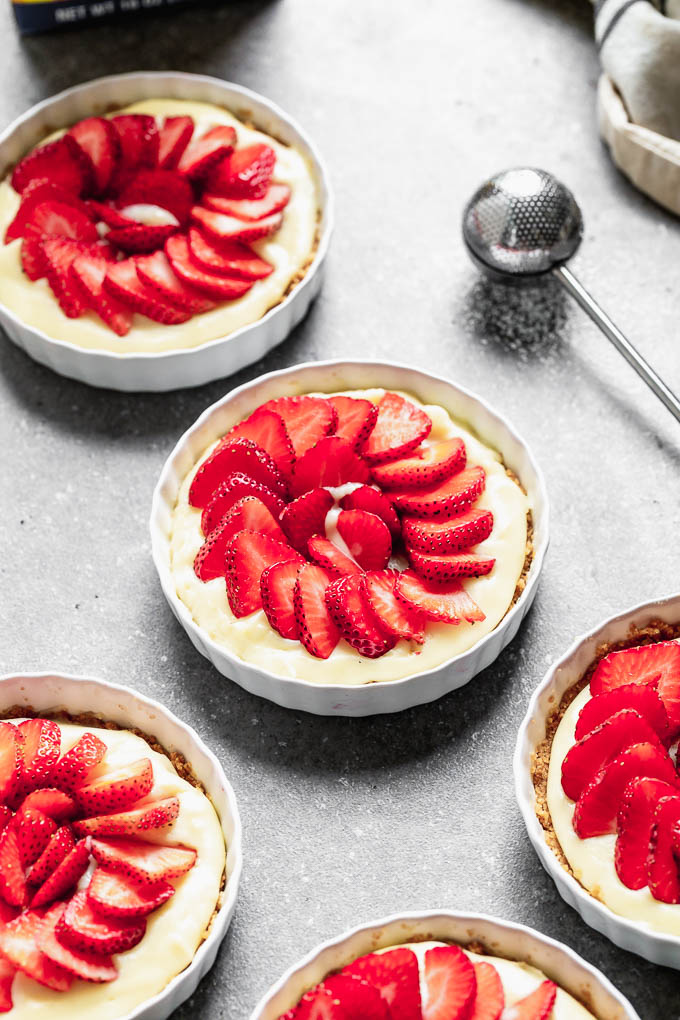 These Strawberry Tarts are filled with an easy vanilla-based custard, topped with strawberries, and nestled into a vanilla wafer-baked crust. Perfect for entertaining!
Ingredients
45

vanilla wafer cookies

5

tbsp

unsalted butter, melted

1/4

tsp

kosher salt

2

cups

whole milk, divided

1/2

cup

cane sugar

4

large

egg yolks

3

tbsp

Argo® Corn Starch cornstarch

1 1/2

tsp

pure vanilla extract

1

lb

strawberries, stems removed and sliced
Instructions
Preheat oven to 325 degrees. Grease five 4-inch tart pans with butter or non-stick cooking spray. (You could also do this in a 10-inch tart pan)

Add cookies to the bottom of a food processor. Pulse until the cookies are fine crumbs. Add salt. Pulse again to combine. While pulsing the crumbs, slowly drizzle in melted butter. Pulse until the butter is completely combined. It should look like wet sand. Evenly divide the crust between the five tart pans. Use the bottom of a measuring spoon or your fingers to push the crust into the pan. Place the tart pans on a large rimmed baking sheet and bake until lightly golden brown, about 12-15 minutes. Remove from the oven and cool.

While the crust cooks, add 1 1/2 cups milk and sugar to a medium saucepan. Whisk to combine. Turn the heat on medium-low and heat until hot and the sugar is melted.

Whisk egg yolks together in a small bowl or measuring cup. Slowly whisk in about 1/2 cup of the hot milk and sugar mixture into the egg yolks. Reduce the heat of the milk and sugar to in between a low and medium-low heat. While whisking the milk and sugar mixture, pour the egg yolk mixture into the milk and sugar. Continue to cook the mixture over a low heat until slightly thickened, about 4-5 minutes, stirring with a wooden spoon constantly. To test if it's thick enough, dip the spoon in the mixture and bring it out. Run your finger down the back of the spoon, and if the mixture stays seperated, it thick enough. Remove from the heat.

In the same bowl you whisked the eggs in, add remaining milk and cornstarch. Whisk together. Slowly whisk the cornstarch mixture into the thickened custard (the egg, milk, and sugar mixture). Place the saucepan back on the heat, increase to a medium-low heat and continue to cook until the mixture has thickened significantly. It should take about 3 minutes. Once the mixture is thickened, immediately remove it from the heat. Let it cool slightly.

Evenly divide the custard between the five crusts. Place them all in the fridge to chill for about 20 minutes.

Once the tarts have chilled slightly, pull them out and arrange the strawberries artfully on top. Sprinkle with powdered sugar if desired.
Tips
These are large tarts, I would say one tart could feed two people for dessert after dinner. 
Also, because you are working with eggs, they do have a tendency to scramble or curdle. Be sure to be on alert while cooking the custard, it's always better to have the heat too low than too high. Stirring frequently helps to eliminate any possibility of scrambled the eggs. 
Nutrition Information
Serving:
1
tart
,
Calories:
583
kcal
(29%)
,
Carbohydrates:
76
g
(25%)
,
Protein:
8
g
(16%)
,
Fat:
28
g
(43%)
,
Saturated Fat:
14
g
(88%)
,
Cholesterol:
188
mg
(63%)
,
Sodium:
385
mg
(17%)
,
Potassium:
328
mg
(9%)
,
Fiber:
3
g
(13%)
,
Sugar:
47
g
(52%)
,
Vitamin A:
720
IU
(14%)
,
Vitamin C:
53
mg
(64%)
,
Calcium:
146
mg
(15%)
,
Iron:
1
mg
(6%)