Once you try our Lemon Strawberry Shortcakes with Warm Sweet Cream, you may never be able to eat another dessert again. We take super-soft lemon and basil shortcakes, fill them with macerated berries, and then drown them in warm sweetened cream. Heaven on earth.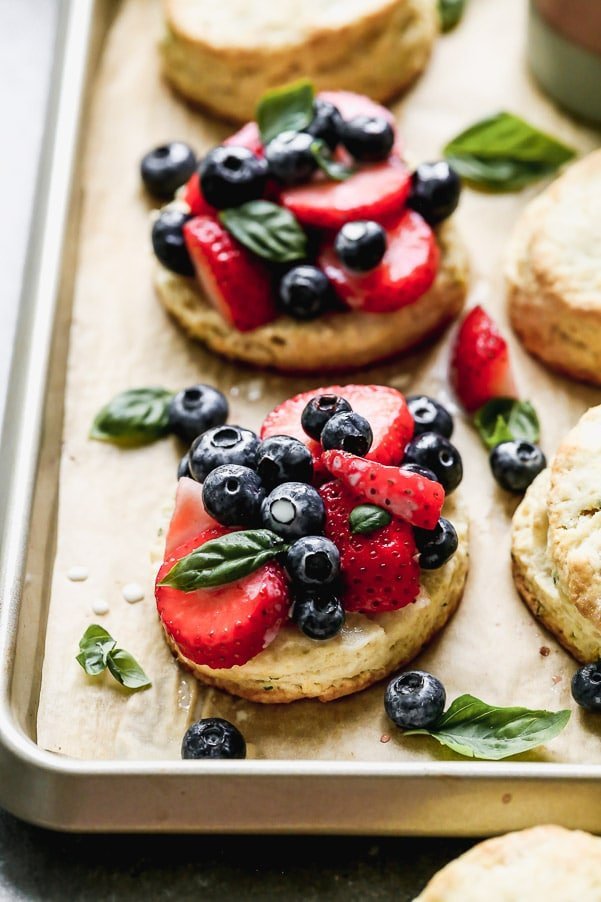 Lemon Strawberry Shortcakes
If you can't tell by simply looking, our Lemon Strawberry Shortcakes with Warm Sweet Cream, are the epitome of summer dessert eating. These beauties are one of my favorite things to eat when the berries are perfectly ripe and juicy, and thanks to the process of maceration, they're my favorite dessert to eat pretty much any time of year.
This particular recipe varies a little bit from a traditional strawberry shortcake because instead of using whipped cream, the lemon-infused shortcakes are drowned in hot sweet cream, sans the whipped part. It's a variation my Mom has been making for years, and one that I prefer over any other kind.
Picture this: Already soft, sweet shortcakes are drowned in hot cream, which turns the biscuits into a melt-in-your-mouth type of situation. Top them off with sweetened blueberries and strawberries, and you my friends, are looking at a little slice of heaven. I can almost guarantee you'll forget about traditional strawberry shortcake.
Ingredients in Lemon Strawberry Shortcakes
The shortcakes/biscuits
Flour. I've only experimented with all-purpose flour, but I'm sure whole-wheat white flour would also work, they just may be a little bit more dense.
Basil. To compliment the lemon in the biscuits and the lemon shortcakes, and to keep in line with our summer theme, I add fresh basil to the shortcakes. It's adds a really subtle herb scent and flavor, so if you don't have it on hand, no big deal.
Lemon. For the biscuits themselves, we only use the zest of the lemon, we'll use the rest later.
Sugar. Normally I don't sweet my biscuits, but Lemon Strawberry Shortcakes require a sweeter biscuit, all you need is a couple tablespoons. If you wanted to make the biscuits savory, you could leave it out altogether.
Butter. You want to make sure to use cold unsalted butter. Using cold butter ensures the biscuits come out nice and flaky.
Cream. I know. Cream seems a little aggressive, but it makes the inside oft he shortcakes so soft and tender, trust me.
Everything else
Berries. You can use any mix of berries you'd like. Right now organic strawberries and blueberries are super inexpensive, so that's what I went with. Blackberries or raspberries would be lovely as well.
Lemon juice and sugar. To help the berries release their natural sugars, we need little bit of sugar and lemon juice to help them along. These ingredients are also great ways to get unripe berries, almost as sweet as they are at their peak in the off season.
Cream. As we mentioned before, our version of lemon strawberry shortcakes uses warm cream instead of whipped cream. Because we don't whip the cream, you can also swap out 1/2 and 1/2 for the heavy cream.
Sugar. We use sugar yet again to sweeten the warm cream. You don't need much, just enough to take the creamy from a blank canvas to a lick-the-bowl worthy sauce for the lemon strawberry shortcakes.
Let's make Lemon Strawberry Shortcakes!
Macerate the berries. Add sliced berries, sugar, and lemon juice to a medium bowl. Stir to combine. Let them sit while you whip up the shortcakes.
Make the biscuits. Add the flour, sugar, basil, and baking powder to a medium bowl. Whisk to combine. Gently add in your cubed butter, making sure you don't handle it too long. You want to keep the butter very cold.
You could cut the butter in one of three ways. First, you could use a pastry cutter. Second, a fork. Third, your hands. My preferential method is to use a pastry cutter, because it's sole purpose is meant for cutting fat into flour in recipes just like these. If you don't have a pastry cutter, no problem, a fork works great. And my last choice, would be your hands since you want to keep the butter as cold as possible. Using your hands risks bringing the temperature of the butter up, resulting in biscuits that don't rise as much and aren't as flaky.
Once you cut the butter in, pour the cream in and gently mix until a shaggy dough comes together. You want to avoid working the dough too much, but I find I usually have to knead it quickly with my hands a little bit to fully bring it together.
Another key method I've learned along the way when make biscuits is to fold the dough. So after we roll the dough out, we fold it over itself, roll again, and then repeat the process one more time. This may sound counterintuitive to working the dough as little as possible, but this method ensures when have nice tall, flaky biscuits.
Grab a biscuit cutter, cut the biscuits. Line em' up on a baking sheet, brush with cream and bake until golden brown.
Make the sweet cream. Ok, this is hands-down easier than making whipped cream. All you have do (while the biscuits cook) is add the cream to a small saucepan along with some sugar. Turn the heat on low and gently stir until the sugar melts. Sweet cream, done.
Assemble. When the biscuits come out of the oven, let them rest for a minute. Split them in half and then pile in the berries. Sprinkle with basil and cover with the top part of the biscuit. Drizzle the warm cream on top and garnish with more fresh basil!
Can I make these ahead of time?
The only downside to these is for them to be perfect, they have to be served warm. You can either serve them right out of the oven, or if you want to make everything in advance, you could just pop the biscuits into the microwave for a quick 15 seconds. Same with the cream, but you may have to do a few 15-second increments.
Assemble the lemon strawberry shortcakes as directed.
Substitutions and Tips and Tricks for Recipe Success
Don't overwork the dough! Try to only mix as much as you need to.
Add as little flour as possible when rolling out the dough.
Swap our strawberries and blueberries for whatever fruit you want. Blackberries or raspberry would be great. Cherries. Even peaches or plums would be a nice variation.
As mentioned, you can swap out the cream for 1/2 and 1/2 both in the shortcake recipe and the warm cream.
For more ways to use up summer berries, check out some of our other favorite recipe!
If you're looking for something a little healthier, our Strawberry Smoothie Bowls with Granola are the perfect breakfast or dessert to get your fruit fix.
Gosh, these Mini Strawberry Custard Tarts are TO DIE FOR. They're made with an easy shortbread crust, filled with sweet vanilla custard and topped with strawberries.
If you want another showstopper, this Strawberry Banana Pudding Tart is out of this world and so so pretty.
 Lemon Strawberry Shortcakes 
Once you try our Lemon Strawberry Shortcakes with Warm Sweet Cream, you may never be able to eat another dessert again. We take super-soft lemon and basil shortcakes, fill them with macerated berries, and then drown them in warm sweetened cream. Heaven on earth. 
Ingredients
2

cups

all-purpose flour

1/2

cup + 2 tbsp

sugar, divided

1

tbsp

baking powder

2

tsp

lemon zest

pinch of salt

2

tbsp

chopped basil

4

tbsp

cold butter, cut into small cubes

2

cups + 2 tbsp

heavy cream, divided

1

lb

strawberries, roughly chopped

1

cup

blueberries

1

tbsp

lemon juice
Instructions
Preheat oven to 425 degrees.Line a baking sheet with parchment paperer a silpat.

Add strawberries, bluberries, 2 Tlbs sugar, and lemon juice together in a medium bowl. Stir. to combine. Let the berries macerate while you make the biscuits.

In a medium bowl, whisk together, flour, ¼ cup sugar, baking powder, salt, basil, and lemon zest. Add in butter and use a pastry cutter or fork to cut it into the flour. The flour should look crumbly when it's ready. Pour 3/4 cup of cream in with the dry ingredients. Use a fork to gently combine the wet and dry ingredients. Add the rest of the cream if needed. Do not over mix.

Dump dough out on to a lightly floured surface and gently press the dough out until it's ½ inch thick. Fold it over itself and again press the dough out until it's 1/2-inch thick. Repeat one more time. You can also use a rolling pin. Use a 2-inch biscuit cutter to form biscuits. Use scraps to make more biscuits. If you don't have a biscuit cutter, you can use a circle cookie cutter or a small glass cup.

Line biscuits up on a baking sheet and brush with a little bit of cream. Bake for 10-12 minutes or until golden brown and cooked through.

Add remaining cream to a small saucepan. Add remaining sugar. Turn the heat on low and let the mixture heat until the sugar has dissolved, about 5 minutes. Stir occasionally.

Let the biscuits cool slightly. Split biscuit in half and top with berries and some of the syrup accumulated in the bottom of the bowl. Put the top half of the biscuit back on. Pour hot cream on top. Serve with fresh basil.
Nutrition Information
Serving:
1
biscuit with cream and berries
,
Calories:
483
kcal
(24%)
,
Carbohydrates:
52
g
(17%)
,
Protein:
5
g
(10%)
,
Fat:
27
g
(42%)
,
Saturated Fat:
16
g
(100%)
,
Cholesterol:
86
mg
(29%)
,
Sodium:
93
mg
(4%)
,
Potassium:
333
mg
(10%)
,
Fiber:
3
g
(13%)
,
Sugar:
23
g
(26%)
,
Vitamin A:
1191
IU
(24%)
,
Vitamin C:
37
mg
(45%)
,
Calcium:
122
mg
(12%)
,
Iron:
2
mg
(11%)