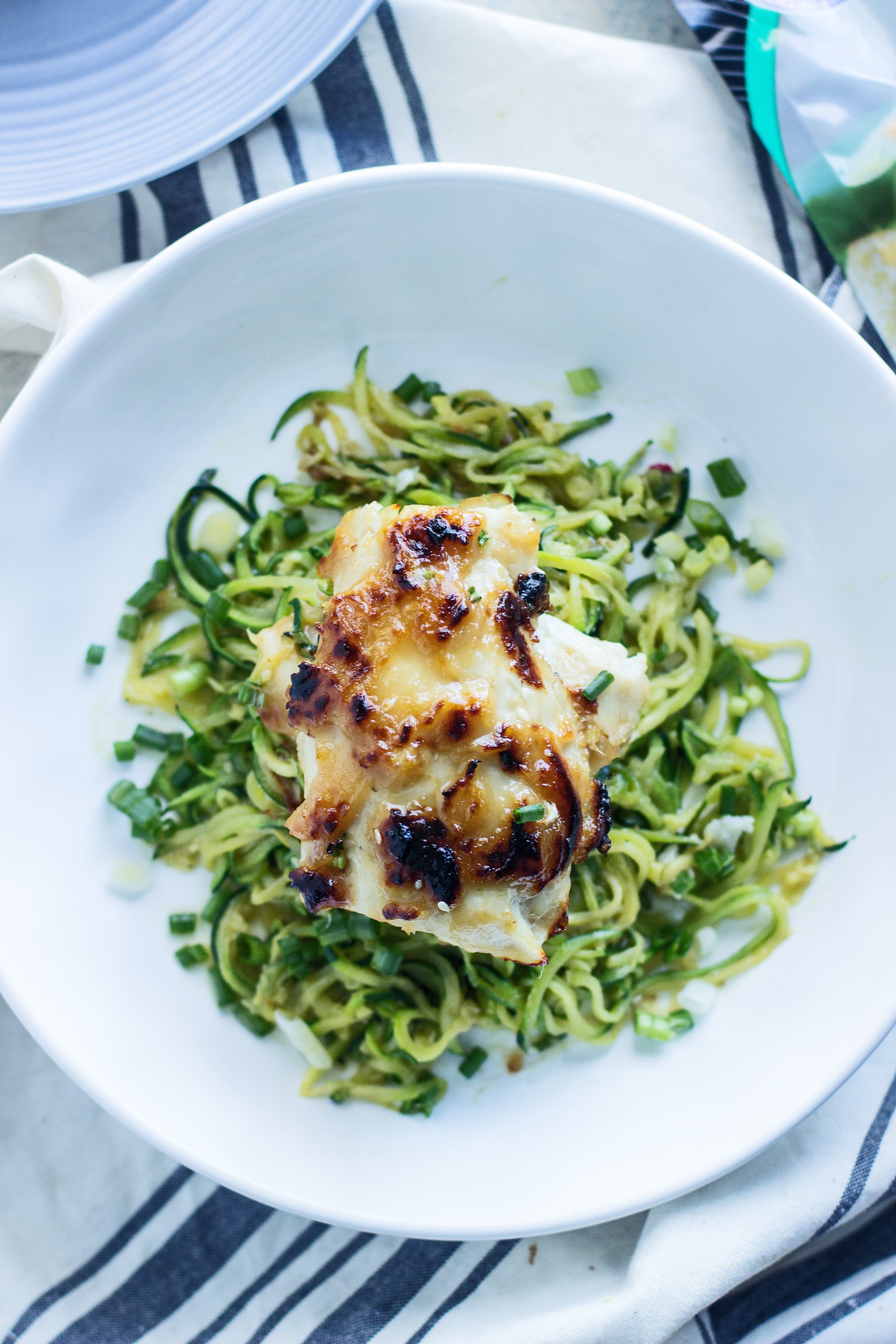 And the healthy eating continues…
Healthy eating would normally bore me to tears, but this kind of healthy eating, this is the kind I love. Fresh fish, bold flavors, and loads of veggies, it's the perfect trifecta to make my stomach happy and full.
Today, I've again teamed up with Mazzetta Company to highlight one of their products I love – frozen haddock filets. This is the second shipment I've received from them, and this batch is every bit as fresh as the last. I wanted to keep things relatively simple, both because I wanted the fish to shine, but also because as a new Mom who is slowly trying to ease back into cooking, simple is pretty much the only thing I can handle in the kitchen.
Here's how it went down…
While the fish defrosted, I whisked together miso paste, brown sugar, rice vinegar, and water in a small saucepan, brought it to a boil, and then reduced it to a simmer just for a minute or so until the brown sugar melted.
Once the fish defrosted, I smothered the filets with the glaze, popped it onto a greased baking sheet and into a screaming hot oven for 10 minutes. When the filets were almost done cooking through, I turned the heat up to a broil until the glaze almost caramelized, and then yanked it before it burned. (It will burn fast, so watch it!)
Some spiralized zucchini noodles were sautéed with a little bit of sesame oil, garlic, and ginger, piled high into a bowl and the haddock filets were nestled on top.
A garnish of green onion and sesame seed were an added touch at the end…
Dinner. Done.
Miso Glazed Haddock with Ginger and Sesame Zucchini Noodles
Author:
Nicole ~ Cooking for Keeps
Ingredients
2 haddock filets, defrosted
2 tablespoons white miso paste
1 tablespoon brown sugar
2 teaspoons rice vinegar
3 teaspoons water
2 medium-sized zucchinis
2 teaspoons sesame oil
1 garlic clove, minced
1 teaspoon minced ginger
Salt to taste
Green onion for garnish
Instructions
Preheat oven 425 degrees.In a small saucepan, whisk together miso, brown sugar, vinegar and water. Bring to a boil and reduce to a simmer for 1-2 minutes or until the brown sugar has melted.
Place fish filets on a sheet pan lined with parchment paper. Season with salt and pepper. Brush evenly with miso mixture. Bake in the oven for 10 minutes. Turn the heat to broil and cook until top has slightly blackened, and fish is cooked through, about 5 minutes. Be careful not to burn.
While the fish is cooking, make the noodles. Using the spaghetti blade on the spiralizer, cut zucchini into spaghetti. If you do not have a spiralizer, you can just cut zucchini into thin slices.
Use a paper towel to squeeze the zucchini of all excess moisture. Heat a medium skillet to a medium-high heat. Add sesame oil, garlic and ginger. Cook for 1-2 minutes or until softened. Add in zucchini noodles, and cook until wilted, about 2-3 minutes. Season with salt and pepper.
Serve noodles with fish. Garnish with sliced green onion.