I wanted to give up carbs and dairy in preparation for our upcoming beach trip.
I tried, and failed…
This was my compromise:
Whole-wheat noodles (for fiber) intermixed with a healthy dose of zucchini noodles, and only a smidge of cheese (for calcium of course) – I think I compromise quite well, don't you agree?
We must pause for an intermission, as I'm writing this post, I'm simultaneously watching RHONJ and just saw a preview for RHONY tomorrow, and Aviva is THROWING HER LEG across the room, ummm WTF?
Sorry, I just felt it needed to be addressed. That girl gets crazier with each episode, and it's not the fun kind of crazy that entertains me, it's the kind of crazy that drives me absolutely bonkers and gives me a weird angry stomach ache. It just baffles my mind that real people actually behave this way. Anyways, we were talking about compromise, right?
A compromise is how this pasta dish ended, but it began with something simple – fresh basil from our garden. I just adore fresh herbs; in the wintertime, sage and rosemary are always something you'll find in my recipes, but in the summer, fresh basil reigns supreme, as it should. As of late, I haven't been able to use our basil fast enough, and I'm ashamed to admit, but I haven't actually used it as the main ingredient in anything. Of course it's been torn over tomato salads, used as a garnish in many a pasta dishes and I've even nibbled on it straight from the plant, but until today I hadn't really utilized it.
So naturally, I had to transform it into its most delicious state – pesto.
This pesto only slightly deviates away from the traditional; instead of 100% basil, I used 1 cup of basil, and ½ cup flat leaf Italian parsley, simply because it's more cost effective for you. Instead of pine nuts, I swapped in toasted slivered almonds; and finally, I added in just a touch of water to reduce the oil content and lighten it up just a tad. The other common suspects are there – parmesan cheese, garlic and olive oil.
The hot aldente whole-wheat spaghetti and zucchini noodles are tossed with the pesto, and moistened up with a ladle full of starchy cooking liquid, and seasoned with a generous dousing of salt (Very important!). At the last minute, tomatoes blistered under the broiler are gently tossed with the noodles and pesto, and then the entire dish is dotted with whole-milk ricotta for extra creaminess and sprinkled with crispy prosciutto for texture and a salty bite.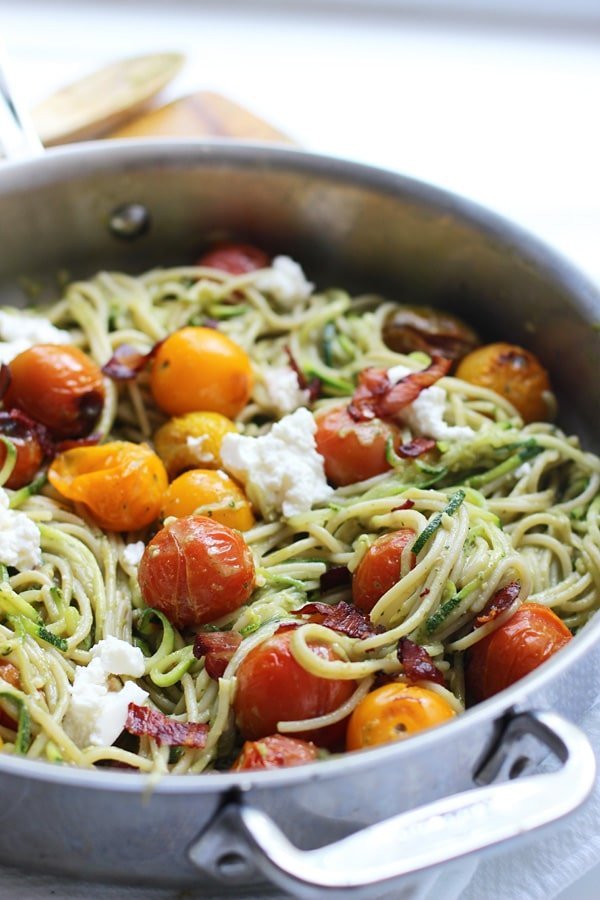 I can't stress enough how seriously delicious this was, even Kevin, who typically refuses to eat zucchini noodles enjoyed the combination of the whole-wheat pasta and the zucchini. I guess that's the trick – don't ever try to feed a meat-lovin', carb lovin' man 100% vegetables and except him to swoon. Lesson learned. I was planning on having enough leftover for a lunch or two, but we ended up gobbling the entire skillet up, so just to be safe, for a family of four, I'd double the recipe.
Happy Monday all!
Whole-Wheat and Zucchini Spaghetti with Basil Almond Pesto, Blistered Tomatoes and Ricotta
Whole-Wheat and Zucchini Noodles are tossed with a homemade basil pesto, blistered tomatoes and ricotta cheese for a healthy and seriously delcious summer dish!
Ingredients
3 teaspoons olive oil
1 large zucchini, spiralized into spaghetti noodles
6 ounces whole-wheat spaghetti
2 cups cherry tomatoes
3 slices prosciutto, chopped
½ teaspoon salt
Pesto:
1 cup basil
½ cup parsley
1 garlic clove
¼ slivered almonds
2 tablespoon parmesan cheese
¼ cup + ⅛ cup olive oil
1 tablespoon water
¼ teaspoon salt
Instructions
For the pesto:
In a small skillet, toast almonds over a medium heat for about 30 seconds to one minute. Be careful not to burn. In a mini food processor, add basil, parsley, parmesan and toasted almonds. Pulse a few times, and then with the processor on, slowly drizzle in olive oil and water.
For blistered tomatoes:
Preheat oven to broil. Place cherry tomatoes on baking sheet and broil until blistered and bursting about 5-7 minutes.
Crispy Prosciutto:
In the same skillet you toasted the almonds in add prosciutto and 1 teaspoon olive oil. Cook prosciutto over a medium heat until crispy. Set aside.
Pasta:
Cook spaghetti until just under aldente. Reserve cooking liquid.
In a large skillet, heat 2 teaspoon of olive oil over a medium heat. Add zucchini noodles, cook until slightly softened, about 2 minutes. Add spaghetti, pesto and salt to zucchini. Cook until sauce is completely absorbed, about 2-3 minutes. Add a ladleful of starchy cooking liquid to loosen sauce up if necessary. Add blistered tomatoes. Season with salt and pepper if necessary.
Dot pasta and zucchini with ricotta and sprinkle with crispy prosciutto.

(Visited 5,853 times, 1 visits today)