When I first met my now fiancé I was sort of anti-dessert. I mean, I enjoyed dessert but didn't love it and could definitely live without it. I had my go to dessert items, bread pudding, cheesecake, and coconut cream pie – that was the gist of it. I didn't touch candy, chocolate, or cookies. It sounds like it was a conscious diet choice, but really I just enjoyed savory foods more. If it came down to choosing between an appetizer and dessert I'd take the appetizer in a heartbeat.
I thought I would go on in my life being the girl that doesn't like desserts and no one wants to friends with her. Then I met Kevin or I should say I "re-met" Kevin – a whole other story in itself – and my sweets life made a radical change. I'd never met anyone that loved sweets so much. If I'd let that boy, he'd eat Sour Straws for breakfast lunch and dinner and wouldn't even think twice about it. At first I resisted all those sugary concoctions; I was NOT going to eat all that junk and if I did, I certainly wasn't going to enjoy it. Nope, not me.
Well… That was then and this is now. I'll admit the truth to you all first….
Hi guys, I'm Nicole and I'm a dessertaholic. Whew, ok, I feel much better now.
It started with a single sour straw here, a cookie there, infrequent trips to the frozen yogurt shop and exploded from there. Before I knew it, I found myself eating dessert every night and I'm not talking a little piece of chocolate or a couple pieces of candy. Enormous ice cream sundaes with about a million toppings became a nightly occurrence.
Since I had never really enjoyed desserts all that much I didn't really have a huge variety of desserts that I did make. Like I said before, I had about the same rotation of items that I enjoyed and therefore that I cooked. I've since started to bake quite frequently, although my poor guy has been deprived lately of some freshly baked goodies due to wedding planning and house hunting.
This crumble is by far one of his favorite desserts that I make; in fact, I think it's safe to say it may be one of his favorites ever. That's saying a lot for a guy that knows his sweets. It's a perfect summer entertaining dessert because it's not only easy but can be prepared ahead of time. Just stick the whole thing in the oven when guest are finishing up eating.
I also love to make extra topping and keep it in a container in the fridge. Pull it out if you need an impromptu dessert for unexpected guests. Make this and you will not be disappointed. I promise… and I always keep my promises

Start by making your crumble topping.  Mix flour, oats, white sugar, brown sugar, cinnamon, and salt.
Cube butter and add to flour/oat mixture.
Cut the cutter into the flour mixture with a fork.
This is what your crumble should look like.  I'm ashamed to admit but I can eat this just by itself. It's that good.  There's nothing better than butter, sugar, and flour. Mmmm…  Next butter your baking dish.
Add your choice of berries. I used some fresh blackberries and strawberries and also a frozen mixed berry package that had strawberries, raspberries, and blueberries.  I like the different textures of the fresh and frozen berries. The fresh berries keep their shape and the frozen ones just melt into a sugary syrupy substance that's out of this world. You'll also need some flour to thicken your fruit mixture. Too little flour and your crisp will be everywhere.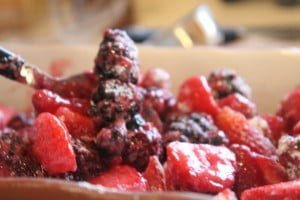 A little bit of sugar to sweeten even more. Some lemon juice for that hint of tartness. Lastly some salt just to balance all the other flavors out. Mix together.
Top with crumble topping.  It may seem like a lot but trust me you will want it all. Now just wait, this baby takes a while to bake….

Mixed Berry Crumble
½ cup + 2 tablespoons all purpose flour
½ cup oats
½ cup packed brown sugar
¼ cup sugar
¼ teaspoon cinnamon
¼ teaspoon salt
1 stick of cold butter cubed
1 12 oz bag mixed frozen berries thawed
1 pint blackberries
8 oz fresh strawberries slices
1/8 cup flour
¼ cup sugar
1 tablespoon lemon juice
½ tsp salt
Preheat oven to 375 degrees.
Mix flour oats, sugars, cinnamon, and salt in mixing bowl.  Cut butter into flour mixture with fork or pastry blender until butter is completely incorporated into mixture.
Combine berries, flour, sugar, lemon juice and salt in baking dish.  I used a smaller baking dish; about 5×11. If you use a larger pan you may have to double the ingredients. Sprinkle crumble mixture on top. Bake at 375 degrees for 30 minutes. Reduce heat to 350 degrees and bake another 25-30 minutes until brown and bubbly.  Serve with vanilla ice cream.