Every once in a while I need to humor the inner seven-year old in me. On any given day that could mean eating a whole roll of chocolate chip cookie dough, whipping up an eternally classic English muffin pizza (squeeze bottle pizza sauce mandatory), or shoveling wheat thins artistically decorated in my initials with cheese whiz into my mouth.
Other days it could mean throwing a full on tantrum when my husband failed to put the dinner I meticulously prepared in advance into the oven as I requested. (This didn't just happen last night.)
Today I'm humoring the inner child in me with every kid's favorite messy dessert – s'mores.
Nutella S'more Churro Quesadillas to be more specific.
These gooey, messy insanely tasty concoctions not only appease the seven-year old in me, they appease the approaching thirty-year old in me – not any easy task to master.
Creamy nutella is smothered generously across two tortillas, covered in mini marshmallow and then sprinkled with a cinnamon and sugar mixture. The "quesadilla" is then brushed with butter, sprinkled with even more cinnamon sugar and sautéed until the sugar has melted and almost caramelized the outside of each tortilla.
Word to the wise: The adult in you might want to use a fork and knife to tackle these babies….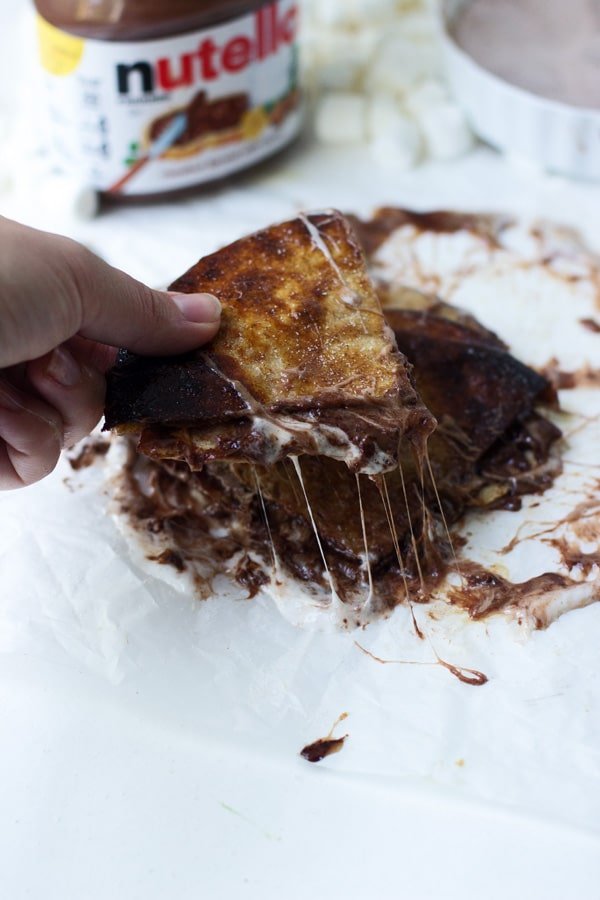 Nutella S'more Churro Quesadillas
Stuffed with nutella and marshmallow, then sautéed in butter and cinnamon sugar, these totally take you bake to your childhood, but have a grown-up flair.
Serves:
4 whole quesadillas
Ingredients
½ cup sugar
2 teaspoons cinnamon
8 whole-wheat tortillas
8 tablespoons nutella
2 cups mini marshmallow
2 tablespoons melted butter
Instructions
In a small bowl, combine cinnamon and sugar.
Spread each tortilla with 1 tablespoon of nutella, leaving an edge.
Sprinkle four tortillas with ½ cup of mini marshmallow each, leaving an edge.
Sprinkle marshmallow with a little bit of cinnamon sugar.
Place tortilla with no marshmallows on top of tortilla with.
Brush each top with melted butter and sprinkle with some cinnamon sugar.
Heat two non-stick skillets to a medium heat.
Working in batches add quesadillas, butter and sugar side down to heated skillet. Cook until golden brown, 1-2 two minutes. Brush other side with butter, sprinkle with cinnamon and sugar. Flip and cook on the other side until golden brown, about 30 seconds to 1 minute.
Repeat with remaining quesadilla.
Serve with knife and fork – you'll need it!