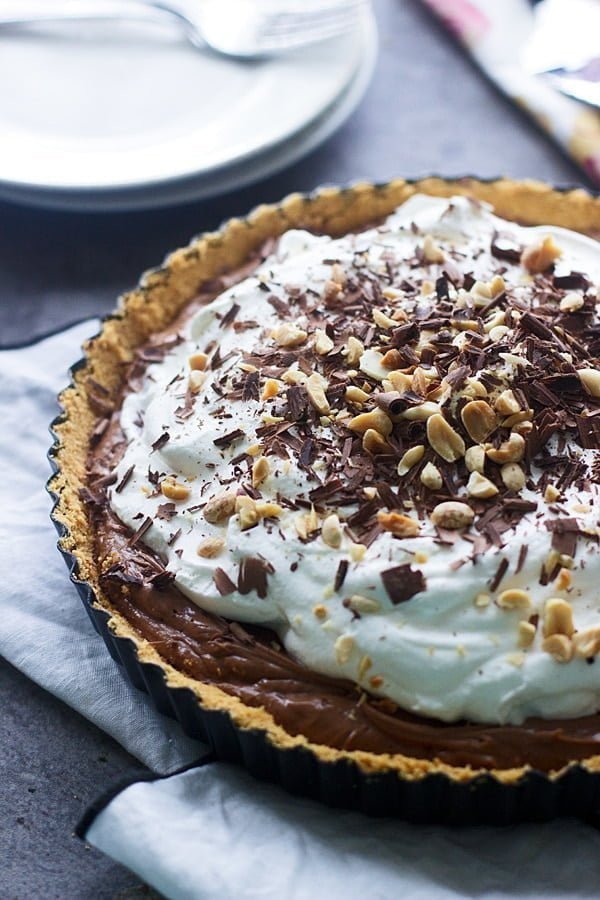 I don't cook desserts often, but when I do, I DO desserts. No shortcuts. No "easy" ways out. Homemade fillings. From-scratch crusts. Nearly always over-the-top.
One of the contributory factors in my conscious decision to hold back on the desserts I share here, is I really don't have a huge sweet tooth – one of the reasons I gave it up for Lent. I crave it on a weekly basis, but for the most part, I'm not daydreaming about cookies, cakes and candy on the daily.
Admittedly, I have one dessert weakness, one which I can never ever say no to.
Pies and Tarts.
And cakes from here and here (the most delicious wedding cake on the planet, and yes where mine was from), but that's a whole other story.
During the 40 days of Lent I said no to cupcakes, cookies and candy without batting an eyelash, but when I strolled passed the prepared pies at the grocery store, I had to have a little pep talk with myself, and then physically steer my cart and wandering eyes towards the produce and away from temptation.
Lemon Meringue Pie.
Pecan Pie.
Each one is a huge temptation, because I love them ALL..
Each time a new pie is cranked out of my kitchen, I deem it my new favorite, and today's Peanut Butter French Silk Pie is certainly no exception.
The second Lent was over, I immediately perused through my handy dandy idea journal and saw this little gem of an idea, loitering in between croque monsieur pop tarts (coming next week) and a unique spin on a sticky bun I'm dying to crank out.
For me, French Silk pie needs no favors in the flavor department. Its rich, dense chocolate-y essence is matched perfectly with a light as air and sweet, but not too sweet topping of freshly whipped cream, harmonizing together to create the perfect dessert. However, with that said, I do believe that chocolate + peanut butter is always a combination that can take any dessert to the next level, so that's what I did.
I'm not going to lie to you, this pie has quite a few steps, and at first glance of viewing the recipe, you might want to run for the hills when you see how many dishes I'm going to make you dirty up, but honestly it doesn't take long to pull the whole thing together, and the end results are worth every single dirty bowl, measuring spoon and whisk – pinky swear.
So, first the crust. Pretty much the most addictive thing on the planet which has single-handedly prompted me to leave graham crackers crust in the dust. Ritz cracker crumbs pulverized together with a little bit of sugar, lots of melted butter and then pressed into a buttered tart pan. There will be leftover crust, and you will eat it.
Next, the filling. A heavenly mixture of chocolate, eggs, butter, sugar, peanut butter and whipped cream.
Definitely not health food in the slightest. But worth every single calorie.
It's rich, but not but not overly rich. It's sweet, but not too sweet. Dense, yet light. And the perfect proportion of chocolate to peanut butter.
To make the filling, melted chocolate is whisked together with an egg and sugar mixture, then beaten with a hand mixer with a stick of softened butter and creamy peanut butter until it's super thick. I like my filling to be on the lighter side, so I fold in a half a cup or so of freshly whipped cream to aerate the filling a bit.
The chocolate peanut butter mixture is poured into the prepared crust, topped with copious amounts of whipped cream and then popped into the fridge to chill. Once it's ready to be served, I cover it in shaved chocolate and crushed peanuts.
Serve and watch it disappear.
Peanut Butter French Silk Tart with Ritz Cracker Crust
Author:
Nicole ~ Cooking for Keeps
Ingredients
5 ounces ritz crackers
2 tablespoons sugar
5 tablespoons unsalted butter, melted
3 ounces bittersweet bakers chocolate, plus more for garnish
2 eggs
⅔ cup sugar
1 stick unsalted butter, softened
½ cup peanut butter
¼ teaspoons salt
3 tablespoons chopped peanuts
Whipped Cream
1 pint heavy cream, divided
3 tablespoons powdered sugar
½ teaspoon vanilla extract
Instructions
Crust
Preheat oven to 350 degrees. Grease a tart pan.
In a food processor, add ritz crackers and sugar. Pulse until crackers are a fine crumb. Slowly add butter in while pulsing the food processor. Once the butter is evenly distributed, test to make sure it hold together. Using your fingers, pinch the mixture together, if it clumps together, it's done, if if don't hold, add ½ tablespoon-1 tablespoon more melted butter.
Press mixture into tart pan, going up the sides. Place on a baking sheet and pop in the oven until golden brown, about 15 minutes. Be careful not to burn.
Set aside and cool completely.
Filling:
In a microwave safe liquid measuring cup or small bowl, add chocolate. Microwave in 25 second increments, stirring in between each interval, until chocolate is almost melted. Once chocolate has just a few whole pieces left, stir until completely melted. (The heat of the bowl will finish melting the chocolate). Set aside.
In a small sauce pan, whisk sugar and eggs together. Turn the heat on low, and stirring almost constantly heat the mixture up until the sugar has dissolved and the mixture is hot to the touch and coats the back of a spoon, about five minutes. Remove from the heat and add chocolate. Stir until combined. Set aside and cool to room temperature. (I pop the whole pan in the fridge or freezer to speed up the process)
In a medium bowl, cream butter with hand held mixer or in a stand mixer using the paddle attachment. Cream until light and fluffy, about 2-3 minutes. Add peanut butter, mix until light and fluffy, another 1-2 minutes.
Add in the chocolate and egg mixture, beat on high speed until thick, about 2-3 minutes. Fold in ½ cup of the whipped cream.
Pour into prepared pie crust. Top with remaining whipped cream and shave remaining chocolate and chopped peanuts over the top.
Whipped Cream:
In the bottom of a stand mixer, add heavy cream. Using the whisk attachment, turn the mixer on high and whisk cream until soft peaks form. Add powdered sugar and vanilla. Mixer just until combined.
Chill for 30 minutes to one hour before serving.