While I'd love to only post recipes for homemade gnocchi and fancy appetizers, I'm human, and you're human. And humans need football food. Can you imagine the looks I'd get if I brought Whipped Ricotta and Butternut Crostini with Kale to a football party? I'd be booed out of the room, no matter what team I was cheering for. So while there's a time and a place for foods that require a knife and fork and belong on a five-star dining menu, there's also a time and place for foods that require only your hands as eating utensils and belong on a hole-in-the-wall bar menu.
Honestly, sometimes the simple foods are the most fun to serve, especially to a crowd of half-drunken rowdy fans that proclaim a frozen pizza, a culinary masterpiece; a pre-packaged box of White Castle Cheeseburgers, extraordinary; or simple cocktail weenies in barbecue sauce, finger lickin'. (Guilty!)
That's not to say there's anything wrong with the aforementioned, heck, I'd never ever pass up a platter full of bagel bites or pizza rolls, it's just, there are a million and one foods you can make from scratch that will still elicit all of those enthusiastic reactions.
So without further ado, football foodies, let me introduce you to your new favorite appetizer, Philly Cheese Steak Pretzel Rolls – fork and knife optional, ravenous appetite required.
These were inspired by an insatiable craving for a philly cheese steak from here or here, one I've yet to satisfy due to my dire need to drop seven pounds by Thanksgiving. (Four, to get off the beer and hot dog diet I've been on, and three, so I can eat EVERYTHING during the holidays.) Does it count as a mark against my diet if I make it at home? My gut says no.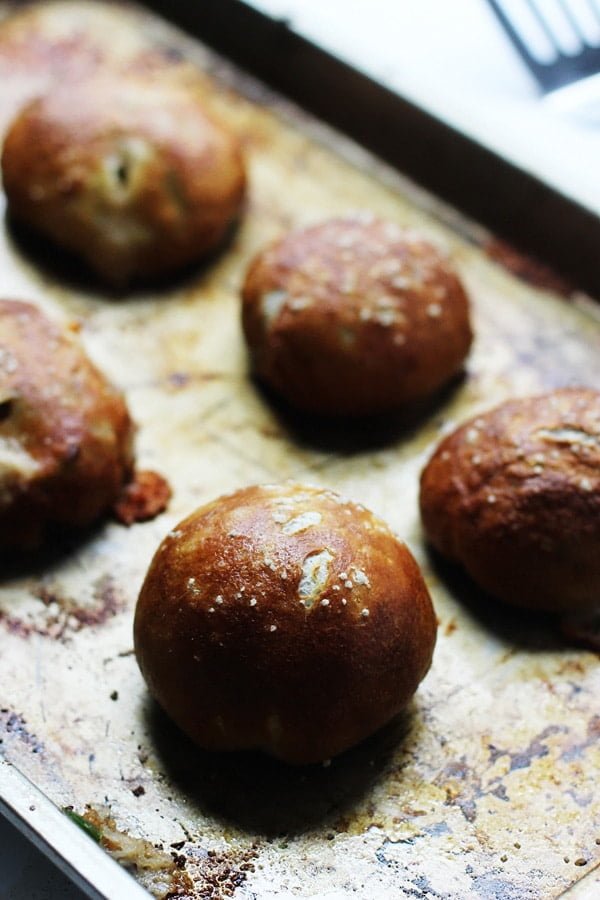 While neither a Philly nor a pretzel roll is anything new to this world, the combination of the two is definitely something new to my diet. Something I plan on getting very familiar with over the course of the next five months while I'm forced to watch football teams I don't care about and pretend to know players who mean nothing to me. (Well except for the few players I DO know for their famous wives.)
Admittedly, I'm not an authority on yeast bread and baking, but I've made and mastered homemade pretzels enough to assure you, they're one of the easiest yeast-based breads around. Little time is required for the dough to come together, the rising process takes one measly hour, and your stand mixer does all the heavy lifting for you. BUT if you're still weary, I've also found that if you want to skip the from-scratch dough altogether, a pre-made pizza dough is an excellent substitute (I like Trader Joe's).
The cheese-steak filling is a mixture of heavily seasoned Kansas City strip, chopped green pepper and shredded provolone cheese. Of course you can use your local equivalent of a strip, or a more pocket friendly, top sirloin, Kansas City strip just happened to be on sale this weekend, so I went with that. Also, be sure to use a good quality provolone, and not the stuff that comes pre-sliced in the Kraft cheese section.
The filling is stuffed into pockets of dough, boiled in a baking soda and water mixture and then popped into the oven until they're golden brown and have that perfectly glossy sheen we all love about freshly baked soft pretzels.
Philly Cheese Steak Pretzel Rolls
Pretzel rolls are chocked full of your favorite Philly components, steak, green pepper and lots of cheese!
Ingredients
1 package active dry yeast
1 ½ cups warm water
1 tablespoon sugar
2 teaspoons kosher salt
4 ½ cups all-purpose flour
4 tablespoons unsalted butter
11-12 cups water
? cup baking soda
1 egg + 1 tablespoons water whisked together
1 tablespoon water
Flaked sea salt for sprinkling
Filling:
16 ounces Kansas City or New York Strip (filet, ribeye, skirt will also work well)
1 large green pepper, finely diced
2 cups shredded sharp provolone cheese
Instructions
Place steak in the freezer until very cold, about 20-30 minutes.
In the bottom of a stand mixer, combine water, sugar and salt. Sprinkle yeast over. Let set for 5 minutes until foamy.
Add in flour and melted butter. Using the dough hook, mix the dough until combined on a low speed, Increase the speed to medium and mix for five to seven minutes until dough becomes smooth and pulls away from the sides of the bowl.
Rinse bowl off and then grease with canola oil or non-stick cooking spray. Place dough in the bottom and coat with oil. Cover with a towel and place in a warm, draft –free place. Let rise for one hour.
While the dough rises, prepare filling. Pull the steak out of the freezer and cut very thinly. Cut thin strips in half so each piece is in small bite-sized pieces. Season liberally with salt.
In a large cast iron skillet (you can also use non-stick) heat about 2 teaspoons olive oil to a high heat. Add steak, cook until caramelized on both sides. In the last 30 seconds of cooking add peppers.
Preheat oven to 425 degrees
Once dough has risen, pull pieces of dough off and form into a smooth ball, it should be about the size of a silver dollar. You should get about 18 balls of dough. Flatten each ball and using a rolling pin, form into a 3-inch circle. Make sure the dough is thicker in the middle than it is on the edges.
Place about 1-2 teaspoons of cheese on the middle of each disc, top with 2 tablespoons of filling and then top filling with another 1-2 teaspoons of shredded cheese.
Reform circles in a ball, covering the filling. Pinch edges to seal.
When ready to cook pretzels. Bring a very large pot of water (about 11-12 cups) to a rolling bowl. Add baking soda.
Add four pretzel rolls at a time to boiling water. Cook for 30 seconds, then flip over and cook for another 30 seconds. Drain. Repeat for remaining rolls.
Line rolls up on a greased baking sheet and brush with egg wash. Sprinkle with flaked sea salt.
Bake for 15 minutes or until golden brown.