So. Puffy short rib tostadas are what you need to make next.
Yes, they have a million components. (Well, only three you have to actually make.)
Yes, they take the better part of a day from start to finish.
And yes, every bit of time and effort is worth it.
None of it's hard per se, it's just sort of time consuming, but don't let that scare you off!
First, we have the short ribs. They're seared until perfectly golden brown and crusty, then braised in a seriously flavorful broth of beef stock, pureed re-hydrated chiles, beer, tomato paste, brown sugar, garlic, and plenty of salt.
Have you ever worked with dried chiles before?? You can find them at most grocery stores these days, and all you have to do prior to using them is soak them in a little bit of hot water until they're pliable again. I remove all the seeds, tear the stems off, and then they're ready to go. In this case, I used a little bit of beef broth to puree them in the blender before adding them to the seared ribs. This particular kind of chile – Guajillo –  isn't necessarily super hot, it just adds a little bit of a savory, smoky essence that's perfect in Mexican dishes.
Next, the salsa. I happen to adore a green salsa, it's a nice departure from your typical red restaurant-style salsa, and is, in my opinion, totally underrated. Instead of using canned or fresh tomatoes, you use tomatillos, which are similar to in taste and texture to a green tomato. They're super sweet, kind of tangy, and once they're roasted, become the perfect compliment to a little bit of onion, garlic, and jalapeno.
I also threw in a couple squeezes of lime juice, some cumin, PLENTY of cilantro, and a good amount of salt to taste. I kind of want to bottle this stuff up and store in my fridge so I can have it 24/7.
Now, for the puffy part. I am obsessed with this taco at our favorite local Mexican restaurant called a Taco Sonora. It 's what this entire recipe is loosely based on, and is basically just a crispy, puffy flour tortilla stuffed with the most delicious shredded beef, and topped with shredded cheese, lettuce, and tomato. I have no idea how they make any of it, except for the part where they deep-fry a plain-old flour tortilla for the shell – that part is blatantly clear.
In this version, I skipped the deep-fryer and just used a shallow non-stick pan and a little bit of canola oil to fry them. One tablespoon should be enough for 2-3 tortillas, just dip them in, and once they puff up, you flip, sprinkle them with salt, and then drain them on paper towels.
For assembly, I just spoon some of the meat on the puffy shell, sprinkle with plenty of cheese, drizzle the salsa on top, and then garnish with sliced radish for crunch, and cilantro, because I'm obsessed with it.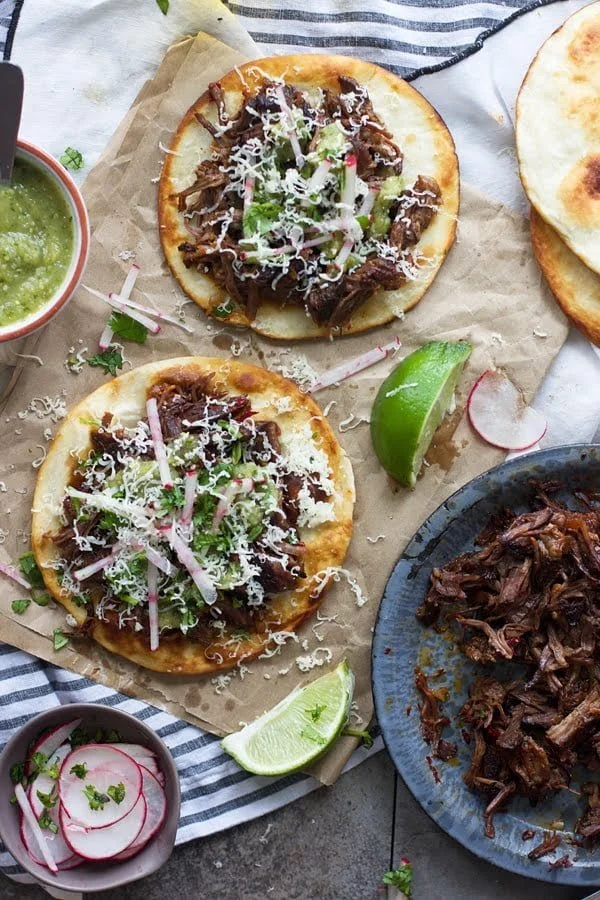 Word to the wise. Load up on napkins, because things are going to get messy…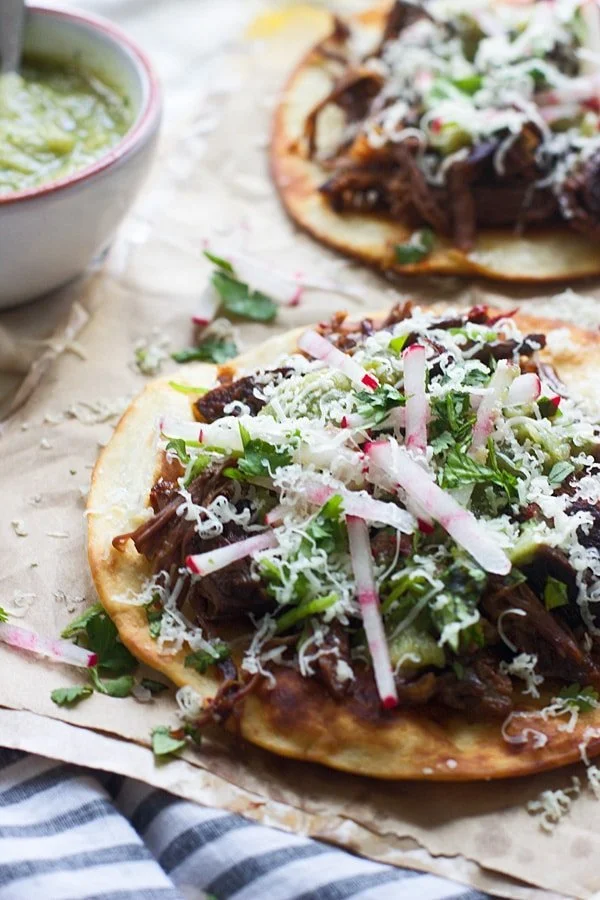 Puffy Tostadas with Chile and Beer Braised Short Rib and Tomatilla Salsa
Author:
Nicole ~ Cooking for Keeps
Ingredients
3 Guajillo chiles
3 cups unsalted beef stock
6 large tomatillos, husks removed, washed, and cut into chunks
6 large garlic cloves, divided
½ medium onion, cut into chunks
1 jalapeño, halved, seeds and deveined
2 teaspoons olive oil
1 tablespoon canola oil
2½ lbs. short ribs
1 tablespoon tomato paste
½ light beer
1 tablespoon packed brown sugar
¾ teaspoon salt, divided
2 teaspoons lime juice
¼ teaspoon cumin
3 tablespoons cilantro, plus more for garnish
More canola oil for frying tortillas (Optional)
8 fajita-sized flour tortillas
½ cup shredded monterrey jack cheese
sliced radish for garnish
Instructions
Preheat oven to 400 degrees.
Cover chiles in hot water. Let sit until softened. Once soft, de-seed and cut off stems. Add 1 cup of beef stock and tomato paste to a blender along with chiles. Puree until smooth.
Toss tomatillos, 3 garlic cloves, onion, and jalapeños with olive oil. Sprinkle with salt and pepper. Spread on a rimmed baking sheet and roast until everything is softened, about 25 minutes. Once they are done, reduce heat to 325 degrees.
Season short ribs on all sides LIBERALLY with salt, sprinkle with pepper.
While the tomatillo mixture roasts, heat a heavy-bottomed pot to a medium-high heat. Add canola oil. Sear short ribs until golden brown on all sides. Remove short ribs from pan and all but 2 tablespoons of fat. Add garlic, cook for 1 minute. Add beef and chile mixture, remaining stock, tomato paste, beer, brown sugar, and ¼ teaspoon salt. stir until smooth. Add ribs back to pan and bring mixture to a boil. Once mixture comes to a boil, cover and transfer to the oven. Cook until fork-tender, about 2½-3 hrs. Once the ribs are cooked, remove from cooking liquid. Use two forks to shred the meat. Skim off as much fat as you can from the braising liquid, and then add the shredded beef back into the pot.
While ribs cook, add tomatillos, onion, garlic and ½ of the jalapeño, remaining salt, lim juice, cumin, and cilantro to the blender (Make sure you rinse out the beef and chile mixture first.), pulse until pureed. Season to taste with salt and pepper.
Heat a small non-stick skillet to a medium heat. Add 1 tablespoon of canola oil. Add tortilla, cook until golden brown and puffy, about 30 seconds, flip, and cook another 30 seconds. Sprinkle with salt.
Place some of the shredded beef on top of fried tortillas. Sprinkle with cheese and spoon salsa over. Garnish with cilantro and radish.