So my healthy 2017 lasted about five seconds. Which is actually three seconds longer than it lasted last year, so honestly, I'm pretty pleased with myself.
I'm just not really one for diets. I eat what I want, when I want, and try to not eat too much of any of it in one setting. It's called portion control people, and it's the only way I can live a happy food life without blowing up like a whale. (Although sometimes that happens regardless.)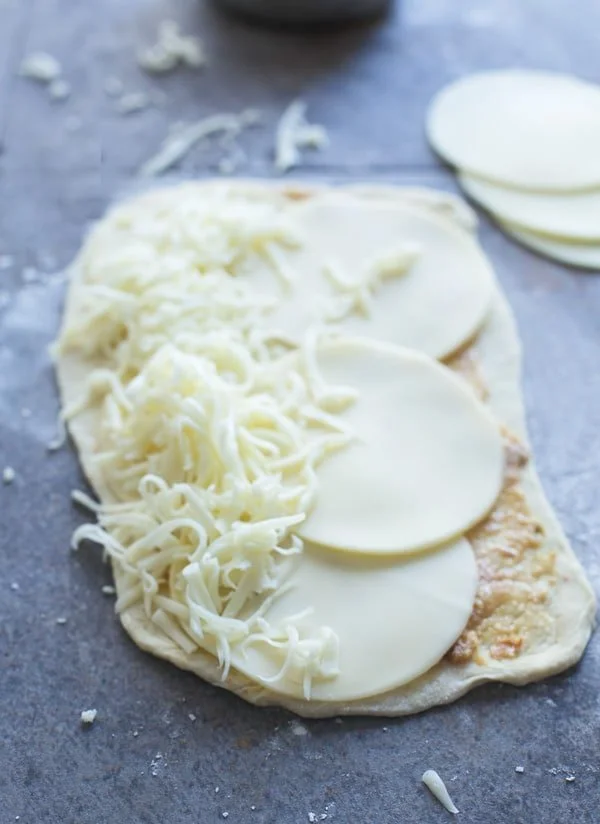 Cheesy Roasted Garlic Bread falls in to that portion control category. I can have one gooey, garlicky piece, and I'm totally satisfied – Kevin and the baby can go to town on the rest.
There are hundreds of recipes for garlic and cheese bread out there, but this one, I feel, is just a bit different. First of all, instead of using chopped garlic, or even garlic salt, I roasted off four whole heads of garlic and squeezed all of the innards out to make a paste of sorts to spread on as the first layer of flavor.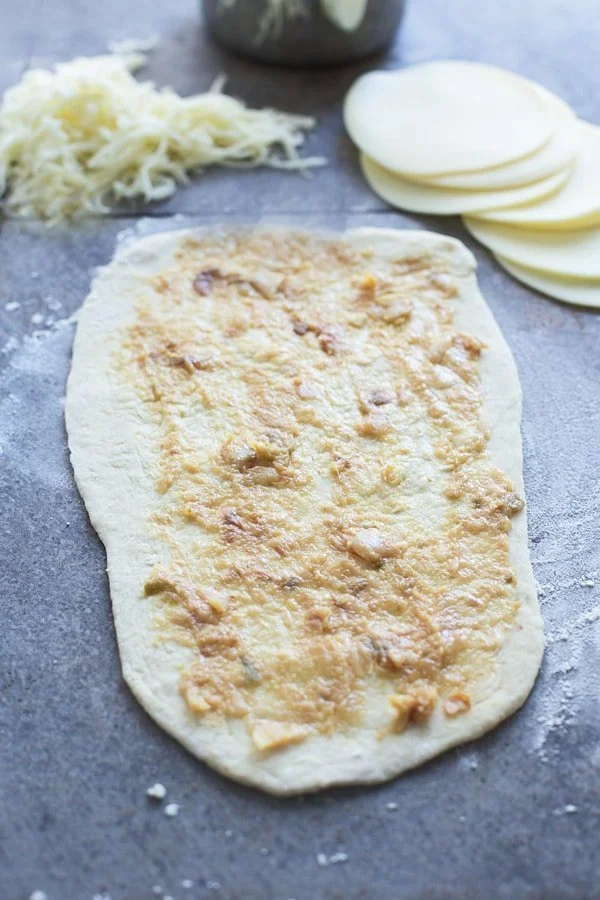 Also! I forgot to mention I used boxed deep-dish pizza dough that you can find in pretty much any grocery store. I've tried it with a thin crust variation as well, and I really prefer the texture of deep dish, so if you can try and get that. If you can't find it, no bigger, just don't get thin crust!
So anyways, you divide the dough into two balls, roll them both out to a rectangle and then spread each one generously with the roasted garlic. It gets seasoned with PLENTY of salt and pepper, and then it's time for cheese – which is obviously the best part.
I went with a combination of sharp provolone for flavor and mozzarella for the cheesy goo factor. The provolone is evenly layered across the surface, but the mozzarella is mounded on to one side (the long side) of the dough so that when you cut in to the bread, that center just oozes out.
Roll the dough up jelly roll-style, seal the edges, brush everything with butter, sprinkle with oregano and salt, then pop in to the oven. I also cut three or four slits in the top of the bread so the cheese doesn't expand too much and completely escape the bread. It's totally ok if some of the cheese oozes out, because it becomes super crunch, and is the perfect chef's snack!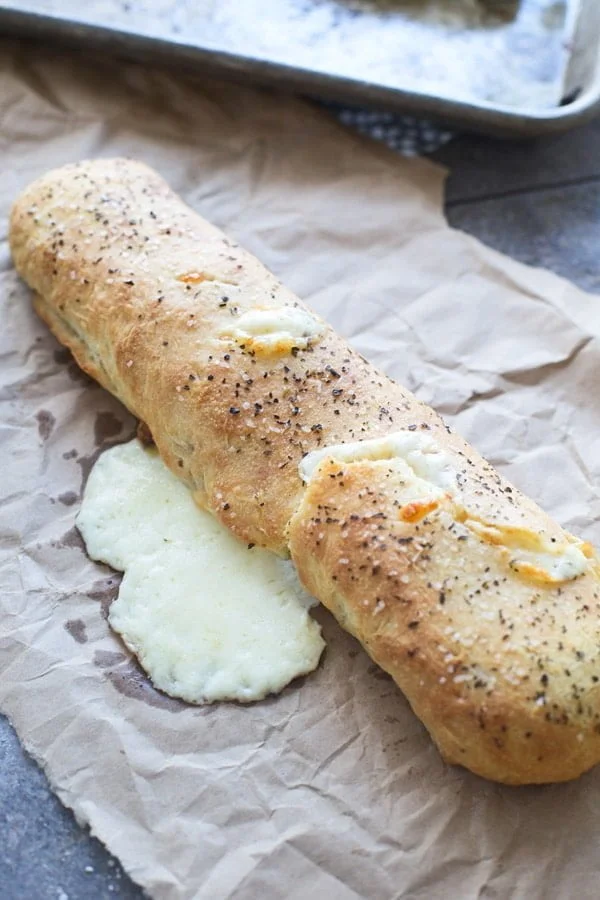 Cut each loaf in to five even pieces and serve immediately!
Roasted Garlic Cheesy Bread
Author:
Nicole ~ Cooking for Keeps
Serves:
2 baguettes (about 10 pieces)
Ingredients
4 heads of garlic
2 tsp. olive oil
1 box deep dish pizza crust
10 slices provolone cheese
3 cups shredded mozzarella cheese
3 Tlbs. butter (I used salted), melted
1 tsp. oregano
Instructions
Preheat oven to 350 degrees. Cut the top third off of each head of garlic. Brush with olive and sprinkle generously with salt and pepper. Place on a large piece of foil, and pul all the edges up, fold over to create a pouch. Place on a baking sheet and bake for 35-45 minutes or until garlic is easily pierced with a knife. Let cool slightly and remove all garlic from the skins. Transfer to a bowl and mash with a fork.
Increase the oven temperature to 425 degrees. Great a large baking sheet with non-stick cooking spray.
Make pizza dough according to package directions. Split dough in half and place one half on a floured surface. Roll out dough to a 4x10 rectangle. Repeat with other piece of dough.
Spread each rectangle with half of garlic mixture. Season with plenty of salt and pepper.
Layer provolone cheese on top (5 on each) making sure to leave a little border on the right side.
Sprinkle half of mozzarella cheese on the long left side of the pizza dough so it's all on one side. Roll up dough jelly roll-style, pinch all the edges to seal the dough, you don't want all of the cheese to escape.
Place each roll on the baking sheet. Brush the entire surface and sides with melted butter. Sprinkle with oregano and plenty of salt. Cut three slits in the top of each bread roll.
Bake until golden brown and some of the cheese is oozing out of the top, about 20 minutes.
Cut each cheese bread in to five slices. Serve immediately.