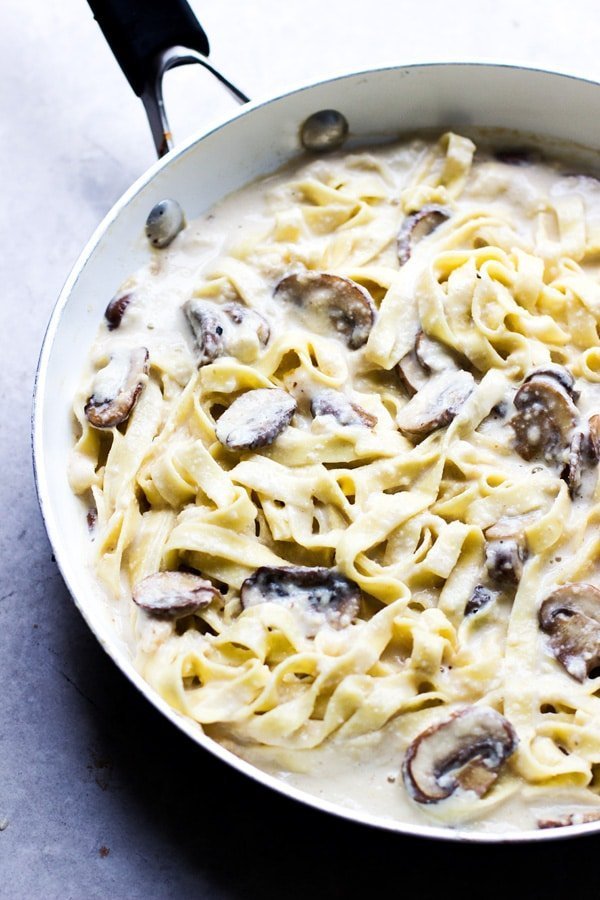 I wasn't going to post this.
For one, I'm not in love with the pictures as they were taken in a rush late in the evening, just as the sun was dipping below the trees in my backyard. It's also pretty simple, extremely indulgent and similar to another recipe I posted a few months ago. BUT! After I whipped it up, I decided I couldn't NOT share it, for one, it comes together in just 15 minutes; and two, while the ingredients are minimal, the simplistic nature of the dish yields an end result packed with the most wonderful flavor.
If you've been following along here at all, you know that one of my ultimate weaknesses is for pasta – fresh pasta to be specific. While I typically try to make my own from scratch, I wasn't exactly feeling up for the task after arriving home later yesterday afternoon from a whirlwind Vegas bachelorette weekend. As I'm sure you can imagine I was simply exhausted after spending three (yup, three) nights in the city that never sleeps (or is that NYC?), so I did the next best thing and picked up a package of fresh fettuccine from the grocery store – no shame.
The dish begins by browning up some cremini mushrooms in a little bit of butter, because if we're going to be using cheese, half and half and pasta, we might as well start with butter. I like to use cremini mushrooms almost exclusively, because I love how hearty and flavorful they are compared to a standard button mushroom, plus they're readily available in most markets. A little trick I learned from Rachel Ray is to hold off on seasoning your mushrooms until they brown, if you season them before, the salt will release moisture in the mushrooms, making it almost impossible for them to brown properly, and golden brown mushrooms = more flavor.
While the mushrooms are cooking, a cup and half of half of half (you could also use heavy cream) gets blended with a ridiculous amount of roasted garlic cloves – about half a cup or probably the equivalent of two whole heads of garlic –to make the base of the sauce. I bought roasted garlic cloves in bulk at the grocery store, but if you don't have that option, you can definitely roast them yourself or buy a roasted garlic paste that is usually pretty easy to find.
The roasted garlic cream mixture is added to the mushrooms, the heat is reduced to a medium-low to avoid curdling the cream and one cup of shredded pecorino romano is stirred in until its completely melted. You could also use parmesan or fontina, but sometimes I find that parmigganio reggiano is a little too nutty and strong for a delicate cream sauce, so pecorino is a nice medium. A little seasoning of salt and pepper finish the cream sauce off.
Once the fettucine is slightly underdone, it's dumped into the hot sauce along with a touch of pasta water and tossed until it finishing cooking and absorbs the cheesy cream sauce.
Dinner is done. And on the table in under 20 minutes.
15 Minute Fettuccine with Roasted Garlic Cream Sauce and Cremini Mushrooms
This creamy fettuccine comes together in under 20 minutes making the perfect weeknight meal!
Ingredients
9 ounces fresh fettuccine
1½ cups half and half
½ cup roasted garlic cloves
2 tablespoons butter
8 ounces cremini mushrooms, sliced
1 cup shredded pecorino romano cheese
Instructions
Bring a large pot of salted water to a rolling boil.
In a blender, puree half and half and roasted garlic cloves
Heat a large skillet to a medium-high heat. Add butter and mushrooms. Cook until mushrooms are softened and golden grown. Season with salt and pepper.
Reduce heat to a medium-low. Add in roasted garlic cream. Once the cream mixture is hot, stir in cheese until melted. Season to taste with salt and pepper.
Cook pasta until slightly underdone, using tongs transfer to mushroom cream sauce. Reserve cooking liquid.
Toss pasta with fettuccine until pasta is cooked and coated in sauce. If necessary, add a ladle full of pasta water to loosen the sauce up.
Season to taste with salt and pepper.