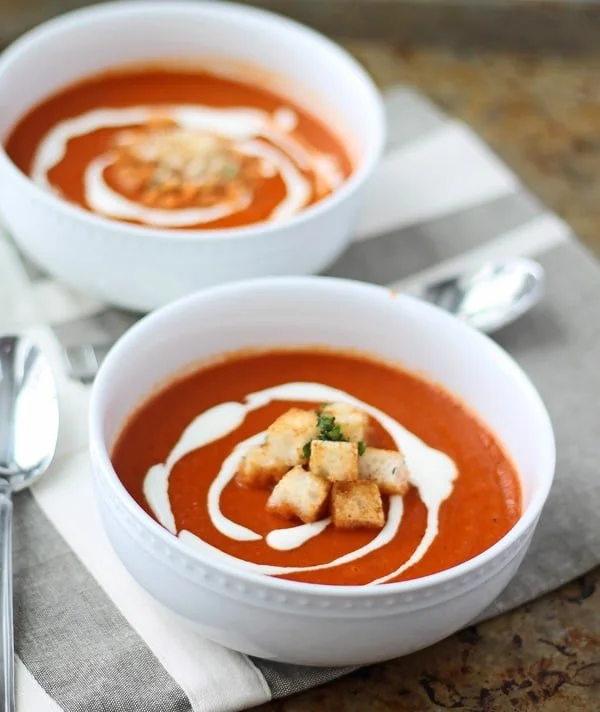 Kansas City has been hit with a massive snowstorm – I'm talking can't-leave-the-house-might-die-if-you-do snowstorm. We're pretty much trapped here until a plow comes to take away the 12 inches plus that were dumped on us in a matter of hours. So, consequently we've been cooped up here all day just watching the snow fall from the warmth of our house, drinking lots of hot tea, and watching endless local winter weather coverage. I didn't even attempt to get out of my pajamas until about 2pm, and that's only because I had to take the puppy outside.
Little Ravi didn't really know what to make of the snow, sometimes he would take off running into it, prancing on top until he would sink to the ground after a few powerful leaps. Sometimes he wanted absolutely nothing to do with it, and we would have to practically force him outside to do his thing and then wrap him up in a towel until his fragile little body would stop uncontrollably shivering. I think it's safe to say that he hasn't quite made up his mind about it. One thing I do know for sure is that he looks too darn cute in the snow to not share a picture with you.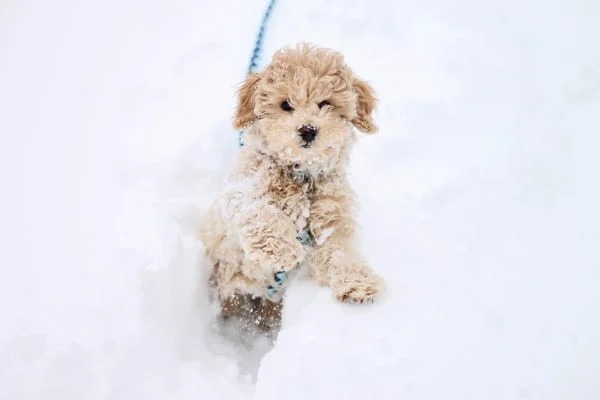 As you can tell it's been a pretty rough day for us. 🙂
I can't think of anything better to do after coming inside from the cold than make a steaming pot of soup that will warm me from the inside out, can you?
Since I wasn't one of the many smart people to stock up on groceries, we had limited options when it came to soup. But that's all good and well with me since I had the ingredients to make a soup I've been dying to create since I made this roasted red pepper & goat cheese linguini a few weeks ago. I was so obsessed with the sauce that I almost drank it straight from the bowl before the pasta was even added. It got me thinking that since I could probably finish off the sauce without even blinking, I should create a soup with the same flavor profiles of the sauce that I could actually slurp up and not feel weird about it.
This soup is so simple. There are only five ingredients total including salt and pepper – crazy I know. A lot of people like to add carrots, onions or garlic, but I find that the addition of those items tends to take away from the roasted pepper flavor.
As I did with the pasta sauce, I start off by roasting some large red bell peppers. You may wonder why I'm a crazy person and roast my own peppers instead of taking the easier route and just buying them in a jar, and the answer is simply because the flavor is just so much better when you do it yourself. Plus, I can't really make it easy on myself, now can I?
I find that the simplest method is to set them over a gas burner until all sides are black, but if you don't have a gas stove, you can just stick them under the broiler to achieve the same results. Both methods work, the broiler just takes a little bit longer. After the peppers are completely charred, you throw them all in a big bowl, cover it with plastic wrap and let them steam for about twenty minutes
WARNING! You're fire alarm may go off, and you're probably going to be cursing me under your breath, but I promise, it will be worth it!
Ok, so the next step is to peel and seed each one and then throw them all into the blender. Don't fret if there are still black flecks on the peppers, this makes for wonderful flavor and looks really pretty in the finished product.
Now, I want you to listen very carefully because the next few steps are crucial and they're really difficult and you might mess it up. Ok, ready?
You're going to throw the rest of the ingredients for the soup into the blender with the red peppers and then (listen carefully!) you're going to turn on the blender and watch until everything is smooth, and then you're going to pour the mixture into a stockpot and simmer for a few minutes, and then….it's done.
I told you, really difficult.
If you've got time, toast up some buttered croutons to top the soup with and since you've already got the blender out and you'll have leftover goat cheese, blend a little goat cheese with some cream or milk to swirl into the soup.
Now, that's a snow day soup I'd like to dive into.
Roasted Red Pepper Soup with Goat Cheese Cream & Buttered Croutons
Author:
Nicole-Cooking for Keeps
Ingredients
Soup:
6 Red Bell Peppers
2 cups chicken stock (more if needed)
2 ounces goat cheese
1 teaspoon salt
¼ teaspoon pepper
Croutons:
2 ½ inch slices of day old Italian bread, cut into small cubes
1 tablespoon unsalted butter
salt to taste
Goat Cheese Cream:
3 ounces goat cheese
3 tablespoons of half and half or more depending on your preference of consistency
Instructions
Roast Peppers.
With gas burner: place peppers over flame and char all sides of the pepper, there should be no red showing at all. After charring is complete, transfer peppers to a bowl and cover with plastic wrap. Let set for 15-20 minutes. Remove skin, ribs, and seeds from peppers.
In the broiler: Place in the broiler and char on all sides turning as you go. After charring is complete transfer peppers to a bowl and cover with plastic wrap. Let set for 15-20 minutes. Remove skin, ribs, and seeds from peppers.
Transfer peppers to a blender and blend until smooth. Add goat cheese and salt, blend until smooth.
Transfer to a medium stockpot and add chicken stock and pepper. Bring to a boil and then reduce to a simmer for 15 minutes. If the soup is too thick after it simmers, add a little more stock until desired consistency is reached. Be sure to season more if needed as well.
While soup is simmering make croutons and goat cheese cream.
For croutons: Melt butter in a small non-stick pan. Add bread and coat in butter, cook until light brown and toasted.
For goat cheese cream: In the bottom of a blender combine goat cheese and half and half until creamy.
To serve: Ladle soup into bowls. Swirl in goat cheese cream and top with croutons.