I feel like I've talked about the weather like a trillion times this year (this year, as in this winter), but I'm talking about it again, because it's cold. So so cold. I just can't handle it. I've lived in Kansas my whole life so you would think I'd be used to it by now, but it's just not something you get acclimated to. Heck, I'm even cold in the summer when it's below 85 degrees.
Right now, all I want to do is curl into a ball up against a space heater and cry until spring is here again or better yet, summer. The only things getting me through it are big chunky sweaters, warms socks, giant throw blankets, scorching showers, hot tea, pre-heated cars and copious amounts of blistering soup.
This soup in particular warmed my body from the inside out three days in a row last week and I'm still dreaming about it.
Umm also, this must be noted, when I had my husband proofread this post, he flagged chunky sweater, as a typo, and said, and I quote, "I've never heard of a chunky sweater…maybe clunky?" Hahahahaha boys.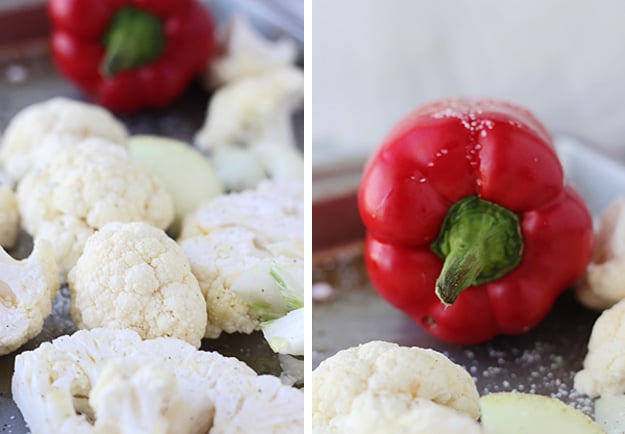 Cauliflower soup was on my list of soup dishes to make for ages; I had even bought three heads of cauliflower three different times with intentions of making it, but flaked out for some reason or another. It could have been my fear it would turn out bland, or be a weird texture or it could have just been pure laziness. Who knows?
It wasn't until I had a side of cauliflower "mashed potatoes" a while ago, that literally blew my mind, that I decided that my cauliflower soup was happening ASAP. I asked the waiter if he could give me any details on where the intense flavor was coming from, and he informed me they just doused the cauliflower in olive oil, salt and pepper, blackened the crap out of it, and then pureed it. That got me thinking about my long lost cauliflower soup again, and maybe, just maybe, if I blackened the cauliflower just as they did, the soup wouldn't have a chance of being bland as I had originally feared.
I didn't stop there though; I roasted not only the cauliflower, but a red pepper and two whole heads of garlic. For those of you that aren't familiar with roasted garlic, it's pretty much liquid gold. Creamy, sweet and garlicky liquid gold…
The soup itself only has six ingredients, but those six ingredients are seriously flavorful.
Once everything is roasted together, it's all thrown into the blender with a little bit of chicken stock, transferred to the stove to simmer and then hit with just a touch of half and half at the last minute.
If you want to get all fancy, you could even push the soup through a sieve for an ultra creamy texture, but I thought it was just fine as is. In all of my pureed soups, I like to have a little bit of texture, so I topped off the soup with some crispy garlic infused croutons, a little bit of parmesan cheese and drizzle of olive oil for a nice finish.
This is a soup I'll be dreaming about for a long time to come…
Creamy Roasted Cauliflower and Red Pepper Soup
Author:
Nicole ~ Cooking for Keeps
Ingredients
head cauliflower, cut into large pieces
1 large red pepper
2 heads garlic
2 tablespoons olive oil, divided
3 ½ cups chicken stock
1 ½ teaspoons salt + ⅛ teaspoon, divided
½ cup half & half
2 cups Italian bread, cut into ½ cubes
¼ teaspoon garlic powder
Grated parmesan cheese for garnish
Instructions
Preheat oven to 400 degrees.
Cut tops off garlic. Place on large sheet of foil. Drizzle with olive oil and season liberally with salt and pepper. Bring sides together of foil to create a package. Place on a baking sheet and roast for 30-40 minutes. Cool and squeeze out roasted garlic.
Toss cauliflower and red pepper with 1 tablespoon olive oil and ¾ teaspoon salt.
Roast for 30 minutes and then turn the broiler on. Broil until cauliflower is slightly blackened, about 15 minutes. Remove from oven, but leave red pepper in until charred on all sides, another 5-10 minutes.
Peel skin off of red pepper.
Working in batches transfer roasted cauliflower, red pepper and roasted garlic to a blender, add in ½ cup chicken stock or more to help puree the soup. Blend until completely smooth.
Transfer to a stockpot. Add the rest of the chicken stock. Simmer for 10-15 minutes. Add ½ and ½ and season with plenty of salt and pepper.
While soup is simmering make croutons. Reduce the heat on the oven to 325 degrees. Toss bread with remaining olive oil, ⅛ teaspoon salt and garlic powder. Bake until golden brown, about 8 minutes.
Serve soup with croutons, drizzle of olive oil and grated parmesan cheese.