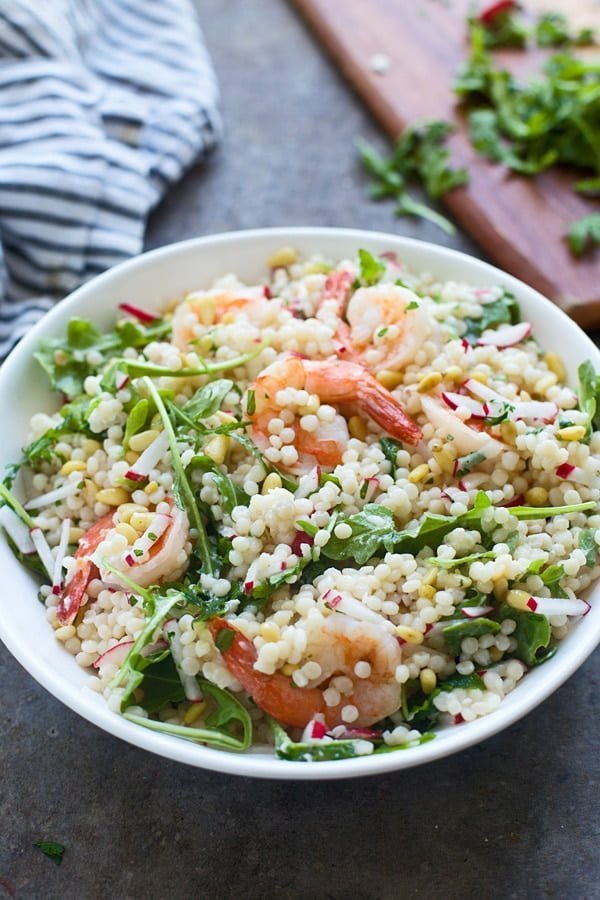 Most people who know me well are fully aware of my unapologetic infatuation with all things pasta, and if you're a repeat reader around here, you know as well. It's the one food I can't live without, and I'll take it any way I can get it.
While it's typically only appropriate to eat pasta piping hot in the winter, summer poses the perfect opportunity to not only eat my pasta hot, but also super chilled, in the form of pasta salads. For some reason, when I eat cold pasta salad, the starchy noodles don't seem to expand in my stomach as fast as hot pasta does, permitting me to inhale well over my weight in pasta. Normally this would a very bad thing, because when it is ever a good idea to overindulge in pasta, but when it comes to this Shrimp Israeli Couscous Salad, it's a very good thing since it allows me eat until my heart's content.
Have you ever tried Israeli couscous before?? It's basically an enlarged form of couscous , made with semolina and wheat flour, but unlike the original it's toasted instead of dried giving it this super nutty flavor I'm obsessed with it. It's the perfect vessel for a cold preparation, and because of it's round shape it tends to soak up every bit of sauce you coat it in.
Here, I tossed the cooked, cooled couscous with an easy lemon vinaigrette and then threw in a bunch of items I had lingering in my pantry at the time. I used pine nuts for crunch and nuttiness, goat cheese for creaminess, sliced radishes, because well, they were there, and then arugula for a peppery bite and a bit of freshness. Between the nuts, creamy goat cheese, lettuce and zippy lemon vinaigrette, each bite seems to draw a different set of flavors that leaves me wanting more.
My favorite way to add shrimp to salads instead of sautéing it, is to roast them for seven or eight minutes with a little bit of olive oil, salt and pepper. I feel like it cooks the shrimp a little more evenly, and the end result is perfectly plump, moist shrimp every single time. I let them cool to room temperature before adding them in to the mix.
Without the shrimp, this easy lunch becomes the perfect side to any sort of grilled entrée, perhaps these chicken burgers, these hatch pepper burgers or these easy grilled honey mustard chicken tenders.
I also want to note, that the general concept for this salad came from my new favorite cookbook, Love Real Food
, if you haven't picked up a copy, do so NOW!
For more easy pasta salad recipes, check out these posts:
Easy Italian Spaghetti Pasta Salad: Foodie Crush
The Best Pasta Salad: Iowa Girl Eats
Strawberry Avocado Pasta Salad: Half Baked Harvest
Shrimp Israeli Couscous Salad
Roasted shrimp is tossed with Israeli couscous, goat cheese, arugula, pine nuts and a zippy lemon vinaigrette for the perfect summer meal
people (2 meals, 4 sides)
Ingredients
1 1/2

cups

isralei couscous

1/2

lb

large (16-20 ct.) shrimp, peeled and deveined

2 tbsp. + 2 tsp.

olive oil

3

cups

arugula

1/2

cup

toasted pine nuts

(toast in a small skillet over a medium heat until fragrant)

4

oz.

goat cheese, crumbled

1/2

cup

julienne radish

1/4

cup

lemon juice

2

tsp.

honey

2

tsp.

dijon mustard

1/4

tsp.

salt
Instructions
Preheat oven to 375 degrees.


Bring a medium pot of water to a rolling boil. Season with salt. It should taste as salty as the sea. Add couscous and cook until soft, but still has a slight bite in the middle, about 8 minutes.

Toss shrimp with 2 teaspoons of olive oil. Season with salt and pepper. Spread on a rimmed baking sheet and roast until pink, about 7 minutes. Do not overcook! When the shrimp curl in to a 'C' and are bright pink, they are ready.

While the couscous and shrimp cook, whisk the lemon juice, honey, dijon and salt together in a small bowl. Slowly drizzle in the remaining olive oil while whisking. Once the couscous is cooked, rinse under cold water until chilled.
Nutrition Information
Serving:
1
serving (about 1 cup)
,
Calories:
511
kcal
(26%)
,
Carbohydrates:
56
g
(19%)
,
Protein:
28
g
(56%)
,
Fat:
20
g
(31%)
,
Saturated Fat:
5
g
(31%)
,
Cholesterol:
156
mg
(52%)
,
Sodium:
703
mg
(31%)
,
Potassium:
324
mg
(9%)
,
Fiber:
4
g
(17%)
,
Sugar:
4
g
(4%)
,
Vitamin A:
649
IU
(13%)
,
Vitamin C:
10
mg
(12%)
,
Calcium:
164
mg
(16%)
,
Iron:
4
mg
(22%)