These Shrimp and Roasted Red Pepper Falafels are an updated take on a classic Greek dish. Full of sweet shrimp, smoky roasted peppers and zippy citrus.
Fa-la-fel. Falafel. Falafel. Falafel.
It just rolls off the tongue so funny, doesn't it? I could say it over and over and over and over…but I won't.
I LOVE falafels. The first time I had one was actually not that long ago, around the time that Kevin and I first started dating; we had spent the better part of an evening up in his college town for a concert, basketball game or something of that nature. As we were leaving around 1am, it was the point in time where all the college students were slowly filing out of the packed bars, onto the sidewalks and directly to a small window adjacent to where our car was parked. I squinted my eyes to see what had all of the drunken kids lining up down the block. After a short stakeout, I finally saw a teeny tiny menu posted outside the window and faintly saw the minuscule words, pizza by the slice, gyros and…falafels..
I immediately dragged Kevin out of the car, and begged him to stand in line with me so I could try my inaugural falafel, because what better time to try one, than a few beers deep amongst a gaggle full of drunken college students – this was an experience. Of course I was only two or three years removed from college at this point in time, but in my eyes, I was just light-years ahead of the "kids" I was surrounded by – oh how time can change your perception.
After waiting in what seemed like an endless line – urgency is not a college town's forte – I finally got my falafel fresh from the fryer, and tucked into warm pita. We immediately raced back to the car and headed out of town. By the time we reached the highway I had polished the whole thing off, including the side of tzatziki sauce and pita bread that came with it. I've been stalking tiny windows and street vendors ever since trying to get my hands on the perfect falafel.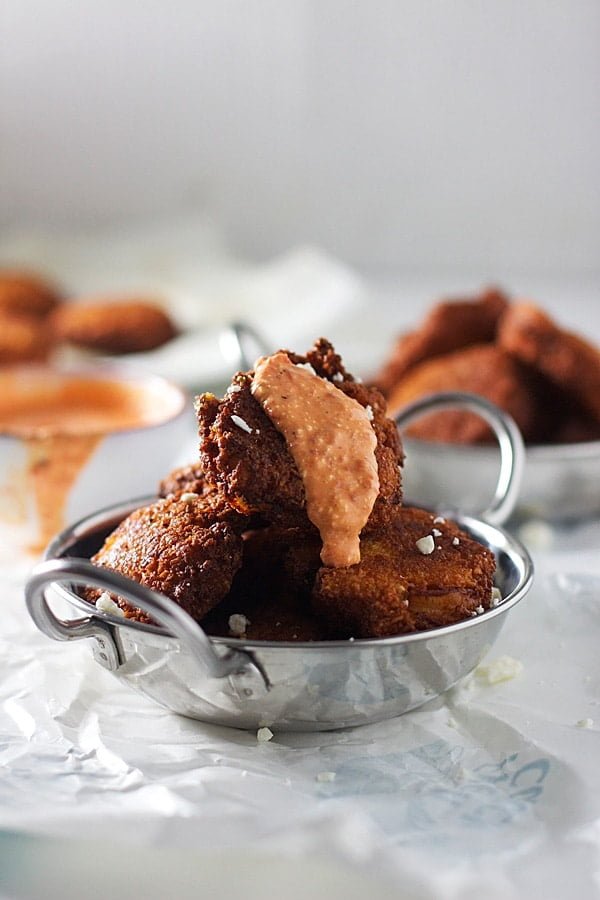 For those of you not familiar, a falafel at its simplest form is just a mixture of ground up chickpeas and spices formed into a ball or patty, deep-fried and served in a warm piece of pita bread. Oftentimes it's served with tahini sauce, but I prefer mine to be smothered in a tangy tzatziki instead. They've been on my mind to make for quite some time, and each time I open my recipe idea notebook full of hundreds of sloppily written out ideas, I always come back to the falafel. I toy around with idea of finally making them, but then cower away after I convince myself it's beyond the scope of my capabilities.
The other night I cowered no longer, I snatched up a bag of dried chickpeas and was determined to make it work. And guess what?? They are so ridiculously easy; I'm almost ashamed I didn't try to make them sooner.
While they do require a bit of preparation, as the chickpeas have to soak overnight, once the soaking process is complete, the mixture comes together in mere seconds. If you have the time to chill the batter for an hour, I'd do so, but I was pretty impatient to get some falafels into my belly, so I skipped the chilling and they turned out just fine.
For a little twist on tradition, I added in about a cup of roasted red peppers, and at the very end, folded in some raw shrimp. At this point you can either shape them into balls or patties, I went with a patty because I wanted to top each one with a little bit of sauce and feta cheese, but if you're serving them at a party, round balls would be perfect for small bites.

Lastly, you have to fry them! It's important to keep your oil at 375 degrees, you don't want the outside to crisp up too fast, while the inside (including the shrimp) is till raw, plus the longer they fry, the crispier they get. I whipped up a quick roasted red pepper and feta topping to drizzle on top, and then sprinkled them all with a little bit more feta cheese, and then they were ready to be devoured.
Don't let the ambiguity of falafels discourage you from making them, they're SO easy and perfect for bite-sized apps at your holiday parties!
Shrimp and Roasted Red Pepper Falafels
Classic falafel is taken up a notch with the addition of plum shrimp and sweet roasted red peppers!
Ingredients
1 pound dried chickpeas
1 medium onion, roughly chopped
3 green onions, roughly chopped
4 garlic cloves
1 cup roasted red peppers
3 teaspoons cumin
3 ½ teaspoon coriander
2 ½ teaspoons salt
2 ½ tablespoons lemon juice
¼ to ½ cup flour
¾ pound shrimp, peeled and deveined and cut into small pieces
Sauce:
½ cup roasted red peppers
5 ounces greek yogurt
½ cup feta, plus more for garnish.
¼ teaspoon salt
Instructions
Soak chickpeas for 24 hours in water. Drain and dry completely.
In a food processor, add chickpeas, onion, green onion, garlic, red peppers, cumin, coriander, salt and flour. Pulse until mixture resembles a coarse paste. Season to taste with salt and pepper. Fold in the shrimp. If you have time, chill mixture for 30 minutes to 1 hours.
Form into small 3-inch patties.
Heat a large cast iron skillet with an inch and half of oil. Heat to 375 degrees.
Fry in batches until dark brown and crispy, about 3-4 minutes per side. Drain on paper towels.
For the sauce:
In the food processor add all ingredients. Pulse until pureed.
Serve falafel with sauce and feta cheese.
Notes
*This makes A LOT of falafel, feel free to half the recipe