Fridays are my favorite day of the week, obviously. It's the one day where all of my to dos get put on the back burner, I don't work (much), and Teddy and I just go wherever the day takes us. I know that these lazy days will be gone in a flash, so I'm soaking up what I can with my little guy. BUT! I couldn't let Friday get away without sharing these roasted red pepper flatbreads we had for dinner last night, because if there's any day that pizza is appropriate, it's Friday.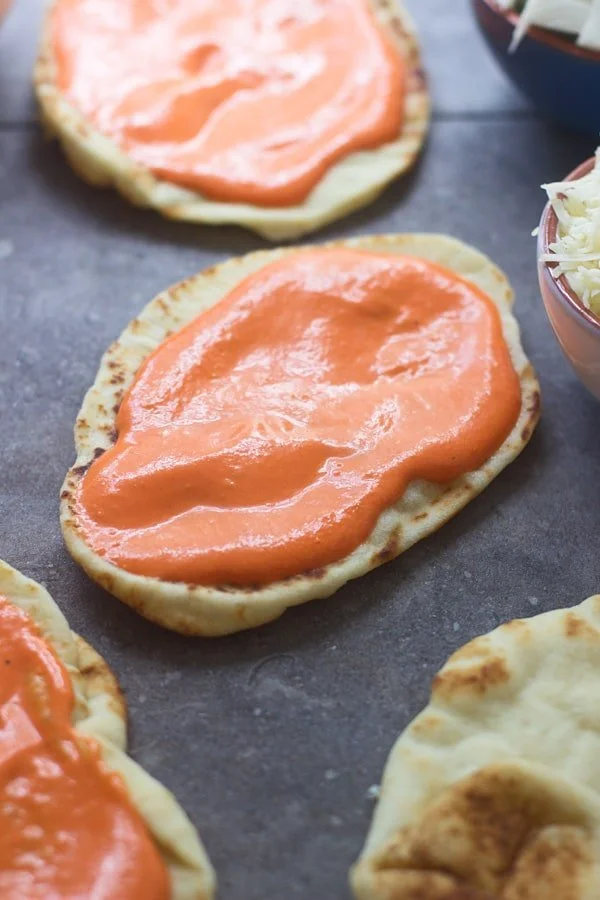 I've been doing my best to be conscious about what we've got in the fridge, and actually use it before I make another run to the grocery store, so when we had a random assortment of cheeses, and my Mom gifted me with a massive amount of mini naan flatbreads from Costco, I knew these babies were in our future.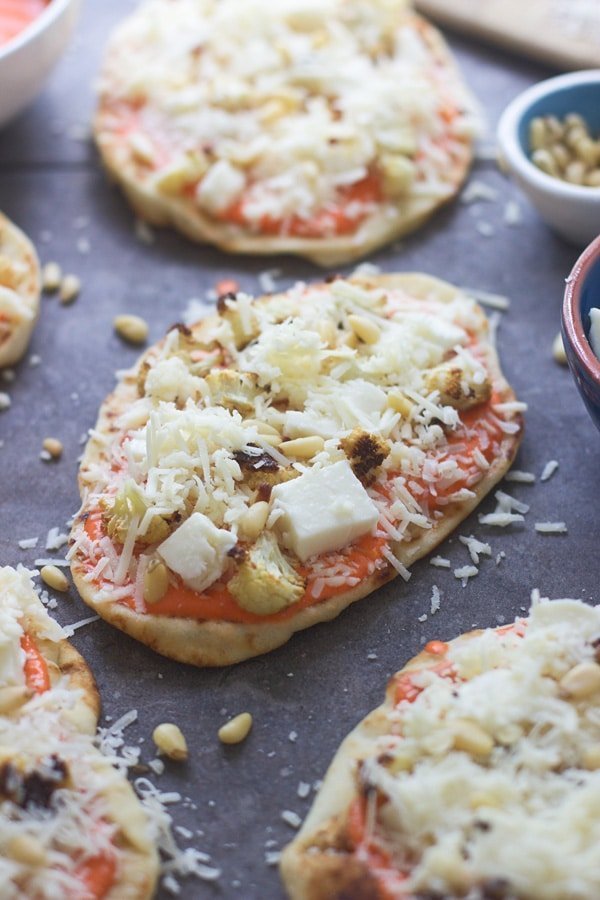 Here's how it went down.
Roasted a head of cauliflower. Pulverized a jar of roasted red pepper with cream cheese. Spread it on the naan. Top with mozzarella, sharp white cheddar, and parmesan. Sprinkled with cauliflower and pine nuts. Baked in a screaming hot oven.
Dinner done.
Happy Friday!
Roasted Red Pepper and Cauliflower Pizzas
Author:
Nicole ~ Cooking for Keeps
Ingredients
6 mini naan flatbreads
1 small head cauliflower, chopped (account 2 cups)
1 Tlbs. olive oil
¾ tsp. salt, divided
1 11.5 oz. jar of roasted red peppers (I used Trader Joe's)
3 oz. softened cream cheese
4 oz. shredded sharp white cheddar cheese
8 ounces fresh mozzarella, diced
4 ounces shredded parmesan
2 tablespoons pinenuts
Instructions
Preheat oven to 400 degrees. Toss cauliflower with olive oil and ½ tsp.salt. Spread on a baking sheet and roast until slightly charred, about 35 minutes.
While the cauliflower roasts, add peppers, cream cheese and remaining salt to a blender. Blend until smooth.
When the cauliflower is done roasted, turn the heat to 450 degrees.
Spread some sauce on bottom of each flatbread, evenly divide mozzarella and white cheddar between pizzas. Top with cauliflower, sprinkle with pine nuts, and remaining mozzarella cheese.
Bake for 10 minutes or until golden brown and bubbly. Serve with more shredded parmesan.