Crunchy. Spicy. Creamy.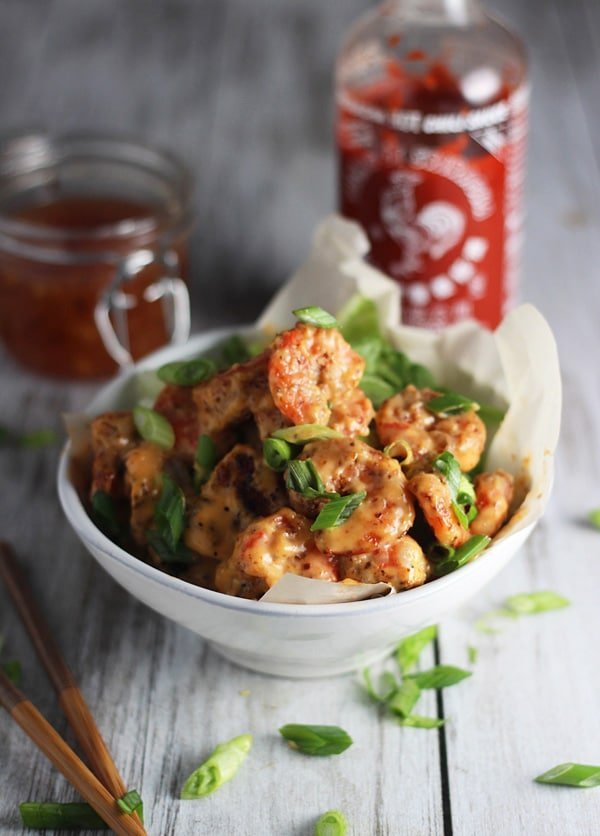 All words that come to mind when describing these little gems, and all words I'd use to describe the original version.
I'm sure you've heard of bang bang shrimp, right?
Of course you have. If you haven't, gosh, I feel bad for you. It's only the most wonderful, finger lickin', addictive appetizer on the face of the planet from Bonefish Grill – not to mention a complete Pinterest phenomena.
Now normally, I'm not a "chain" kind of gal when it comes to restaurant choices, but Bonefish is hands down my favorite of the chains. For one, it doesn't feel like a chain restaurant; two, the food is SO good; and three, it's insanely affordable – martinis seven dollars, um, yes please. I first started going there years ago, in Destin, Florida, and fell madly in love. It was always one of the highlights of our trips, along with this restaurant, this restaurant and this restaurant. Of course now we rarely go when we're in Florida because we have two different locations right here in Kansas City, and I can have bang bang shrimp any time my little heart desires. But because I can't constantly consume my weight in fried shrimp, I wanted to find a healthier, just as satisfying alternative.
Side note. If you ever need Destin recommendations, I'm your gal, I know that place the back of my hand…


Shall we get started on how to go about making these guys?
First of all, I was presented with two predicaments when it came time for execution. One, I've given up white flour for lent, and was planning on using panko breadcrumbs to achieve that crunchy exterior I love on the original version. Two, I made an extra trip to the grocery store specifically to buy sweet Asian chili sauce that I needed for the recipe, only, I went during my lunch break, and then proceeded to leave it in the fridge at work.
Fail.
My absent mind and dedication left me no choice but to improvise. After some Internet perusing, I found this recipe for sweet chili sauce and decided to go with it. It couldn't be easier to put together; sugar, water, red pepper flakes, garlic and sirracha are cooked together until the sugar dissolves and then a slurry of cornstarch and water is whisked in and simmered until the sauce is nice and thick.
The shrimp are coated in almond flour, crisped up in a tiny bit of olive oil over the stove, and then tossed in a mixture of the homemade sweet chili sauce, light mayo and sirracha sauce. I actually really liked the texture the almond flour gave the shrimp, they were still super crunchy, but weren't overly heavy which is key. If you want to omit the oil altogether, just throw the shrimp on a cooling rack set on a baking sheet, spray with olive oil spray and pop into a 425 degree oven until crispy.
Easy as can be.


While, of course, these guys don't taste identical to the Bonefish version, they're pretty darn close, proven by the fact Kev and I inhaled them just as fast as we would at the restaurant – in about 2.5 seconds.
I may never need to go to the restaurant again….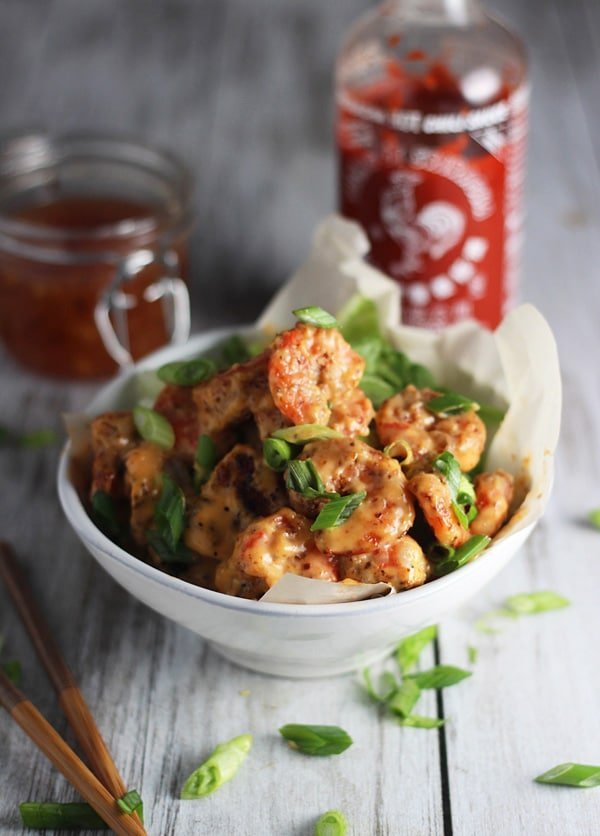 Skinny Bang Bang Shrimp with Homemade Sweet Chili Sauce
Author:
Nicole ~ Cooking for Keeps
Serves:
4 appetizer portions
Ingredients
Shrimp
½ pound medium sized shrimp, peeled, deveined and tails removed
¼ cup almond flour
¼ cup + 1 tablespoon light mayo
2 teaspoons sweet chili sauce
1 teaspoon sirracha
2 teaspoons olive oil
2 green onions
Chili Sauce
½ cup sugar
¼ cup rice vinegar
¼ cup water + 2 tablespoons water
1 ½ tablespoons garlic, minced
½ teaspoon crushed red pepper flakes
½ teaspoon sirracha
1½ tablespoons flour
½ teaspoon salt
Instructions
To make chili sauce:
In a small saucepan combine sugar, rice vinegar and ¼ cup water. Bring to a boil and reduce to a simmer. Add garlic, red pepper flakes and sirracha.
Whisk flour and 2 tablespoons water together. Slowly whisk in sugar and vinegar. Bring to a boil again, and reduce to a simmer until thickened, about 5-7 minutes. Cool.
For Shrimp:
In a large bowl, whisk together mayo, sweet chili sauce and sirracha.
Heat a large non-stick skillet to a medium-high heat. Add olive oil.
Season shrimp with salt and pepper.
In another bowl, toss shrimp with almond flour.
Cook shrimp until cooked through, about one minute per side.
Toss hot shrimp in chili mayo sauce.
Serve with sliced green onion.