Back in the 60's and 70's shrimp cocktail used to be "it." The end all be all hors-d'oeuvre you could find gracing fancy cocktail parties around the country. The before dinner snack you munch on with a bourbon, neat. The life of the party if you will.
I can just picture a bunch of Mad Men-esque Bettys smoking their cigarettes, sipping on their cocktails and huddled around a table full of the stuff – although now that I think about it, I hardly ever see anyone actually eat on the show. Maybe that's why the world was so skinny then, people just subsisted on tobacco and liquor.
It's since faded far away from the modern hors-d'oeuvre table and has even gotten itself attached with a sort of a negative connotation, only finding it's way on to dive seafood restaurants and old-school steak houses set at ridiculously high prices.
I, however am bringing shrimp cocktail back.
I love to entertain, and used to go all out, preparing extravagant menu items, spending weeks preparing and generally pulling all of my hair out in stress up until just seconds before the party. I'd inevitably be over stimulated and cranky by the time my guests arrived, and half of the time I wasn't even my party attire yet. Not a good look on a hostess.
Sometime in the last five years, I learned the right way to throw a party.
Only make a few complicated dishes (I can't resist), and always always prepare as much as you can ahead of time.
I've come to find that people LOVE shrimp, and it just so happens that shrimp cocktail happens to be one of the easiest, yet elegant finger foods you can bring to a party as long as you do it right – aka do not buy it pre-packed in the frozen foods section.
I forgo the flavorless pre-cooked shrimp and instead, buy fresh peeled and deveined shrimp (a time saver totally worth the extra money), and roast them with plenty of salt, pepper and red pepper flakes so they have plenty of flavor unlike their 60's counterpart.
Store-bought cocktail sauce is swapped out for an array of homemade sauces depending on the season and my mood, but this time I whipped up a quick basil dip made with Greek yogurt, a little bit of light mayo, garlic, lemon juice and plenty of chopped basil.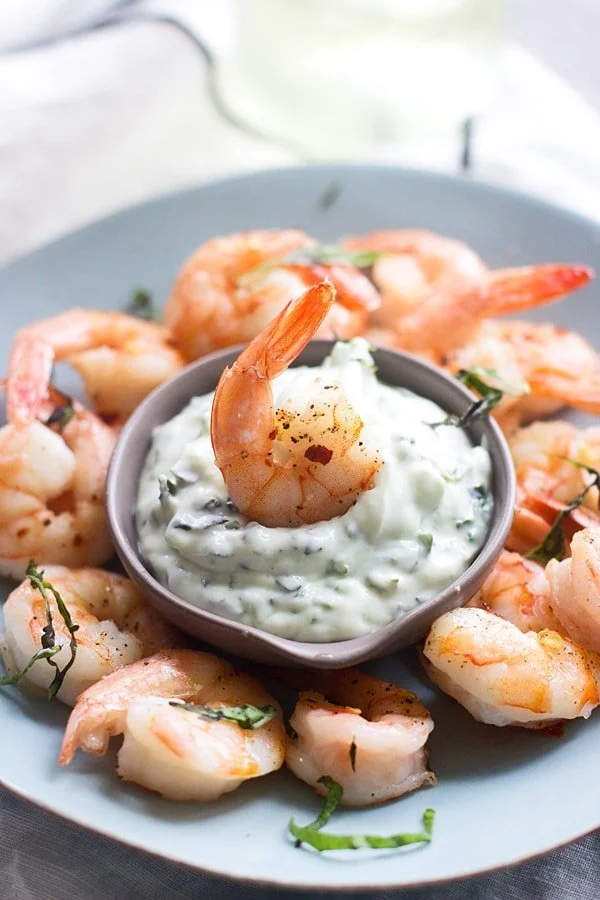 Everything can be made a day in advance and when you're ready to serve, just pull it all out of the fridge, arrange on a pretty platter, set it out and watch it be the first thing to disappear.
Even Betty Draper wouldn't be able to resist these…
Shrimp "Cocktail" with Basil Dipping Sauce
This "shrimp cocktail" is a modern take on a classic 60's appetizer!
Serves:
1 pound of shrimp
Ingredients
1 pound peeled and deveined shrimp
2 teaspoons olive oil
½ teaspoon salt
Pepper
Red Pepper Flakes
½ cup non-fat, plain Greek yogurt
1½ tablespoons mayo
½ teaspoon lemon zest
1½ teaspoons lemon juice
2 tablespoons chopped basil
½ teaspoon garlic powder
¼ teaspoon salt
Instructions
Preheat oven to 375 degrees.
Toss shrimp with olive, salt, pepper and red pepper flakes. Place on a rimmed baking sheet and baking until bright pink, about 10 minutes.
In a small bowl, combine remaining ingredients.
Serve shrimp hot or room temperature with dipping sauce.