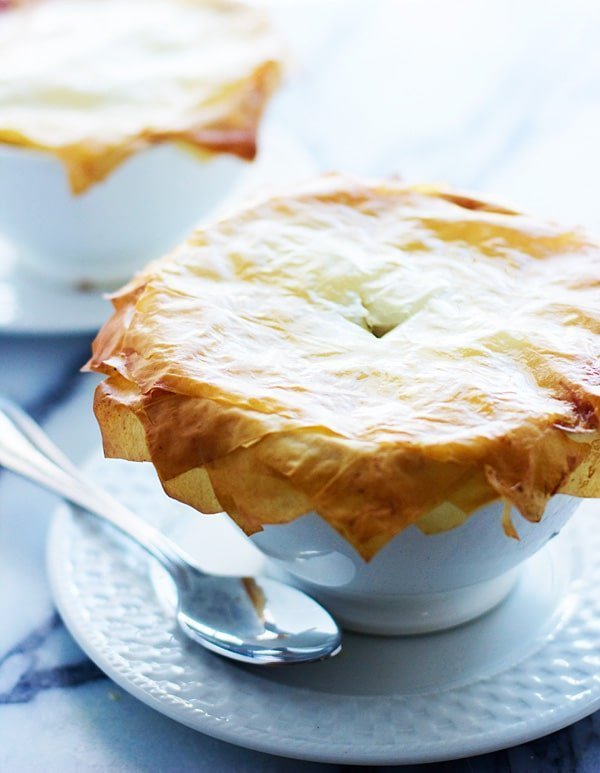 My parents had a built-in babysitter when I was a child – my grandma Perparas. She was only a few miles away from our house, and was always willing to watch my brother and me when my parents had plans with their friends, went out of town or just needed a night away. I can still vividly remember the house she lived in for the majority of my Mother's life and well into my childhood; a charming, modest one-story ranch painted white with black shutters. She had the most annoying doorbell that made an awful ringing noise (much like a school bell you hear in movies) each time you turned the old-fashioned knob. And like most people that lived a majority of their life before the 60s, her "nice" furniture in the untouchable formal living room just off the entryway had squeaky plastic covering each square foot of fabric to ensure its pristine condition.
My Mom was one of those elusive "surprise" children to be born completely unexpectedly, as both my Grandmother and Grandfather were in their 40s with two grown boys when she was born. Because of that, by the time I was old enough to retain memories, most of her hard-core cooking days were behind her. Although there were a few dishes she did still make that I got to taste like her perfect pot roast, the sweetest, stickiest popcorn balls and the most delicious savory dressing she prepared every Thanksgiving and Christmas (one we still make to this day).
Most of the time when I was over there for a meal, it was just my Grandmother, myself and my brother, so dinner often consisted of a coupon trip to KFC or Long John Slivers, one of those frozen tray dinners cooked in the microwave or – my favorite – a Swanson's chicken pot pie. To this day when I meander down the frozen food isle at the grocery store, I'm tempted to snatch one of them up, but stop myself after I peruse the nutritional information and it informs me that 1100 calories and 52 grams of fat reside in that tiny pot pie. No thank you.
These days when I'm craving pot pie I only make it from scratch since it's ridiculously easy to throw together and more times than not, I already have the classic ingredients loitering in my fridge and on the verge of needing to be tossed in the trash. While pot pie is often associated with words like fattening and heavy, that doesn't have to be the case. Most of the ingredients – loads of butter laden crust and heavy cream – can be switched out with healthier, lighter ingredients while retaining all of the comfort and deliciousness we all adore about chicken pot pie.
The usual suspects comprise of the filling – chicken, onion carrots and peas – but I upped the vegetable content even more with the addition of bite-sized sweet potatoes and hearty cremini mushrooms. After all of the veggies are softened in just a touch of butter, I stir in a quarter cup of flour followed by a cup of low-sodium chicken stock and a half cup of milk to complete the base of the filling. A final (although not mandatory) splash of dry sherry is poured in at the last minute, an ingredient that happens to be one of my favorite flavors and one I feel elevates the entire dish to a more sophisticated level.
Instead of a heavy butter-laced crust, I opt for light-as-air phyllo sheets staggered one of top of the other to mimic the crispy exterior that every pot pie has to have to in fact be deemed a "pot pie." Instead of brushing each layer of pastry with butter as most recipes call for, I actually opt to use an olive oil or coconut oil spray on each layer to keep the fat even lower.
Each individual pie is popped into the oven until the phyllo is golden brown and the filling is piping hot – a short 15-20 minutes.
This recipe yields two very generous portions of pot pie, but it could easily feed four modest appetites – although I would encourage you to double the recipe just to err on the side of caution.
Skinny Chicken and Vegetable Pot Pie with Phyllo "Crust"
A lightened-up version of everyone's favorite winter comfort food!
Serves:
2 generous sevings
Ingredients
1 teaspoon olive oil
1 large chicken breast
2 tablespoons butter, divided
1 large sweet potato, chopped
1 small onion, chopped
4 carrots, peeled and chopped
2 teaspoons salt, divided
¼ cup flour
1 cup low-sodium chicken stock
½ cup low-fat milk
¼ cup frozen peas
2 tablespoons sherry
7-8 phyllo dough sheets
Coconut oil spray
Instructions
Preheat oven to 350 degrees.
In a small non-stick saute pan, heat olive oil over a medium-high heat. Season chicken breast with salt and pepper. Brown on both sides, and then pop into the oven to finish cooking, about 10-15 minutes. Let cool, chop and reserve juices that accumulate.
In a large skillet, heat 1 tablespoon butter over a medium heat. Add sweet potatoes. Sweat for 3-4 minutes.
Add remaining butter, onion, carrots and salt. Sweat 1-2 minutes and then cover completely with a lid and let steam for another 1-2 minutes until carrots and sweet potatoes are softened.
Stir in flour until completely absorbed, cook one minute.
Stir in stock and milk. Bring to a boil and then reduce to a simmer until thickened.
Remove from heat and add chicken, peas and sherry.
Season with salt and pepper if necessary.
Divide filling between two oven safe bowls or crocks.
Cut the phyllo into squares big enough to fold over bowls. (You should get 14 squares out of the dough) Spray each layer of dough with coconut oil spray, then overlap then next layer, staggering it diagonal. Repeat until you have seven layers. Place over each bowl, folding the sides down. Cut a little x in the middle to let steam escape.
Place on a baking sheet, bake until phyllo is golden brown and filling is hot. If the dough browns too quickly, just cover with foil until the filling is hot.