Since Lent has begun, when Friday rolls around, without fail, I crave a big fat juicy burger. Or a perfectly grilled steak. Or a brat smothered with ketchup and mustard. Or pretty much anything that's not seafood or veggie based. I'll go the entire week without so much as a thought towards red meat, and then all of a sudden it's like I'm a hunger-striven carnivore that can't survive unless I get my meat fix. It's funny, because we don't really eat red meat much to begin with, and it's not even a conscious choice we make, I just happen to cook with chicken or fish on a day-to-day basis.
I suppose my impetuous desire for red meat on Fridays could have something to do with the whole, you want what you can't have theory; clearly it's proven true in my case.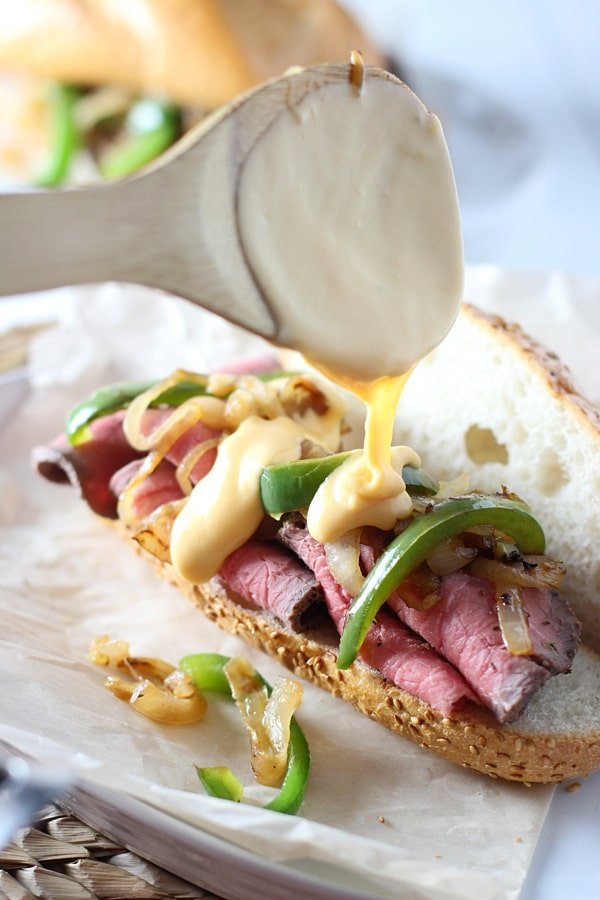 \
Of course, we have chosen to put ourselves in countless tempting situations, like the Friday we decided it would be a good idea to go to dinner at a primarily meat-driven restaurant. Our dinner companions indulged in a full slab of ribs and bone-in ribeye, complete with bbq baked beans and bacon brussels sprouts, while we nibbled on our boring grilled fish with french fries and not-so-subtly drooled over their meal – it wasn't awkward or anything.
Or the Friday we met up with friends at a bar and grill where the house specialties were giant deep-fried chicken wings and mile-high BLTs, and the only legal dishes on the meat-driven menu were a lonely from-the-freezer veggie burger and tuna salad sandwich – um no thank you. I won't reveal what we actually ended up eating – if I did, I'd have to kill you.
But this week I think I may have outsmarted myself, because instead of skipping the beef all week long, just to crave it come Friday night, I thought I'd be proactive and try to fix my craving earlier in the week. Plus, we had about five pounds of roast beef leftover from a side project I'm working on that would have gone to waste, so it's a win-win.

Besides a filet of steak, a steak sandwich, for me, is the crème da la crème of red meat. I'm partial to a steak sandwich smothered in provolone cheese and horseradish sauce, and served with a big vat of au jus, but Kev doesn't really care for horseradish so I decided to go with a classic, beef and cheddar.
Thinly sliced roast beef is piled high on a crusty hoagie (I used whole-wheat for mine), and smothered in caramelized onions and green peppers. It's topped off when a generous dousing of lightened up cheddar cheese sauce, and served as is.

A couple of notes.
I wanted to lighten the sandwich up a bit, so the cheese sauce is made with low-fat cheddar cheese and low-fat evaporated milk. The milk helps to create that creamy, smooth texture, but if you don't serve it right away it will start to harden again, so be sure to make the sauce immediately before you serve. It comes together in less than three minutes, so that shouldn't be an issue.
I also like to dunk the roast beef into hot chicken or beef stock right before piling the meat onto the bread. This does two things, keeps the meat super moist and keeps it super hot.
The jury is still out on whether or not I'll be craving beef come Friday, something tells me I will, but at least I'll have these babies fresh in my memory – because, my gosh were they good….
I'll let you know how it goes on Monday…

Skinny Roast Beef, Pepper and Cheddar Sandwiches
Author:
Nicole ~ Cooking for Keeps
Ingredients
1 pound thinly sliced medium-rare roast beef
1 medium onion, thinly sliced
1 green pepper, thinly sliced
2 teaspoons olive oil
2 cups 2% cheddar cheese
½ cup low-fat evaporated milk
4 hoagie rolls, split in half
Instructions
Preheat oven to 350 degrees.
Evenly divide roast on the bottoms of hoagie rolls. Place on a baking sheet and pop in the oven to heat up.
In a medium sauté pan, heat olive oil over a medium heat, add onions and green peppers. Saute until softened, about 5-7 minutes. Season with salt and pepper. Set aside.
In a small saucepan stir together grated cheese and evaporated milk. Turn the heat on a medium-low, and stir until cheese is completely melted. Season with salt and pepper. Note: Serve right away.
Once roast beef is warm, top with sautéed onions and green pepper. Drizzle with cheese sauce.