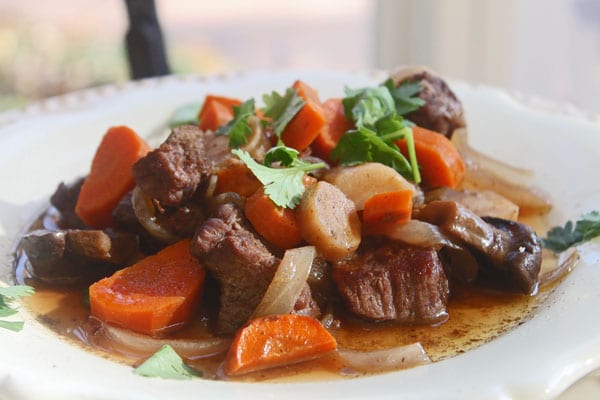 I've mentioned in the past that most nights when I get home from work I enjoy and even look forward to pulling out my chef's knife and cutting board to prepare whatever meal we may be having that night.  Keyword – most nights.  Since, I'm human, I like any other normal person, sometimes just want to come home, have dinner ready when I walk in the door, and lounge around the remainder of the night.
What do I do when I'm in this mood? Pull out the Crockpot of course. The Crockpot can be a working girl or boy's best friend.  Just throw in your meats and veggies, add in a little liquid, set it and forget it.
For this meal, I came up with a Crockpot version of the French classic, beef bourguignon.  It's perfect for the slow-cooker since typically an inexpensive cut of meat is used as the beef component and cooked low and slow over a long period of time. The only prep work that needs to be done is to brown the meat and chop the vegetables. Putting the rest of the dish together consists only of tossing all of the ingredients in the pot and switching the dial to low. Terribly difficult, right?
Like any other French dish, beef bourguignon sounds intimidating but isn't in the slightest. It's basically the French version of a beef stew, but instead of a tomato base, a red wine and beef stock base is used, which is quite a nice change from the traditional American beef stew. The red wine adds a wonderfully fruity but not sweet depth of flavor that can't be replaced with any other ingredient.  What's also nice is that it's not necessary to use a nice bottle of wine (I used Trader Joe's Two Buck Chuck), just be sure that you would be willing to drink it – after all, you'll have enough leftover for a glass or two…
Start by browning the medium in a little bit of olive oil over a medium high heat.
Chop carrots and parsnips.
Slice onions thinly and halve or quarter mushrooms.
Transfer meat to the slow cooker. Add tomato paste and red wine.
Throw veggies in
Toss meat and veggies together. Add beef stock, bouillon cubes, and flour. Cook on low for 7-8 hours. 15 minutes before serving throw in a handful of frozen cipollini onions.

Slow Cooker Beef Bourguignon
Author:
Nicole-Cooking for Keeps
Ingredients
2.5 pounds stew meat
2 pieces bacon, chopped
1 tablespoon olive oil
2 cups chopped carrots
2 cups chopped parsnips
10 ounces mushrooms
½ medium onion sliced
1 tablespoon tomato paste
½ bottle red wine (merlot or pinot noir)
1 cup beef stock
½ bouillon cube
2 tablespoons flour
1 ½ cups frozen cipollini onions
Parsley for garnish
Instructions
Brown meat and bacon with 1 tablespoon of olive oil in a large sauté pan over a medium high heat, until all sides are brown.
Transfer meat and bacon to the slow cooker. Add tomato paste and veggies. Toss together.
Add stock, bouillon cube, and flour. Cook for 7-8 hours on low.
20 minutes before serving throw in frozen cipollini onions.
Can be served with buttered egg noodles.