It's my job to make food look pretty, so it's a rare occasion when something I create is deemed too pretty to eat, but sometimes, it happens. So is the case with these spring rolls.
The way the rice paper is perfectly translucent, showing off the sliced avocado. The deep, red, almost purple raw tuna shining like jewels. The vivid yellow mango that screams summer. All makings of a bite worthy of a magazine cover – if I do say so myself.
But…nothing is ever too pretty to eat, for me at least.
I've been pushing aside my more ambitious recipe ideas for a few months now in lieu of easier ones I can easily start and finish during naptime. I was feeling comfortable with my scaled back content, but recently I started to miss the challenge that something daunting brings to the table, so I made a compromise with myself – one challenging or time consuming recipe per week.
Soft spring rolls have been something I've wanted to tackle for eons, but the mere thought of it, gave me anxiety. Rice paper is incredibly delicate, so I knew it would take immense patience on my end – a characteristic I severely lack –and many failures before I was successful. With my newfound task I'd given myself, I knew it was time to try my hand at them.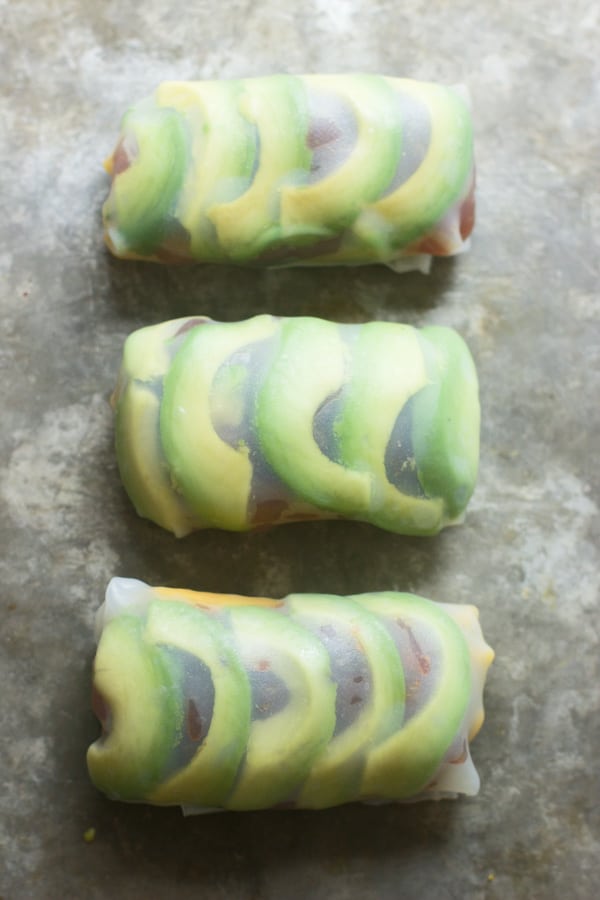 Much to my surprise, and delight, these little gems, were much easier to create than I anticipated. While yes, the rice paper is indeed delicate, and requires patient and careful hands, it's not as fragile as I had assumed. The key is to have all of your ingredients prepped and ready to go when you start to soften the rice paper, from there, you just work quickly on a dry surface. I also found it helpful to use two pieces of rice paper instead of one – it makes for a more durable spring roll, and obviously, is easier to roll.
The filling is simple. Sushi-grade ahi tuna is cut into a dice and tossed with a little bit of sesame oil, sriracha, and plenty of soy sauce. Mango and cucumber are thinly sliced. Six halves of avocado are thinly sliced and fanned out.
To soften the rice paper, all you have to do is submerge it in warm to hot tap water for ten or so seconds, then transport it to a dry surface (I found a wooden cutting board to be the least sticky). The avocado is artfully placed down the paper, then piled with the diced tuna, some cucumber sticks, and sliced mango. It's wrapped up, and immediately ready to go.
I served them simply with a little bit of soy sauce, but a spicy peanut sauce would be even more delicious.
Spicy Tuna and Mango Soft Spring Rolls
Your favorite spicy tuna sushi roll filling is paired with sweet mango and avocado, and then wrapped up in soft spring roll paper for a bit almost too pretty to eat!
Author:
Nicole ~ Cooking for Keeps
Ingredients
½ lb. sushi-grade ahi tuna
2 tsp. sesame oil
3 Tlbs. soy sauce (plus more for dipping)
½ tsp. sriracha
12 pieces of rice paper
½ cup thinly sliced mango
½ cup sliced cucumber sticks
3 small avocados, halved and sliced thin
Instructions
In a small bowl, combine tuna, sesame oil, soy sauce, and sriracha. Set aside.
Fill a shallow pie plate or pan with hot water. Take two pieces of rice paper and while holding them together, dip them in the water. Let soak for 10 seconds or so until softened. Remove the paper from the water, making sure to keep the two pieces together. Let excess moisture drip off and place on a wooden cutting board.
Place sliced avocado in the middle of the rice paper leaving about an inch and half of the paper showing on both the top and the bottom. Place a little bit of the tuna mixture evenly on top. Cover with three slices of mango and some cucumber sticks. Fold the top and bottom over the filling. Bring one of the sides over and tightly roll. Repeat with remaining rolls.
Serve with soy sauce or peanut sauce.